Keiss volunteers heartened by community response over A99 clean-up
---
Published: 19:45, 29 April 2021
---
Get the Courier and Groat sent to your inbox every week and swipe through an exact replica of the day's newspaper
---
---
A group of Keiss residents who have been giving up their time to collect masses of roadside litter say they have been heartened by the response from others in the community.
Over the course of four Sunday mornings so far, the volunteers have filled around 70 bin bags with rubbish strewn alongside the A99 to the north and south of the village as well as gathering an assortment of larger items.
Treasa Hamilton and her nine-year-old son Thomas, a P5 pupil at Keiss Primary School, started the campaign in March and they were joined after the first week by Treasa's cousin Carol Tait and Carol's husband Stevie.
After a two-week break, the quartet again donned their hi-vis jackets and armed themselves with litter-grabbers to go as far as the Lyth turn-off last Sunday. They have been spending up to two-and-a-half hours on each litter-pick.
"In the four stages we've covered the whole distance from Auckengill to the Lyth junction," Treasa said.
"We've had a lot of really positive comments. You meet people and they say 'well done, it's lovely to see'.
"When we were out this week a lot of people were tooting as they went past. I think they are realising now what we are doing.
"Every time we finish it we feel a sense of achievement. There is a feelgood factor about thinking you've made a bit of a difference."
Gallery1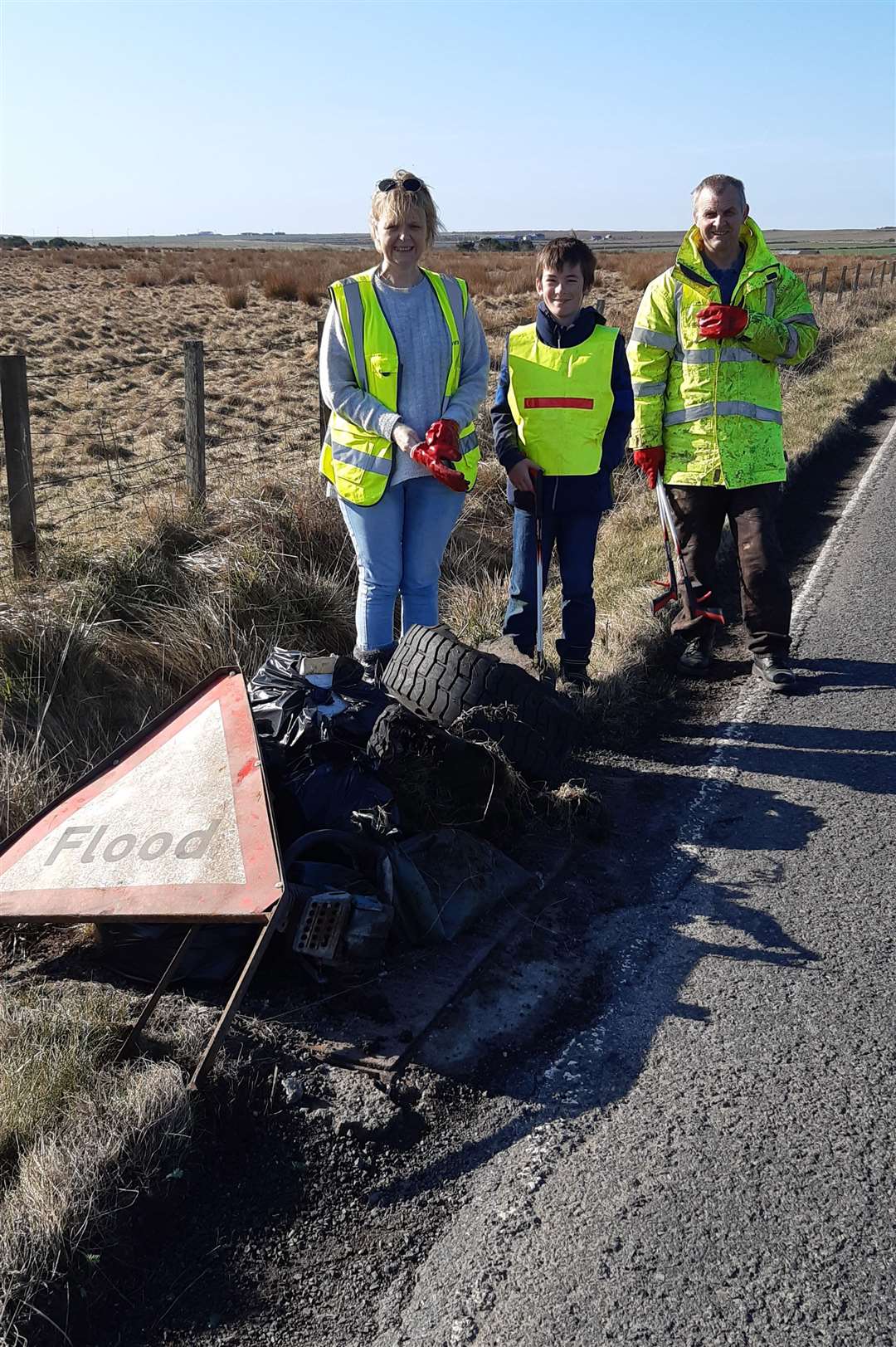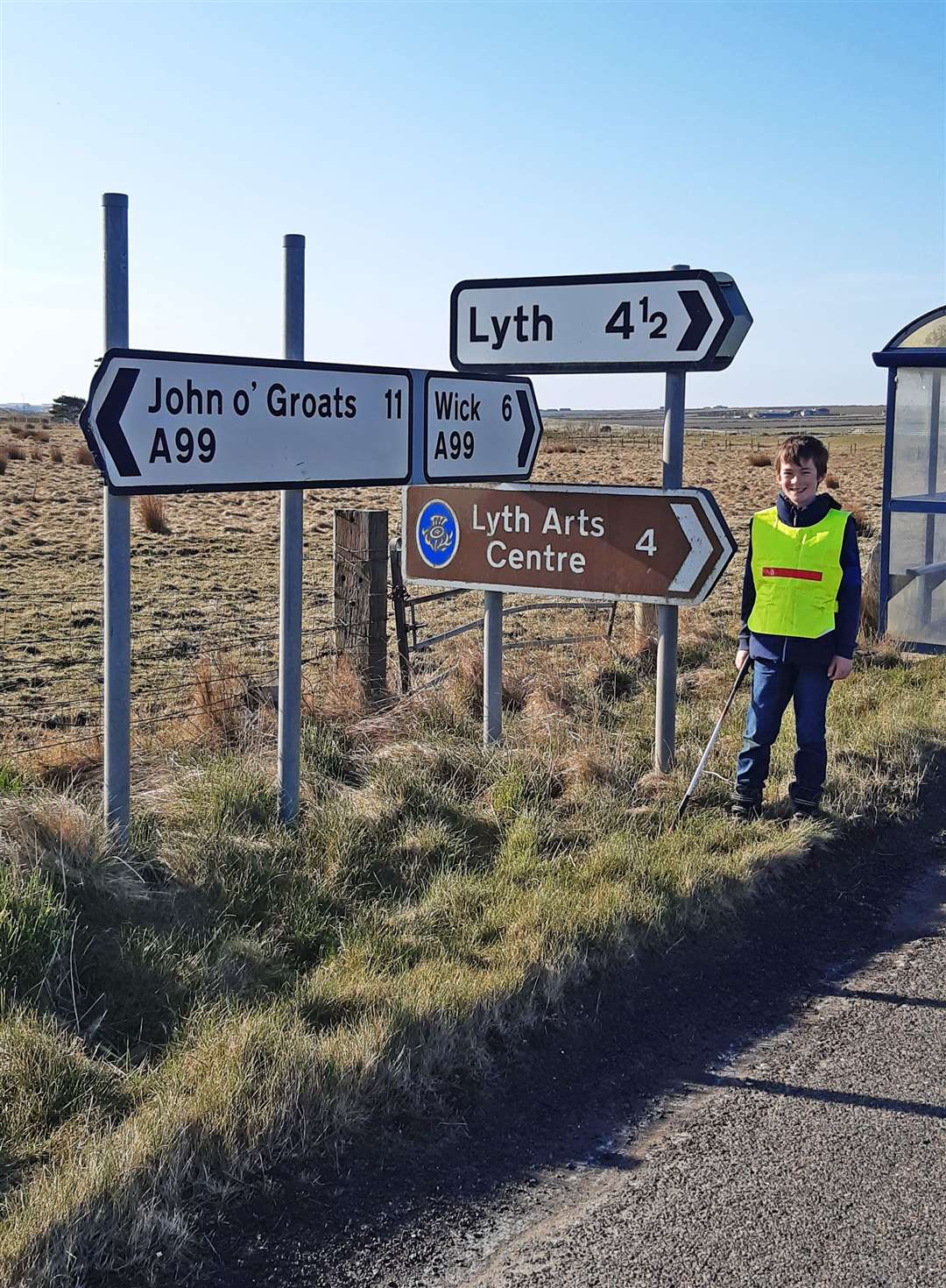 While much of the rubbish has consisted of food packaging and drink cans, the volunteers have been confronted by many larger items. Objects collected last Sunday included a Stihl industrial saw and some broken signage, as well as remnants of Christmas trees.
"We found quite a few large tyres this week as well at the side of the road," Treasa said, adding: "Already there's more rubbish appearing on the stretch that we've done."
The volunteers have been going out early on Sunday mornings while the roads are quiet. However, with restrictions easing and more traffic on the move on the A99, their focus will now switch to minor routes close to the village.
"We're expecting it to get a bit busier," Treasa said. "On Sunday there was more traffic than we'd seen, and that was still the half-past seven start."
The bags and other items are transported to an agreed point to be taken away by the local authority refuse team. Treasa said Kenny Gow of Highland Council and local councillor Willie Mackay had been very supportive.
Meanwhile, Treasa believes Caithness has the potential to emulate Shetland's annual community clean-up which sees thousands of islanders joining forces to help keep their landscape tidy.
Known as Da Voar Redd Up and organised by Shetland Amenity Trust, the springtime event sees beaches, coastlines and roadsides being cleared of litter as well as debris washed up by winter storms. It is credited with making a valuable contribution to Shetland's natural environment and wildlife.
Da Voar Redd Up was cancelled in 2020 due to the pandemic but is back this year in collaboration with the Marine Conservation Society. The week-long initiative is due to finish on Friday, with Covid precautions in place.
"They see it as their annual spring clean and I think they have collected up to 60 tonnes at a time," Treasa said. "There's no reason why we couldn't do it.
"Shetland is the largest rubbish tidy-up in the UK. They have obviously got ahead of it. They do the beaches, they do the coastline and they do the roadsides. They see it as being their annual spring clean and it's a good thing to do.
"They involve the schoolchildren as well. I think they all have their set areas to do, with pick-up points where they can set the stuff down.
"Caithness has got a lot of different organisations and community councils, so I'm pretty sure with that in place that they could do a co-ordinated approach to it."
Related stories:
---
Do you want to respond to this article? If so, click here to submit your thoughts and they may be published in print.
---
---
Get a digital copy of the Courier and Groat delivered straight to your inbox every week allowing you to swipe through an exact replica of the day's newspaper - it looks just like it does in print!
SUBSCRIBE NOW
---
---