Road users urged to respect environment as Keiss clean-up continues
---
Published: 19:13, 07 April 2021
---
Get the Courier and Groat sent to your inbox every week and swipe through an exact replica of the day's newspaper
---
---
A plea has gone out for road users to show respect for the environment after a small team of littering-picking volunteers gathered an "unbelievable" amount of rubbish from alongside the A99 near Keiss.
Four local residents have collected 50 bags of discarded items over the course of three Sunday mornings, covering a six-mile stretch extending north and south of the village – and they are not finished yet.
Treasa Hamilton and her nine-year-old son Thomas, a P5 pupil at Keiss Primary School, started the campaign and they were joined after the first week by Treasa's cousin Carol Tait and Carol's husband Stevie.
Wearing hi-vis jackets and equipped with litter-grabbers, and with social distancing observed, they have spent up to two-and-a-half hours on each session filling large bags. These are then removed by Treasa's father Tom Hamilton and transported to an agreed point to be taken away by Highland Council's refuse team.
Treasa says they have been amazed by the sheer volume of rubbish. While most has consisted of food and drink packaging, they have also been confronted with Christmas trees, a baby's car seat and even a bag full of human hair.
Over the first two weeks they went from Keiss north towards Auckengill, while last Sunday they ventured south for just over a mile.
"We've gone out early on Sunday mornings just because it's quiet on the roads," Treasa said.
"We had 20-something bags last Sunday, plus all the loose rubbish. We were hoping to get to the end of the Lyth road but there was that much, there was no way.
"It has been an eye-opener. Everybody has been shocked. It's unbelievable, the amount there is.
"A lot of the stuff is clear packaging, so until you start to do it you don't actually realise how much is there.
"My dad follows us with the car and gathers all the bags in. We have a prearranged spot where we put the stuff and it gets picked up."
She added: "It has been a massive help having Carol and Stevie. They do a lot of walking so I said if you want to do your walk on one side of the road, we can do the other."
Gallery1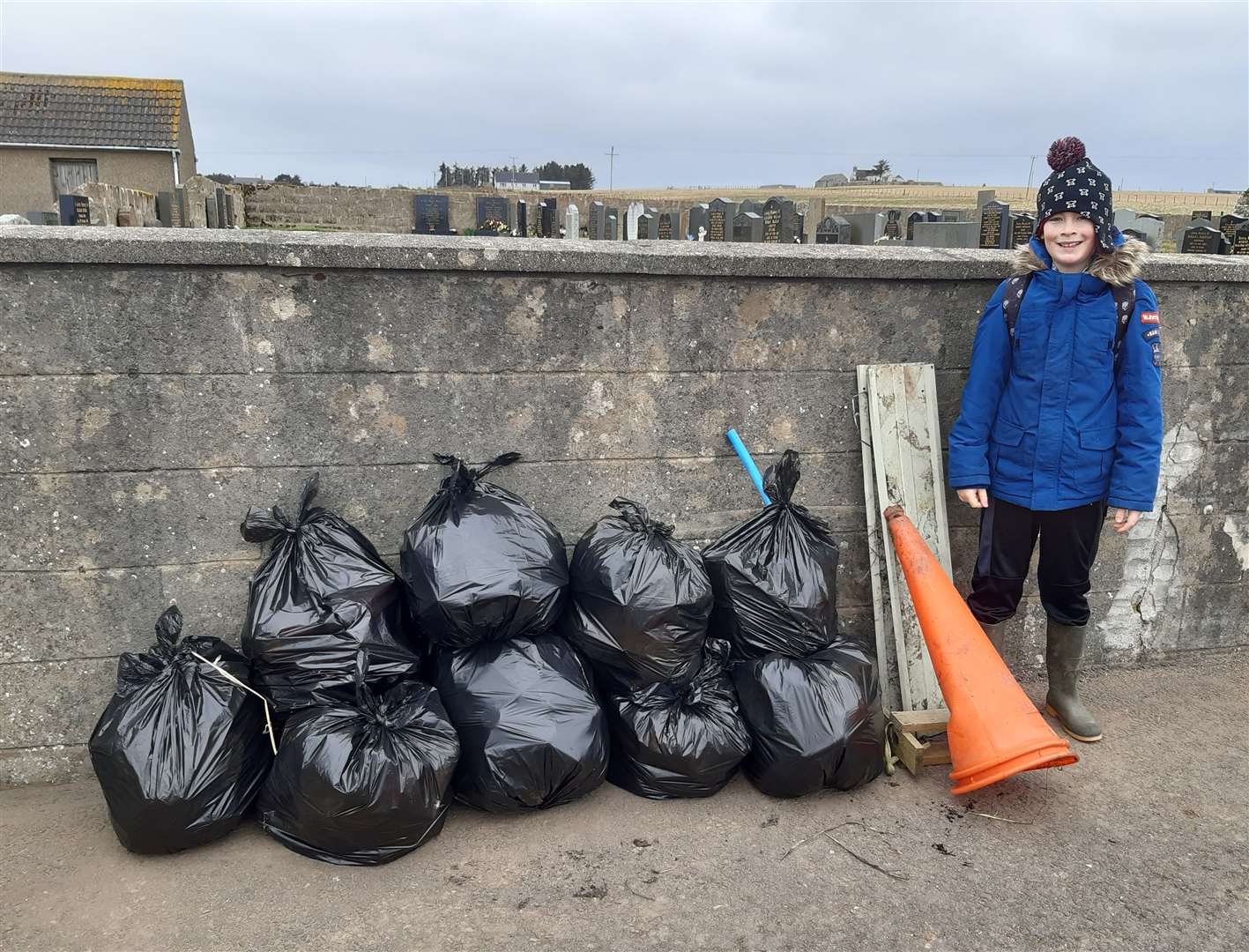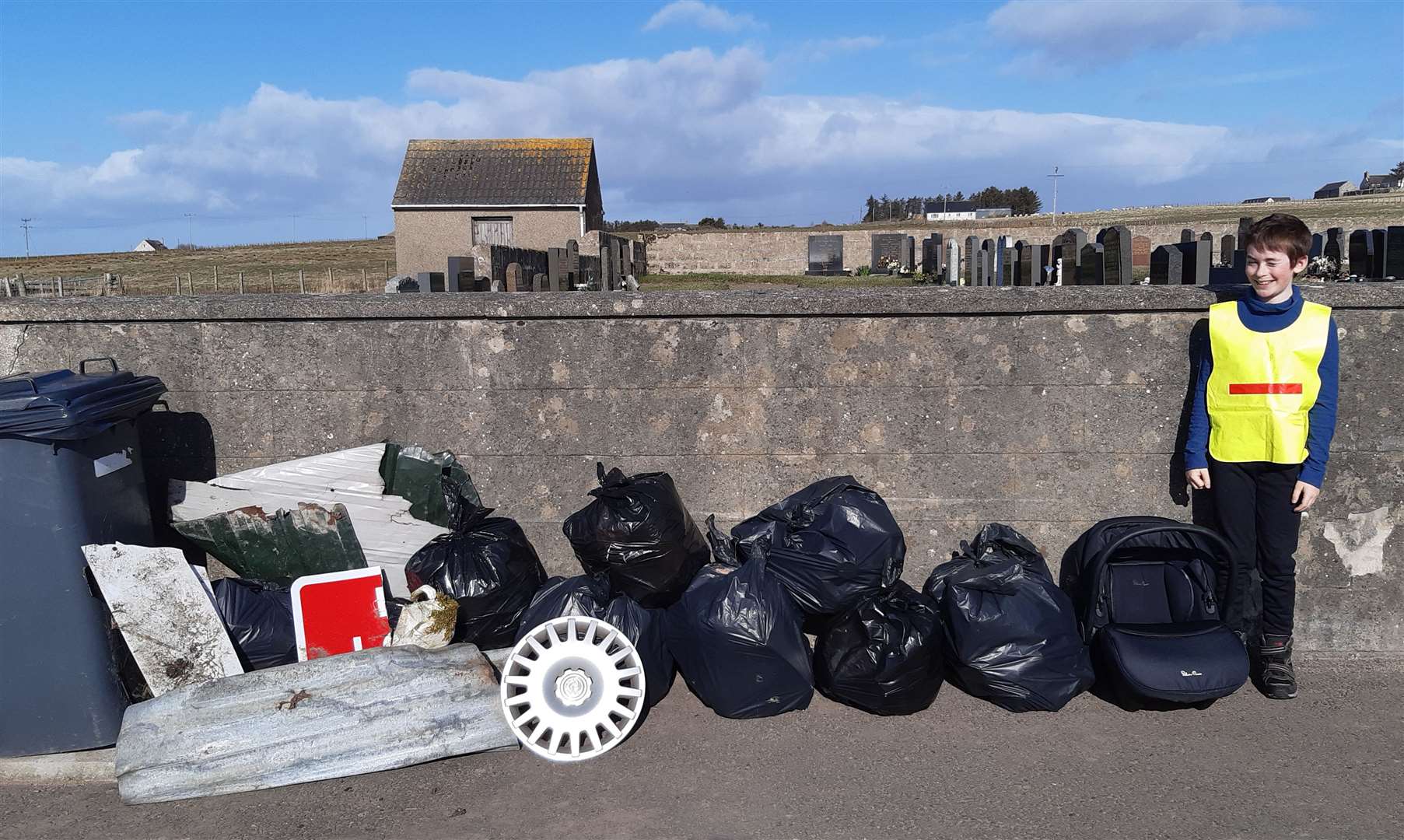 While food packaging and energy drink cans have been the most common items strewn along the verges, the volunteers have also come across cigarette packets, vape liquid bottles, tablet packs and much larger objects.
"On that little stretch on Sunday there were three Christmas trees dumped," Treasa said. "One had sort of disintegrated. One of them had been bagged and then dumped.
"We found a huge bit of kitchen lino and it had obviously been there for a good while.
"The previous week we found a baby's car seat thrown at the side of the road. We picked up flexible bollards that were in smithereens.
"Some of the stuff you're lifting, you're thinking, 'Wowee, what is this?'
"There have been quite a few pairs of pants at the side of the road as well. When we did the first stretch we found a few towels with different degrees of decay.
"We found a bag that seemed to have balls of human hair in it. We found a couple of shoes, a football boot, wheel trims, a numberplate, corrugated stuff..."
The volunteers plan to be out again this Sunday, starting at their usual time of 7.30am, with the aim of getting as far as the Subsea 7 turn-off and and perhaps on to Quoys of Reiss.
"We'll start working our way along there," Treasa said. "And there's a couple of loops around about the village we can do as well, so we are going to do a bit more."
She added: "Kenny Gow and his guys at the council refuse team have been very supportive. There is no way we could have managed this without their help so I'd like to highlight their part in it as well."
Treasa's advice to road users is to respect the environment. She said: "We live in a beautiful place so respect that and keep it nice. There are plenty of bins. All you've got to do is bag it in the car and put it somewhere then. There is no need to be opening that window and throwing it out.
"You're driving along and on one side you're looking at a beautiful bay, and then you're looking beside you and there are fag packets, juice tins, lino, Christmas trees, pants... It's like – why would you?"
Treasa pointed out that Keiss and other primary schools have set a good example to youngsters with their eco-friendly approach.
"The teachers have encouraged Thomas," she said. "They do a lot of recycling and litter so the kids are very aware and are getting a very positive message from the school."
Local Highland councillor Willie Mackay praised the efforts of the volunteers.
"This is another example of the fantastic community spirit around Keiss and indeed the county of Caithness," he said. "There is no doubt there is an amazing difference on the A99 which is part of the North Coast 500 towards the village.
"I'm proud of the volunteers going out in the early Sunday mornings to enhance the area and clean up our environment.
"But why oh why is our beautiful countryside littered with unsightly rubbish? It is a great disappointment when it would be so easy for those responsible to have bagged it, binned it or taken it home for disposal."
Related story:
---
Do you want to respond to this article? If so, click here to submit your thoughts and they may be published in print.
---
---
Get a digital copy of the Courier and Groat delivered straight to your inbox every week allowing you to swipe through an exact replica of the day's newspaper - it looks just like it does in print!
SUBSCRIBE NOW
---
---