Dealing with swell and surf on north coast kayak journey
---
Published: 11:29, 29 October 2020
---
Get the Courier and Groat sent to your inbox every week and swipe through an exact replica of the day's newspaper
---
---
The coast between Melvich and Reay has always been a favourite of mine, not as austere as the eastern cliffs but still dramatic with stacks, caves and hidden coves.
I've kayaked and walked this way many times and it's always worth doing. Early last year I had a mishap when a big swell caught me unawares and it wasn't until a week ago that I plucked up the courage to try the route again.
There is almost always a swell onto these exposed cliffs, so breaking waves can rear up suddenly and unexpectedly over hidden rocks and reefs. The important thing is to watch the sea carefully and keep a lookout for places where you could get to land if need be.
On a calm and clear October day, I left the car at the Melvich Pier, now barriered off and looking sadly abandoned after some storm damage. There's nothing, though, to stop you using the slipway.
A 45-minute cycle took me back over the hill to Sandside harbour where I'd left the boat, a nice ride on a day of silvery clouds and autumn moorland colours with as yet no hideous wind turbines from the Limekiln or Drum Hollistan wind farms to dominate the whole landscape.
I'd not mind so much if there was anywhere to take the electricity, but the new wind farms do little but generate money for landowners and developers from payments to switch the turbines off when the wind is strong. It's a big scam encouraged by people who should know better.
I paddled out of Sandside harbour into the swell and choppy water off Sandside Head. Halfway along to Melvich is a good place to stop, Puffin Cove, but the waves surge in through a narrow gap and often you can't get through. So it's best to take on some nourishment in case you need to paddle the whole way without stopping.
I usually go into Fresgoe, just round the head – if it's too rough to make it into here you should probably turn back. This long, narrow slot gives an easy landing on rocks at the far end. Beyond is an old packhorse bridge over the burn, a spot I used to sometimes visit from the landward side during a Dounreay lunch-hour.
Somewhere around here are reputed to be the longest sea caves in the country but I've never found them and am getting increasingly sceptical about their existence!
Cup of tea and banana consumed, I headed back out, making a detour around a spot which looked flat calm until a big wave would appear from nowhere as a large swell broke. On a coast like this, rougher water around the little headlands is interspersed with more sheltered conditions and, with luck, some exploration of caves and narrow passages is possible.
Small waterfalls tumbled down after the heavy rains.
The cliffs were quiet without the seabirds and puffins, just a few shags still sitting on slabby rocks. The passage into Puffin Cove looked passable, the swell wasn't breaking in the gap but it was still a tricky landing on the slippery boulders.
Getting out again was harder as the sea was picking up. Mostly I've visited this spot by scrambling down the steep slopes from above, it's especially spectacular in storm when the puffins are nesting in their hundreds on the stack.
Gallery1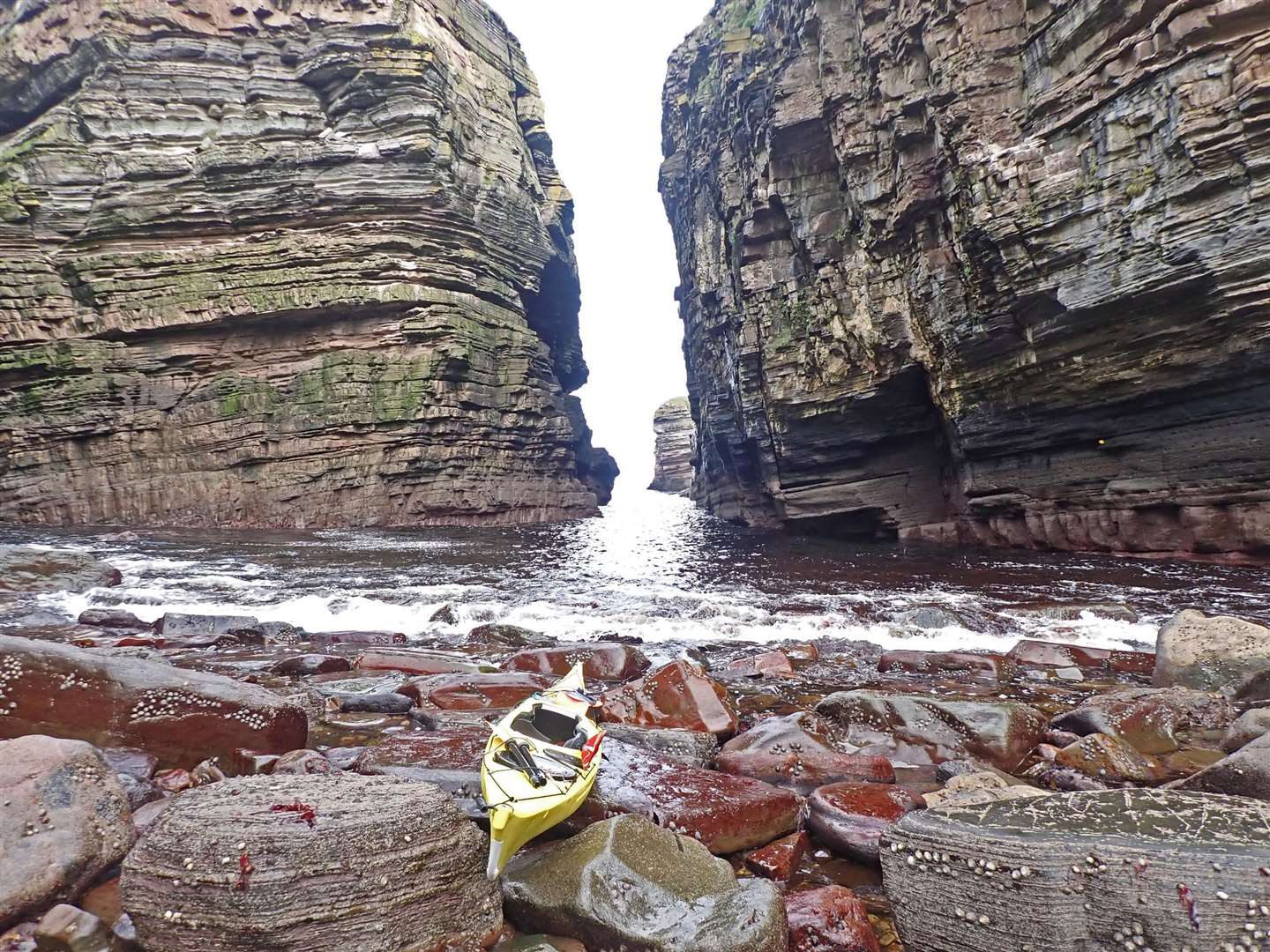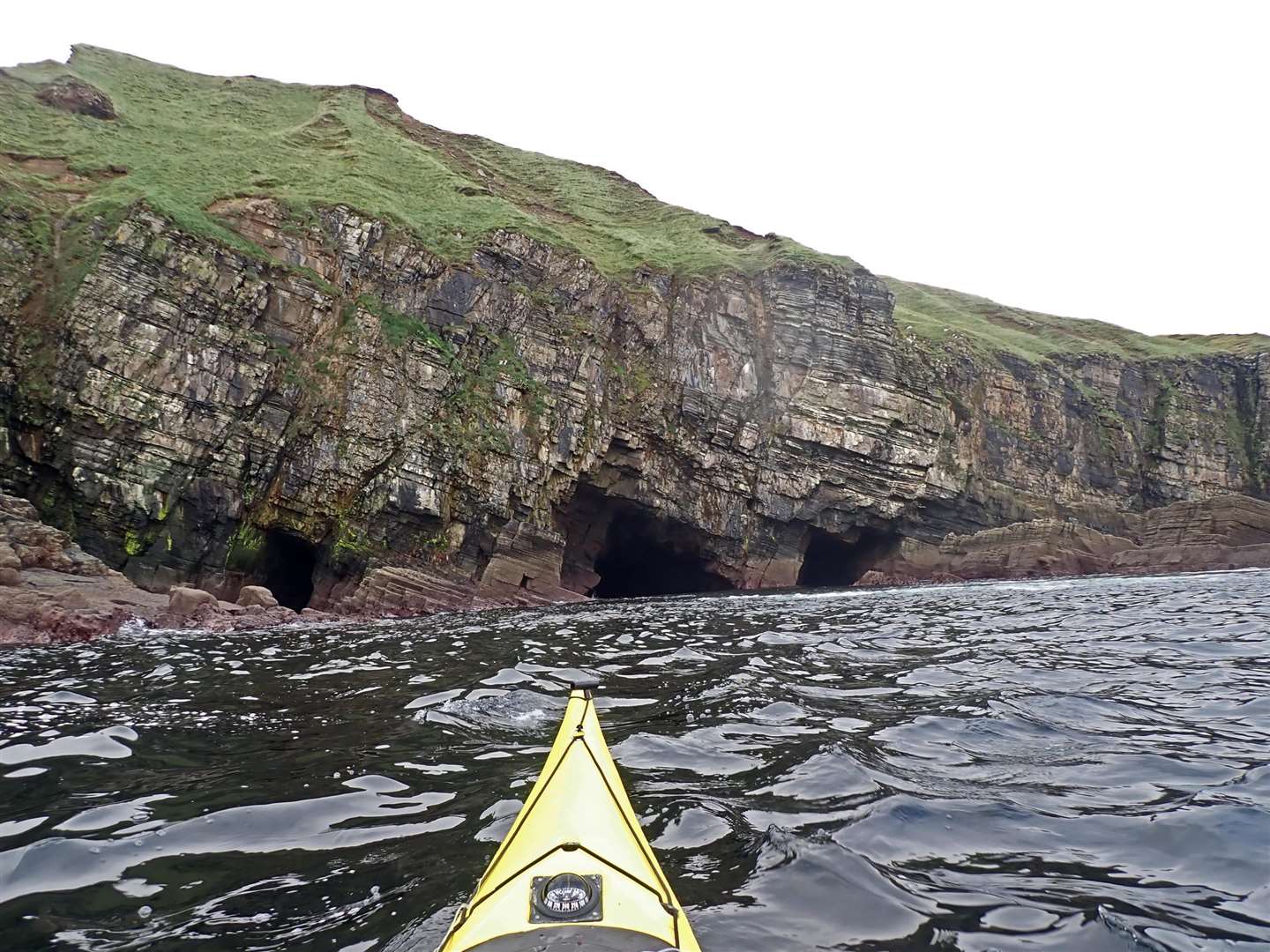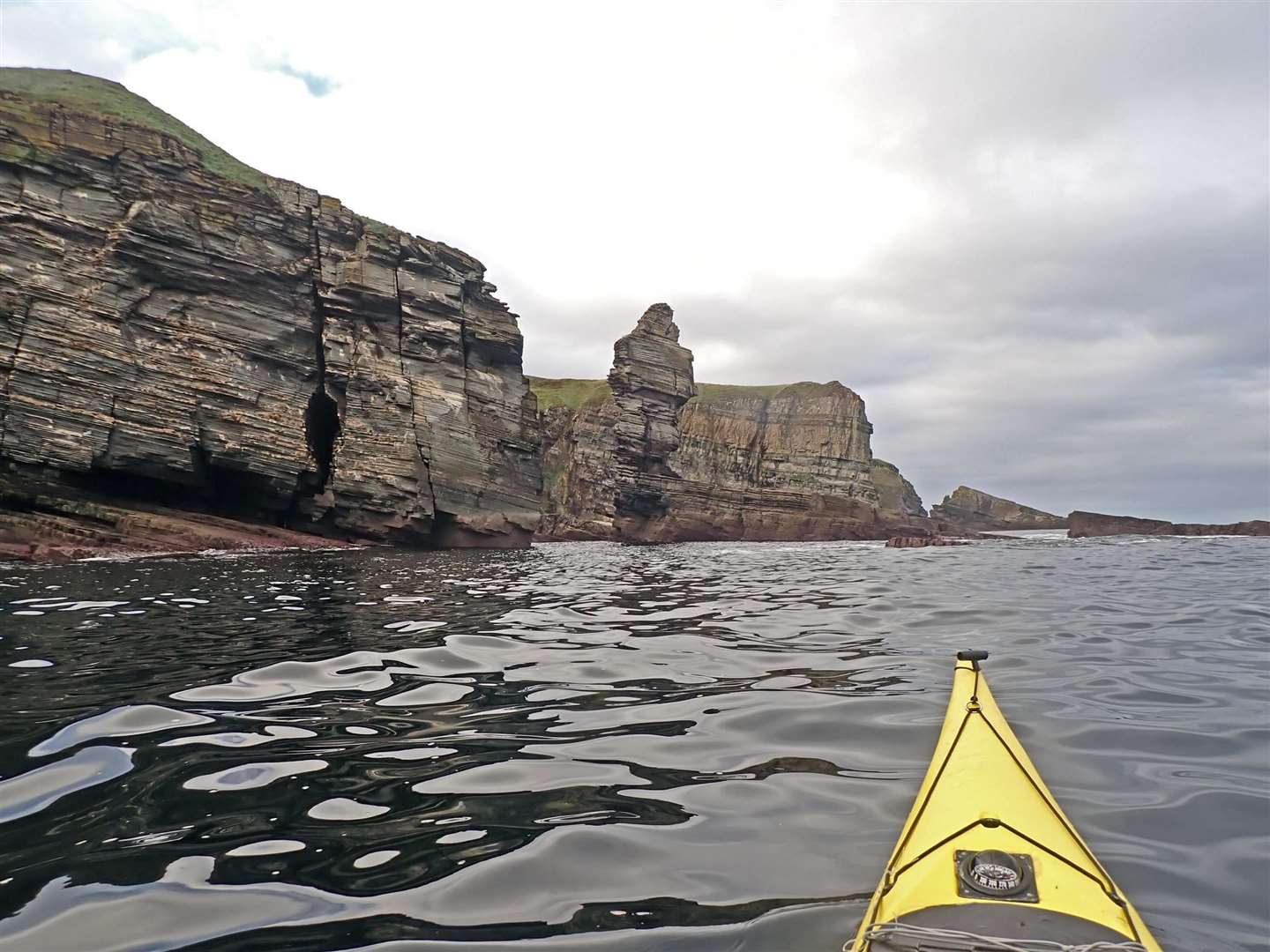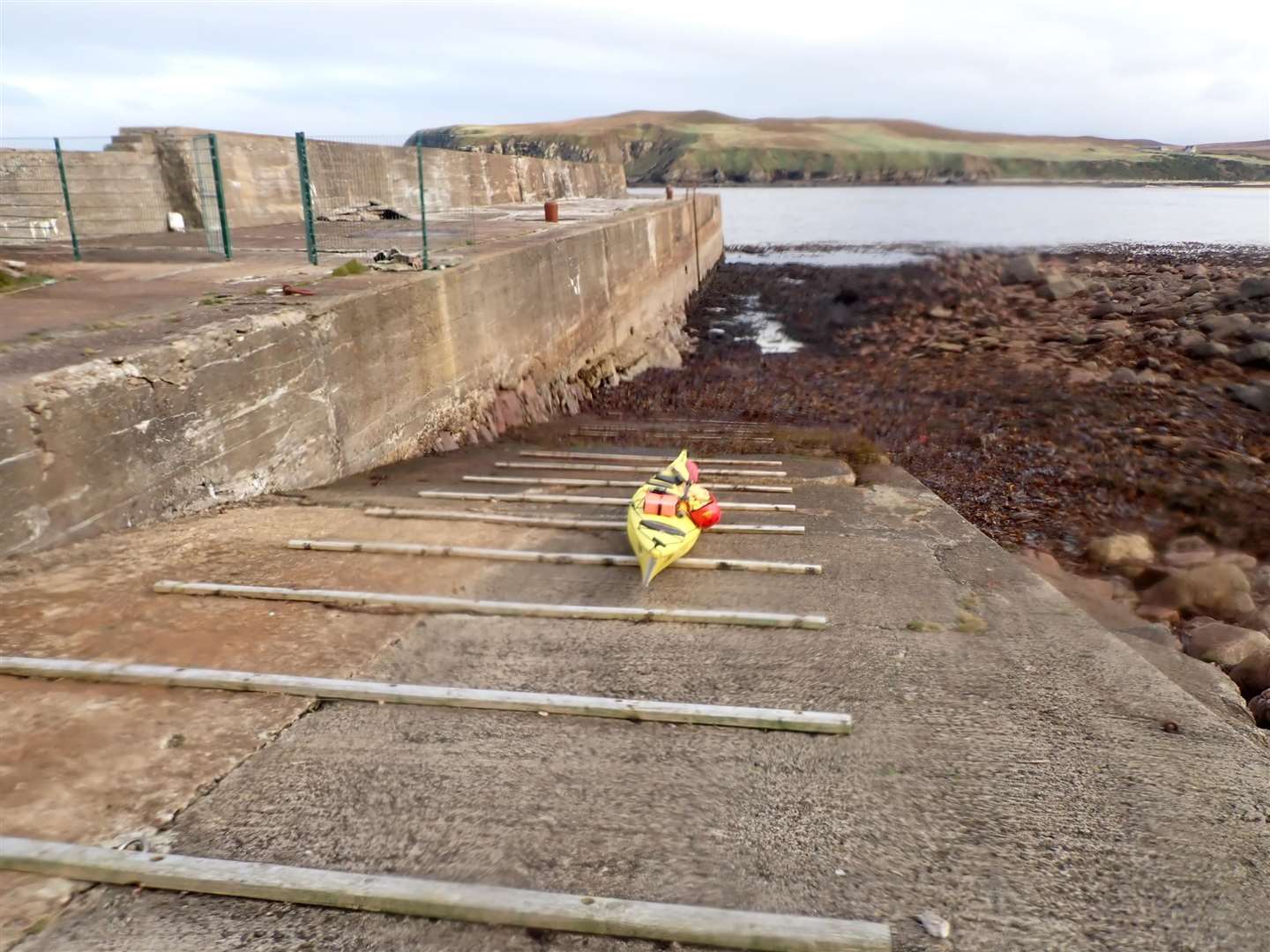 The striking stack of Lady Bighouse marks the entrance to another cove which looks deceptively sheltered until you see how the foaming waves can suddenly rear up. In calmer conditions there are several inaccessible boulder-beaches to explore before you round the main headland.
In summer, puffins nest here, also on slopes halfway up the cliffs.
A landing on the wide sands at Melvich is always tempting, but the swell can make it very difficult to launch again! This time the waves on the eastern side of the bay were only small so I could enjoy another stop before paddling across the bay to Melvich Pier which, I thought, would be just a short distance to the waiting car.
Unfortunately I'd managed to time it for a low spring tide and the pier was 100 metres away across big slippery rocks coated in seaweed. Hauling the boat across and up the long slip was the hardest part of the day. Portskerra is a better harbour!
Related articles:
---
Do you want to respond to this article? If so, click here to submit your thoughts and they may be published in print.
---
---
Get a digital copy of the Courier and Groat delivered straight to your inbox every week allowing you to swipe through an exact replica of the day's newspaper - it looks just like it does in print!
SUBSCRIBE NOW
---
---