Manson will bring stability to Wick Academy, says Steven after retiring from Highland League football
---
Published: 07:11, 20 November 2020
---
Get a digital copy of the Courier and Groat delivered straight to your inbox every week
---
---
Ex-Wick Academy stalwart Michael "Joe" Steven is convinced that manager Gary Manson will bring back stability to the club.
Steven played alongside Manson for a decade as the Scorries regularly challenged for honours and says his former team-mate deserves the respect of everyone associated with Academy.
The 30-year-old was speaking this week after confirming that he is retiring from Highland League football because of family and work commitments.
Steven was a fans' favourite during his 10 years at the club because of his commitment to the cause and his intense will to win. He made 261 appearances and was among the scorers in the North of Scotland final triumph in 2015, Academy's biggest achievement since entering the Highland League.
"Gary has got a really clever footballing head on him and a better guy you won't find for knowing the league inside out – he knows every team, he knows their style, he knows their players, their managers," Steven said.
"Gary is a thinker and he'll think outside the box. He's young, he's modern, and Academy needed a change.
"It's a pity they didn't do it a year sooner – I definitely would have played that season, but that's gone now.
"They're in safe hands and I think Gary will bring a bit of stability back to the club. He knows the club inside out.
"He should have the respect of the board and the changing room because he's a household name. He's been there for a long time. He shouldn't need to earn anybody's respect as such – he should have it.
"I am looking forward to seeing what Gary can do and I hope he can get them back where they should be."
On his decision to quit, Steven said: "I had a good conversation with Gary about it. I've played with him for the past 10 years and he knows I'll either give you 150 per cent or I'm not there at all – that's the way I work.
"I wasn't willing to do a half-a***d job, in other words."
Steven made his debut for Academy in March 2009 and over the years has juggled training, travelling and playing with the demands of his work on the family farm at Charleston, Barrock. He and his wife Holly have two daughters, aged five and three.
On his decision to step down from playing Highland League football, Steven said: "It boiled down to time, really. Because of my work commitments a lot of time is spent there and I have a young family.
"My wife Holly has had to put up with me being away a lot. She did very well looking after the kids and running another business we have [The Fairy's Workshop, bespoke jewellery].
Gallery1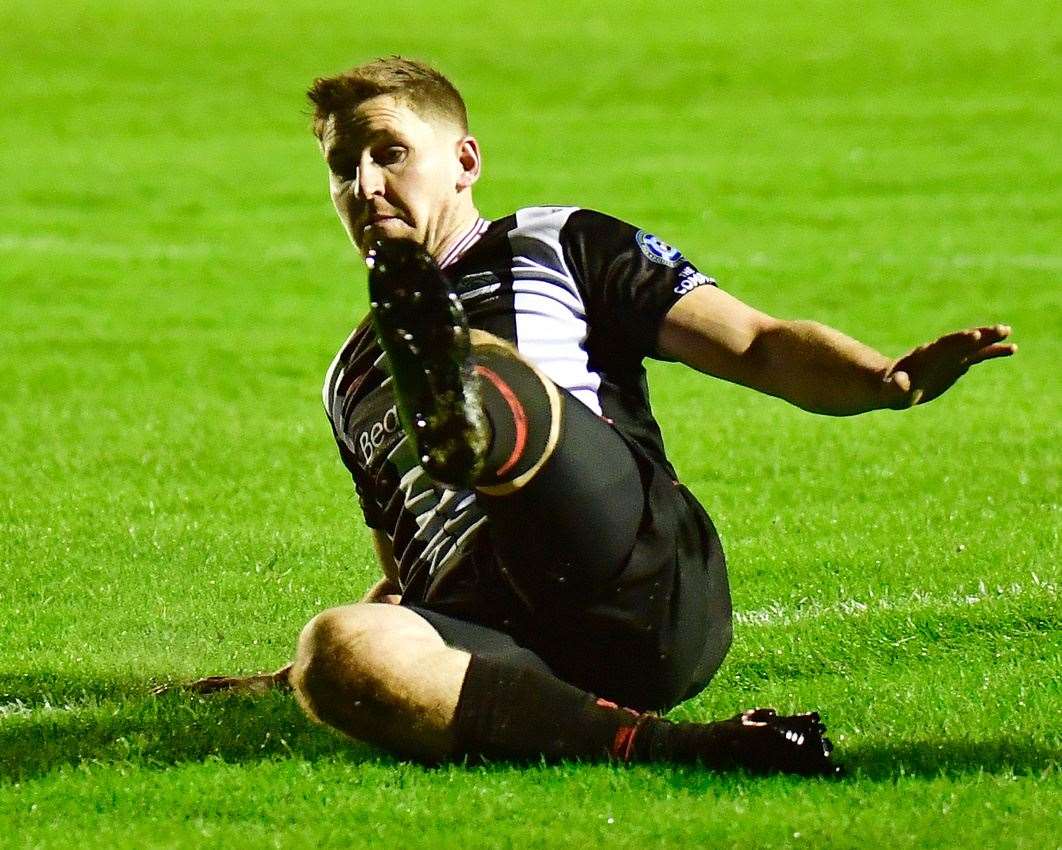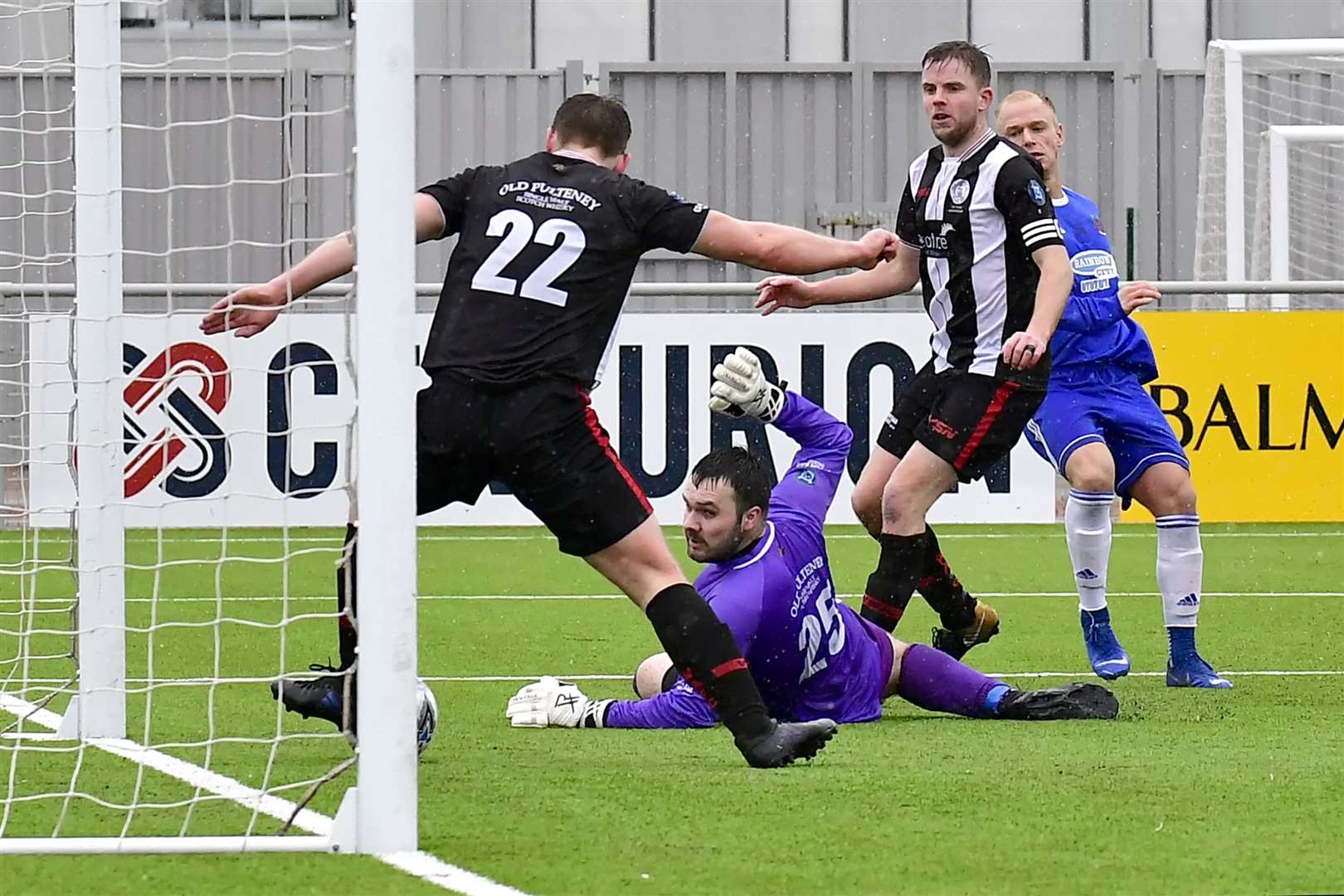 "At busy times you are working every hour you have and when I was playing I tried my best not to miss anything. Quite often I would run in the door, have a quick change of clothes and run back out the door.
"When the girls were very little they didn't really know what was going on but the older they're getting, the more they are asking where I'm disappearing to. Everything came together.
"I didn't expect to be retiring, because I feel that I'm still more than fit enough to play. Once Gary took over I went back last spring to start training again but then obviously Covid came about, so I've not been training and I've not been playing.
"Wick will be rebuilding, so I thought now was the best time to hang up the boots. I've had a good 10 years and I can't complain.
"I think the only way is up for Wick, to be honest. I've shared a pitch with Gary for 10 years and we got on really well.
"I look forward to seeing him progress and build another good Academy team."
Steven has not ruled out playing again at a lower level. "I'll try and still kick a football," he said. "I hope I have a couple of years left in me yet. It's just the time factor for Academy."
He also indicated that he would consider a move into coaching or managing when the time is right.
"I'm not going to write it off," he said. "Football is a big part of my life and I'd like to think that I do have a perspective to go into coaching. I can see a game from that point of view. Never say never, once the family is a little bit older."
In the meantime, Steven says he regrets that he didn't have a chance to say a proper end-of-season farewell to the Wick supporters.
"The support I've received over the 10 years has been something else," he said. "I'd like to thank the fans for the difference they made to us, both travelling and at home.
"It really shone through in the cup final and the feeling you get when you're on that park and you know everyone is backing you 100 per cent... We've still got that little village mentality.
"I would like to thank the fans. They cheered me on the whole 10 years so I would like to give them a pat on the back."
I would describe myself as a really hard, firm but honest player.
In his 10 years at Wick Academy, Steven was renowned for his never-say-die attitude and a no-nonsense playing style that frequently caused him to fall foul of referees.
He racked up 13 red cards and 75 bookings in his 261 appearances in all competitions, earning a few suspensions along the way, but maintains he was never a dirty player and that his disciplinary record was a symptom of his "old-fashioned" method of never shirking a challenge.
"I would describe myself as a really hard, firm but honest player," Steven said.
"I like the more old-fashioned way of playing – a good hard tackle, then you pick the guy up and get on with it and then you go again.
"Commitment is a big thing for me because I'd be the first to admit that I never was the most technically gifted player. But what I lacked in that I gave you in commitment and passion and I'll be there at the end, even if my leg is hanging off. Unless you physically take me off I won't stop trying and I won't stop running.
"I always liked to think that I could lead – I could see the whole game quite well because I was at the back. I always tried to make sure everybody was up for a game before we left the changing room.
"It's not really a thing I was taught, it's just a thing I always did. It makes life so much easier if you can communicate. It keeps everybody alert and buzzing. Motivation is a big thing.
"If I do something I commit to it, be it a tackle or whatever, and not all of them come off the right way, so I have had run-ins with referees. But it was just my style of play – I was going to give you 150 per cent, and every now and then you put a foot wrong.
"It's a really fast, physical league and you're up against really good players who are as physical and committed as I was. But it was really enjoyable. I loved playing at that level."
He added: "People have given me stress about getting red cards, but I have always said a red card is a sign of commitment. I've always said that – be it true or not, I don't know!"
Steven was a key part of the Wick squad that came within four points of lifting the title in 2012/13 after winning all 17 of their home games and was among the scorers in the North of Scotland final triumph in 2015.
He enjoyed the camaraderie on and off the park at a time when Academy regularly challenged for honours.
"I was doing a bit of reminiscing after I finally made the decision," Steven said. "Few players will be able to do what we've done. I've played alongside my brother [Grant], my cousins [Davie and Ross Allan] and my best pals for 10 years. We've been competing at the top for the most part of that time, in cup finals and playing the big teams – we've always been there or thereabouts, aiming for a top four finish.
"It has been really enjoyable, and a better bunch of guys you won't find. We all grew up together so we were all good pals and knew each other. The bus trips, the nights out, the end-of-season trips, just the whole thing is something to be remembered."
Reflecting on that 2012/13 campaign, when the Scorries were tantalisingly close to being champions, Steven said: "Hindsight is a great thing but, looking back now, I think we were maybe two years too early to be in that situation.
"We were at the age where we were just kind of throwing our boots on and enjoying our football. I don't think we were thinking an awful lot about the mathematics of it all – we just wanted to go out and win. I don't think any of us at the time realised how close we were to winning the league that year, to be honest."
Two years later Academy lifted their first silverware as a Highland League club with a 6-2 mauling of Nairn County in the North of Scotland Cup final. Steven scored Academy's fourth goal that day and had netted the winning penalty in a shoot-out against Brora Rangers in an earlier round.
"Winning the cup final was something else, and coming back to Wick that night with the support we got," he said.
He has fond memories of Academy's Scottish Cup adventures, including long-distance victories against Spartans in 2012 and Dalbeattie Star in 2016.
Spartans were "a big scalp", he recalled. "Some of these teams weren't expecting us to be as good as we were, and I quite enjoyed that. They treated you as hillbillies and a few teams got a shock.
"We outplayed Dalbeattie Star and they didn't like it."
In the Highland League he savoured Academy's encounters with Cove Rangers (now playing in SPFL League One), "just for the sheer competitiveness".
He added: "All the big games I enjoyed, because you had to be on top of your game and you were up against good players. There are a lot of highlights."
We all grew up together so we were all good pals and knew each other.
Steven claimed that former Academy manager Tom McKenna failed to show the same level of commitment as the players before his time in the Harmsworth Park dugout came to an end.
The 30-year-old defender was absent from the Wick line-up for almost the whole of last term. He played in a couple of pre-season friendlies and came off the bench in the opening league game, a 5-0 loss at Fraserburgh, but thereafter his family and work commitments came first.
It was clear that Steven had become disenchanted after being a pivotal part of the Wick defence for 10 years.
This week, following his decision to retire as a Highland League footballer, Steven insisted there had been no bust-up with McKenna but said he felt standards had been slipping.
McKenna was appointed in September 2017 following the departure of Gordon Connelly. Despite being hampered by injuries, McKenna had guided the Scorries to ninth in the Highland League by the time he resigned in February this year, following a seventh-place finish in 2018/19.
"We didn't fall out or anything but I had spoken to him after pre-season and I felt his commitment wasn't near what it should be for a manager at that level and for what the boys were putting in," Steven said. "He wasn't giving the commitment I expected him to give.
"For me there were too many phone calls on a Saturday morning saying 'I can't make it, Tichie [assistant manager Richard Hughes] is in charge today'. In my eyes at that level it's unacceptable, unless you have a genuine 100 per cent reason, like we all do sometimes.
"In his defence I don't think he realised the level he was at, to be fair. He was thrown in and then kind of realised it was a big commitment.
"I would like people to know that it wasn't the case that I just walked away because of a bust-up or what not. For me his commitment was nowhere near as good as it should have been, for playing at that level and for what the guys were putting in with training in rubbish weather all winter and turning up every Saturday. It does get tough sometimes, but you don't want to let the guy next to you down.
"I just felt that as a manager he should have been more committed and doing more.
"I had a conversation with the new chairman at the time, Pat Miller, and I was speaking on behalf of the changing room really because a lot of the guys are maybe not as outspoken as I am. They wanted me to say what I said.
"I just said to Pat things were going to have to change. At the time he [McKenna] was losing the changing room... I just felt the whole thing started to slip.
"I couldn't see any way forward for Tom. I wasn't calling for him to be sacked. My words to Pat were 'you've got to keep an eye on that changing room because I'm scared you're going to start to lose players because of it'."
At the time he resigned earlier this year, McKenna said he was "gutted", adding: "It has been a difficult season where I have had a lot to deal with and it has been damn hard."
Speaking this week, McKenna – who is now part of the coaching set-up at Thurso in the North Caledonian League – said he was saddened by Steven's comments but did not wish to go over old ground.
"Those are his thoughts and I wouldn't want to elaborate on anything," McKenna said. "It's a chapter in my life that is closed now and I don't want to go back over it. As individuals we can all criticise each other. No-one is perfect.
"As far as I'm concerned it's something I don't want to get deeply involved in now.
"It does sadden me, because I have always held Joe in high regard and always thought I got on well with him. He did make clear his thoughts about me. I had a lot of time for Joe and a lot of respect for him as a person and as a football player."
Joe will go down as one of the great defenders we've had in the Highland League era.
Manager Gary Manson said Steven had "given his all" to Wick Academy and would be hard to replace.
Manson told the club website: "It's a shame Joe has decided to call it a day but it's fully understandable given his family and work life away from football. Playing Highland League isn't easy at the best of times but when you have to juggle a busy life away from the pitch then it becomes extremely difficult.
"Joe will go down as one of the great defenders we've had in the Highland League era. He has given his all to the club for the last 10 years and I've seen him develop into a very good all-round defender.
"It'll be hard to replace Joe as there are not too many players with the attributes he has. He was a great team-mate to play alongside and it's a real pity I won't have him to call upon now I'm in the management role.
"He can now have a well deserved rest and concentrate on the farm and his family. I'm sure the league's attackers will be breathing a sigh of relief at this news."
Gallery1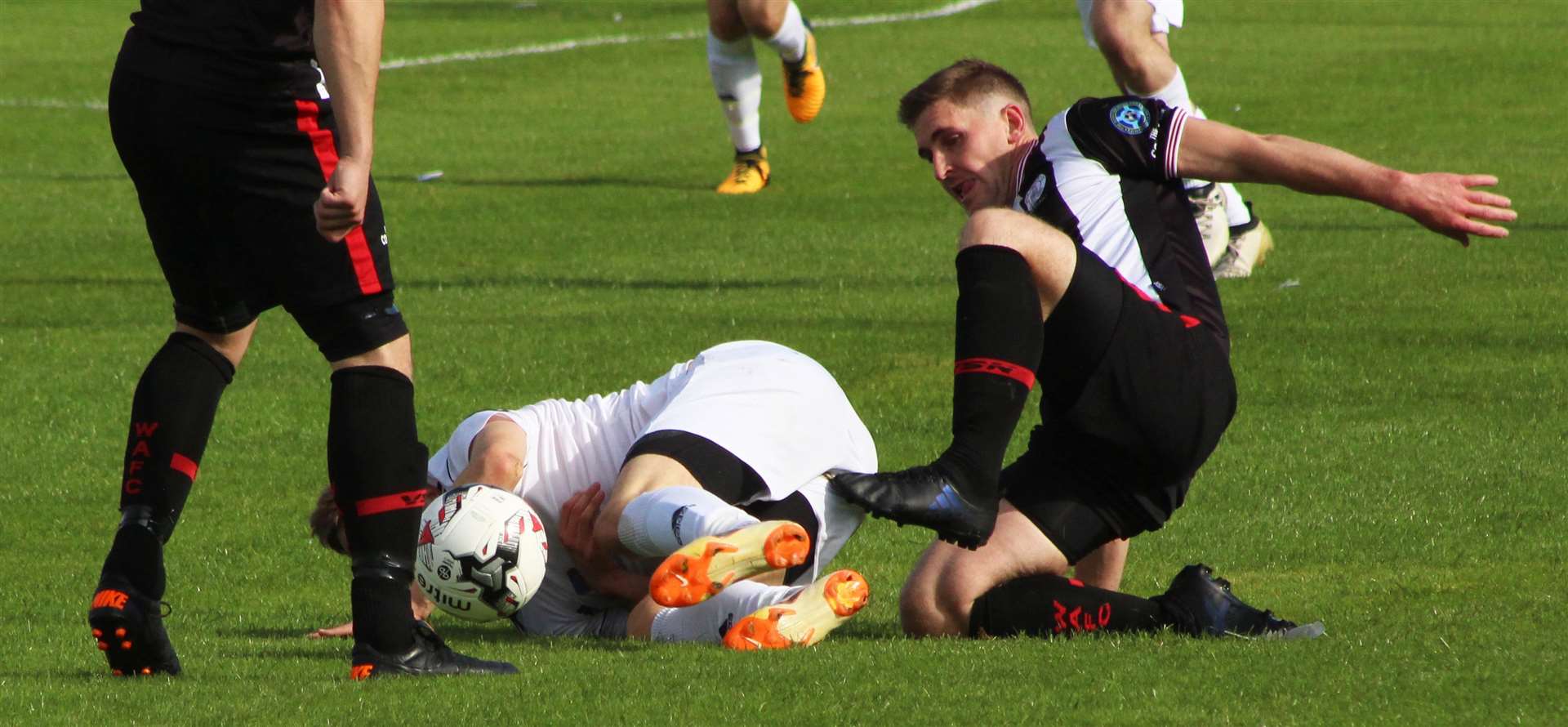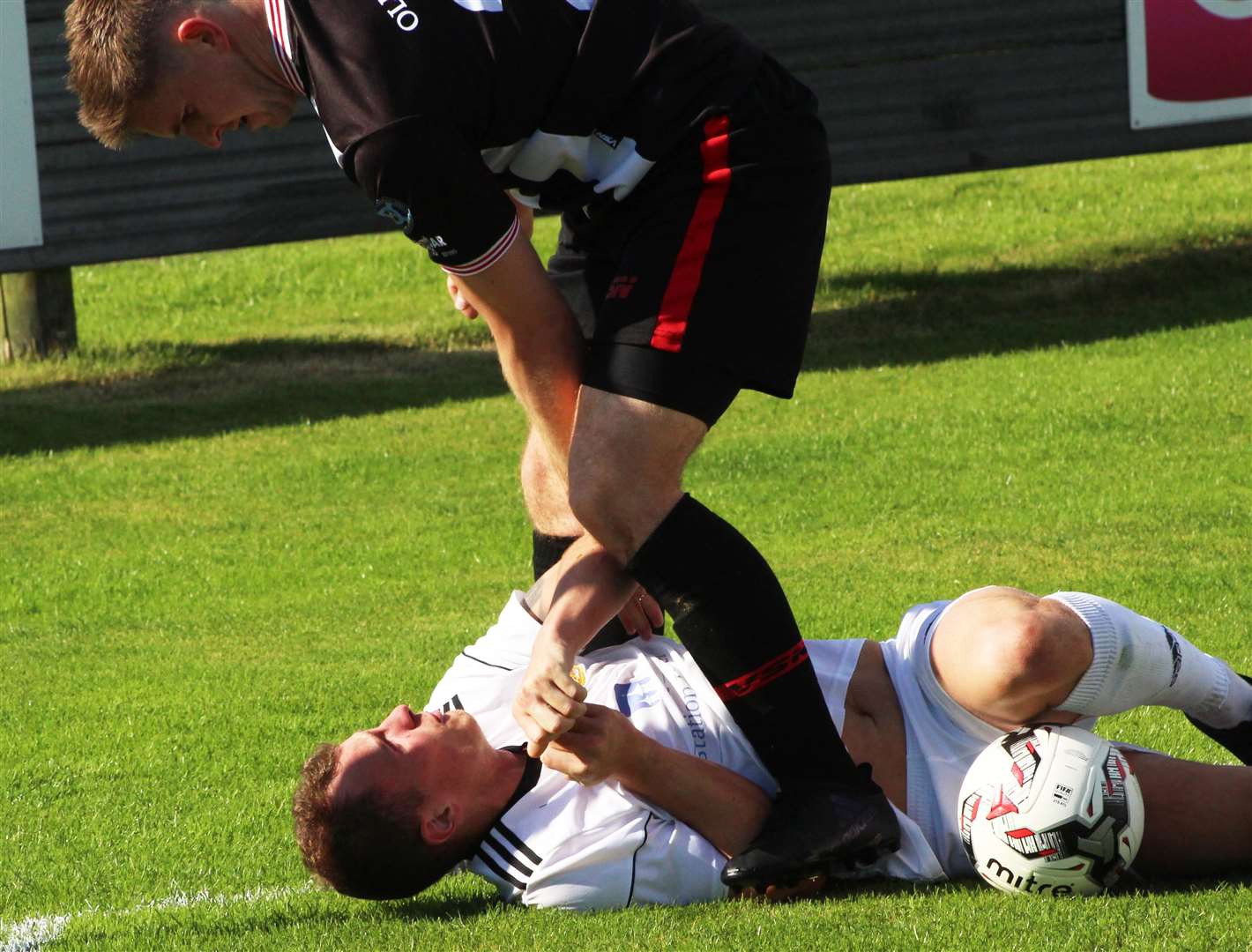 ---
---
Having trouble getting out to pick up your weekly newspaper?

Get a digital copy of the Courier and Groat delivered straight to your inbox every week and read the full newspaper on your desktop, phone or laptop.
SUBSCRIBE NOW
---
---