Looking back on 100 years at Wick's home of football
---
Published: 07:29, 02 May 2020
---
Contribute to support quality local journalism
---
---
It's a century since Harmsworth Park was gifted to the people of Wick by the local MP. Academy's stadium announcer KEN WOOD picks out some memorable moments and notable individuals from over the years

PART ONE
Friday, April 17, 2020
Tomorrow at five to three, in normal circumstances, players would be shuffling about near the changing-room doors and around 300 fans would be coming through the gates of Harmsworth Park – a scene no different from many a Saturday afternoon since the Caithness MP Sir R Leicester Harmsworth purchased it for £400 in the spring of 1920 and gifted it to the people of Wick for recreational purposes.
Known previously as the Harrow Park, the ground had staged sporting and other events for many years. Despite plans for developments such as a poorhouse or a posh private residence, and even a slaughterhouse, it became a popular venue for cricket teams and from 1888 it was home to the town's first football club, Rovers. However, they folded after their attempt at staging a Highland Games event was cancelled due to heavy rain.
In the early 1900s, Wick Academy became the tenants, joining the SFA in 1911 to enter the Scottish Qualifying Cup.
During World War I the burgh council leased it out for grazing and when the surviving local football clubs – Academy, Groats and Thistle – wanted to use it again in 1919, the ground was often a quagmire. Club officials mentioned their problems to the son of Sir Leicester, who reportedly replied: "Dad will buy it."
Local solicitor D W Georgeson did the necessary and the rest, as they say, is history.
The provost and bailies became trustees and a management committee, made up of representatives of the Comrades of the Great War, the Wick FA and the cricket clubs, was elected. Little was achieved in almost three years and in March 1923 a park improvements committee took over, raising substantial funds by means of dances in the Rifle Hall and flag days, i.e. street collections. Within six months drains were laid and 18 inches taken off the top corner to reduce the severe slope. Some 1600 barrowloads of top dressing were spread and the pitch enlarged slightly and re-turfed. The surrounding walls were restored.

By 1926 a pavilion with changing rooms and a piped water supply was completed – still in situ as the tea hut and match-day office. The older players must have thought it palatial compared with the 30-year-old wooden shed they had been accustomed to.
All was ready for the three Wick teams to take their place in the first County League tournament the following winter.
As well as the three Thurso teams coming over for County League games and the Highland League clubs drawn to play there against Academy in the Qualifying Cup, Harmsworth Park attracted big crowds for visiting Scottish League teams. Academy called on players of other clubs for these friendlies and for Qualifying Cup games.
When football resumed after World War II, players and local tradesmen used their leisure time to improve the pavilion with the installation of shower baths, toilets and electric lighting. A couple of ex- WWII Nissen huts were adapted to afford spectators some protection from the elements and erected more or less where the main stand is now. However, the roof was irreparably damaged in a storm in 1955.
Wick Burgh Council took over as trustees of the park in 1960 and morphed into Caithness District Council in the 1970s when the current changing rooms and the groundsman's house were built.
In the post-war period Groats and Thistle continued to share use of the pitch with Academy and from 1960 the County League switched to a summer season with Wick Rovers coming on the scene as Academy opted to stay as a winter club to retain their full SFA membership.
Under council management, high school teams, even house teams such as Scaraben and Morven played on the park in the 1960s and '70s.
Wick Academy's election to the Highland League in 1994 saw further development and again enthusiastic volunteers assisted the professionals with the installation of floodlights and the building of the two stands.

PART TWO
Harrow Park, between Harrow Hill and South Road, has hosted various sports for nearly 150 years and became Harmsworth Park in 1920 when Sir Leicester Harmsworth MP bought it from Wick Burgh Council for £400 and gifted it to the people of Wick.
Cricket teams including Oliphants and Academy played there from the 1870s and football started in October 1888 when Rovers became the first formally constituted club in Wick, the third in the county after Lybster Portland and Thurso Thistle, both founded the previous year.
One of the first matches staged was Rovers v Thurso Thistle to celebrate the Wick burgh tercentenary in 1889.
Several other clubs soon appeared on the Wick scene, notably Pulteney Thistle in 1889 and Academy and John O'Groat FC in 1893, all initially playing their home matches in other parts of the town.
The Wick League started in 1894, Academy and Thistle sharing the first points with a 2-2 draw on November 10.
Wick/Thurso rivalry commenced with the donation of the Harmsworth Bowl in 1901. The Wick select team won home and away, but in 1902, after one win each, a decider was played in Thurso. The attraction of football as a spectator sport was surely proved by the 300 supporters travelling across from Wick on a special train.
In 1904 Harrow Park witnessed its first Scottish Qualifying Cup game when "Wick" lost 5-1 to Inverness Caledonian. After losing again in 1905, 3-2 away to Black Watch at Fort George, this select team venture was scrapped. Academy, who now leased Harrow Park, joined the SFA in 1911 and that September more than 1000 spectators saw them win their first tie 4-0 against Inverness Thistle. In 1913 Academy won 3-2 against Buckie Thistle who had crossed the Moray Firth in a fishing boat.
On New Year's Day 1914 Harrow Park hosted a Caithness v Sutherland game with a solid silver quaich – the splendid Portland Bowl – at stake for the first time. Sutherland delighted their 140 supporters with a dramatic 4-3 victory, scrambling a late winner in a goalmouth melee which broke the goalposts!
Gallery1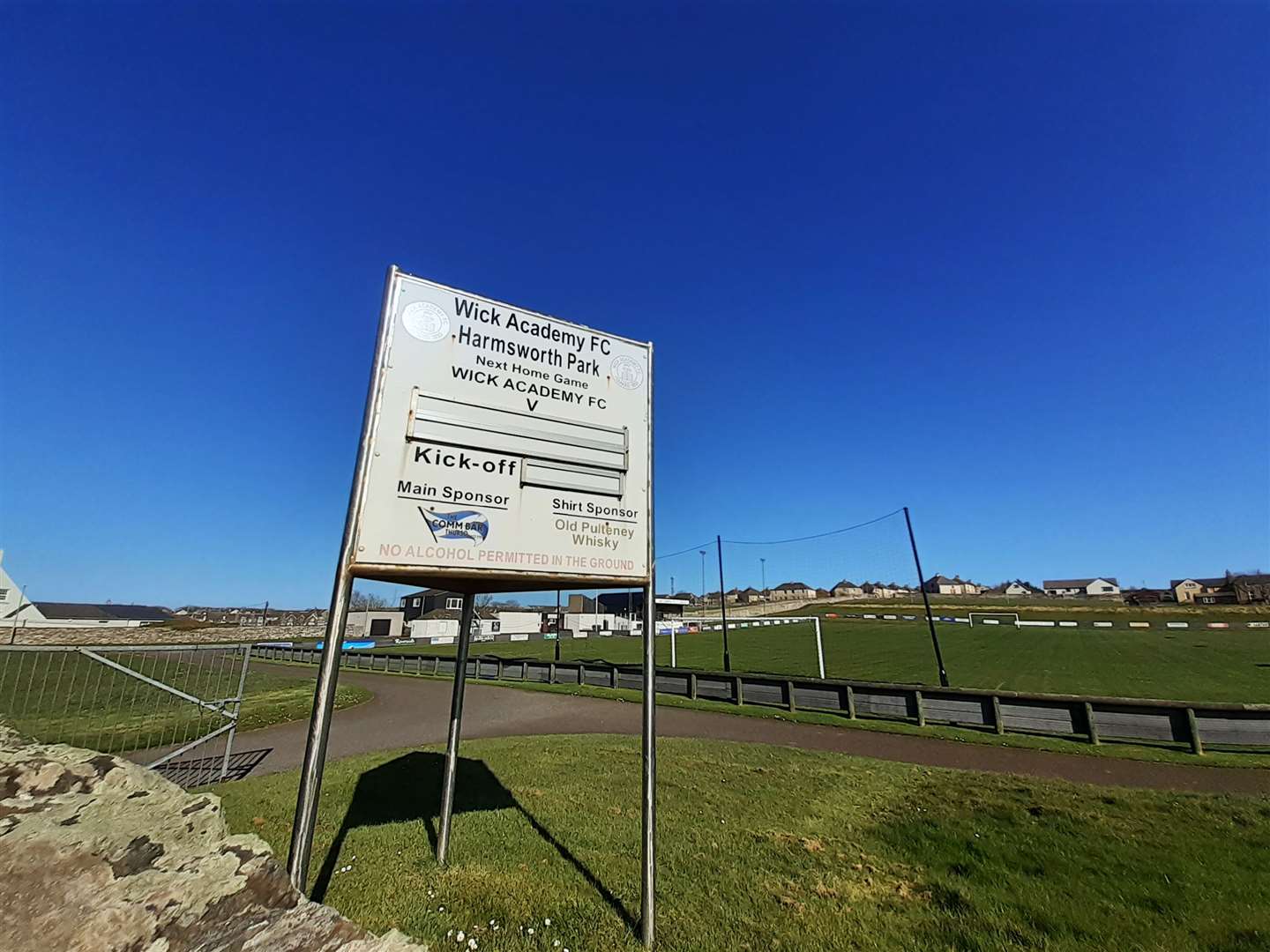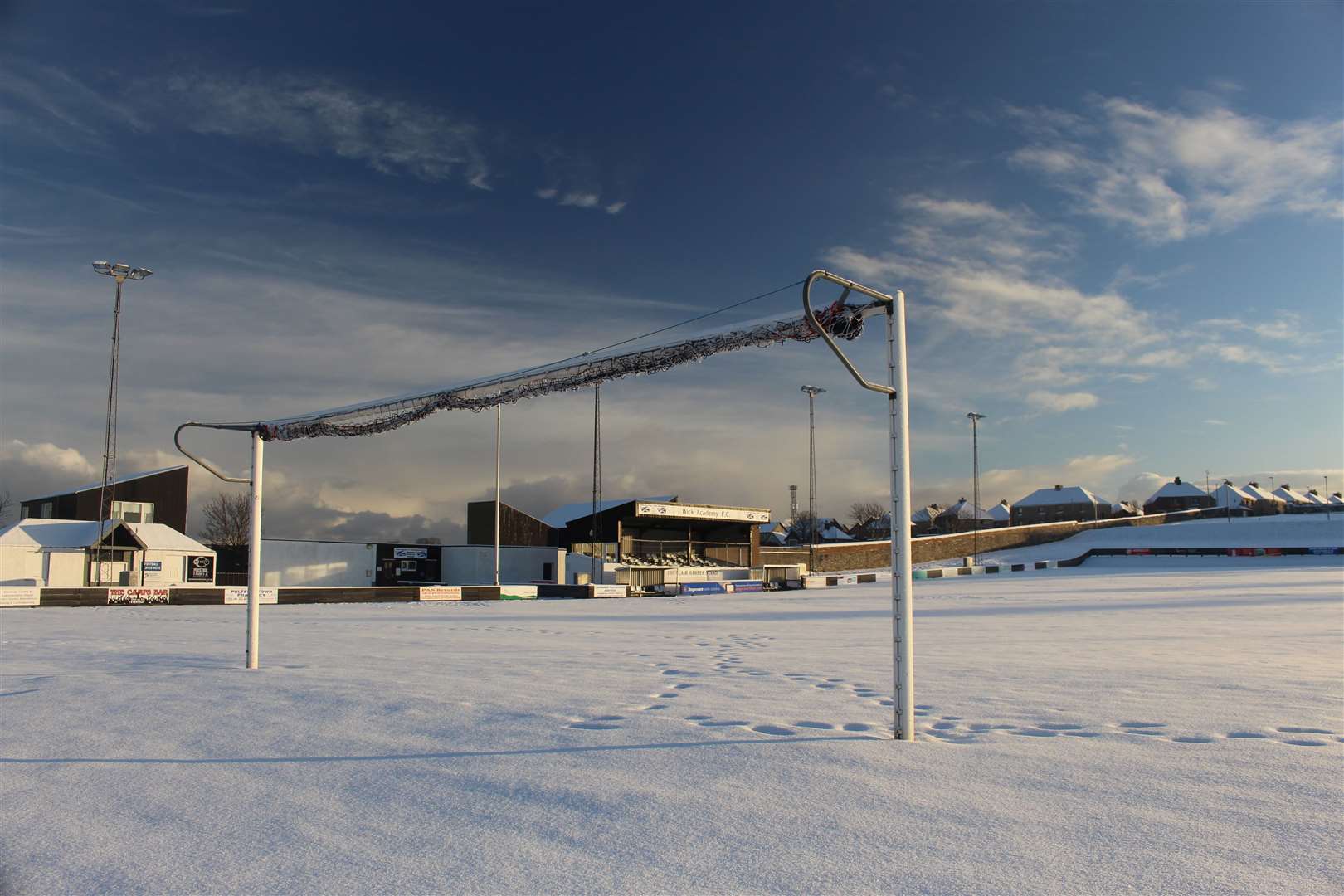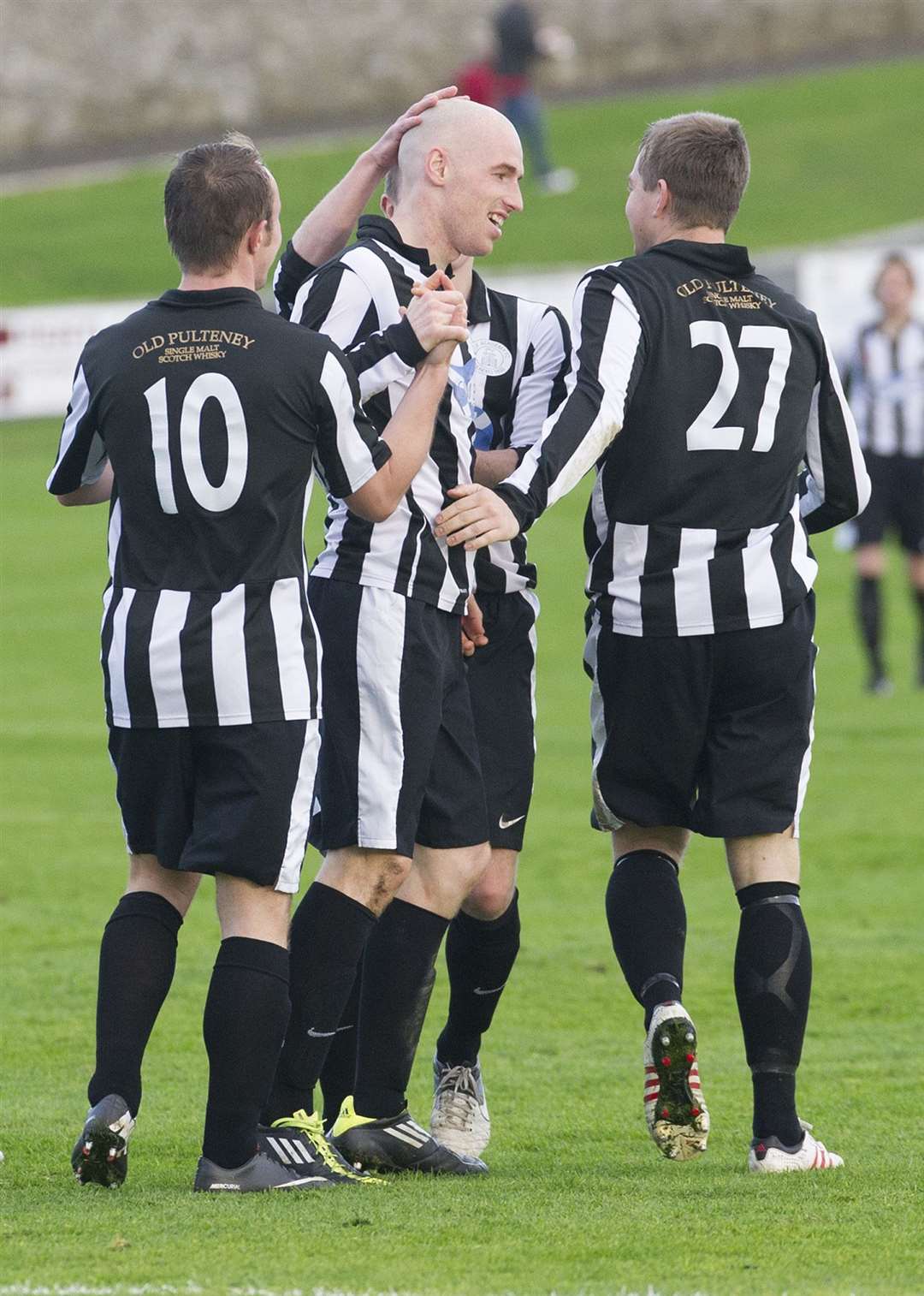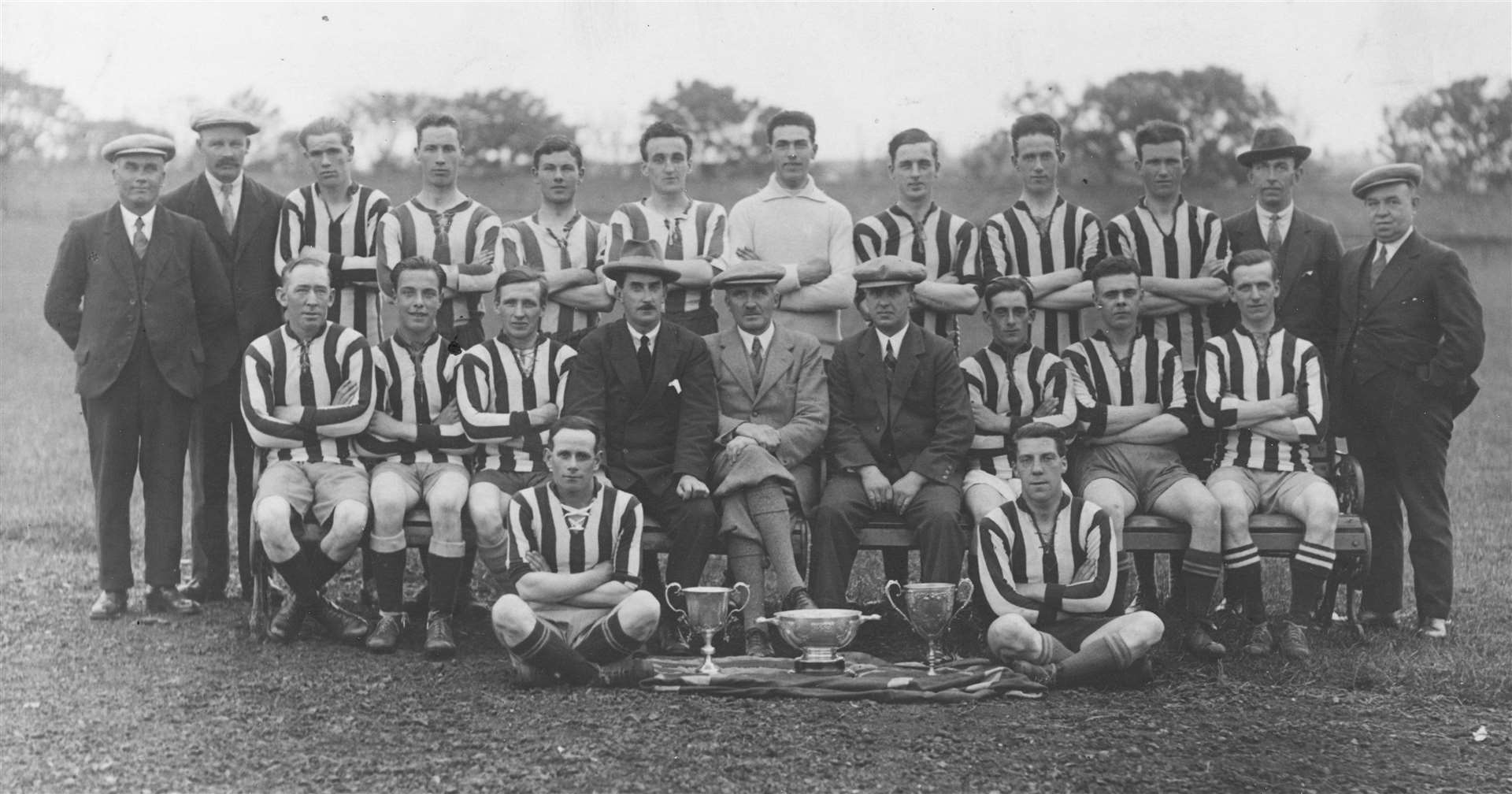 Following World War I, the pitch was in a poor condition and after Sir Leicester's generous gesture a park improvements committee was appointed in 1923 to reinstate and administer use of the park. Meantime a reported "record" crowd watched Academy draw 2-2 with Elgin City in a 1919 Qualifying Cup first-round tie.
By now, Academy, Thistle and Groats shared the park and from 1927 enjoyed use of the new pavilion for their home games in the equally new County League. Thurso Acks won the inaugural cup in spring 1927, but Academy won in '27/28, '28/29 and '30/31 and Thistle in '29/30 and '31/32. Groats claimed their first title in 1935/36. In 1935 Harmsworth Park staged the first Caithness v Orkney Archer Shield clash.
With no other SFA clubs north of Dingwall, Academy's Qualifying Cup team was really a north select and the Harmsworth Park fans cheered home wins 3-2 v Inverness Thistle in 1929 and 7-0 against Forres Mechanics in 1930. Academy also hosted prestigious friendlies in the '30s. Clyde won 6-0 here in April 1931, but the Wickers did better against subsequent visitors Celtic (twice), Aberdeen (twice), Dundee, Dundee United and St Johnstone. The experience gained from these matches must have been invaluable and that talented group of players won enough Qualifying Cup ties in 1933/34 and '35/36 to reach the Scottish Cup, though drawn to play away on both occasions.
During World War II there were fundraising games between "Wick Citizens" and visiting services teams.
From 1947 the pre-war pattern of games continued until 1960 when the Caithness AFA County League opted for summer football. The park has hosted many Highland Amateur Cup games since 1978, including two finals, the most recent in August 2018 when Pentland United beat Lerwick Spurs. In 1989 Aberdeen defeated Caithness AFA to win the Wick Quatercentenary Cup.
Academy withdrew from the CAFA to retain their SFA status and in 1972 they joined the North Reserve League with considerable success over the next 20 years, also hosting Hearts in a July 1984 friendly and Hamilton Academical in a centenary game in 1993 before stepping up to the Highland League in 1994.
Groats, Thistle and Rovers now play in the neighbouring Upper Bignold Park, though if and when the 2020 summer season will start is anyone's guess.

PART THREE
A tricky task this – writing about just a few hundred of the tens of thousands of local footballers who trod the turf of Harrow (now Harmsworth) Park. Read with pride if your grandfather gets a mention and forgive me if someone more recent, equally worthy of mention, has been omitted.
The Rovers of 1888 were first to earn local fame when their games with Lybster Portland, Thurso Thistle and Inverness Pilgrims attracted spectators. The club survived barely eight years, but the coopers, bakers, tailors, clerks and printers who swapped their weekday clothes on Saturday afternoons for the team's dark, hooped jerseys were pioneers. An early photo has a line-up of Dan Wares, John Macleod, Alex Sandison, George Phimister, goalkeeper Dominick Mulrain, William Calder, Dannie Tait, Jimmie Wares, Willie Davidson, captain Alick Miller, Dan Georgeson, Willie Cuthbertson and Jimmie Begg plus secretary William Georgeson. Around 20 more players came in over the next few years, including John G Hood, who will be better remembered as founder and long-serving officer of the local Boys' Brigade.
Next on the scene was Pulteney Thistle, formed in 1889 and thus the town's longest surviving club. Home games were staged initially at the South Head, family loyalties soon established with four Bains and three Millers as well as a Macleod, Swanson, Robertson, Baikie and Dunnet donning the blue jerseys in the early days. Peter Bain was Thistle president for 28 years from 1924, but probably the longest-serving stalwart was defender Frank More. A regular from 1902, he was later a referee and committee man and even had a game as goalkeeper for Wick Citizens against Servicemen 40 years after his Harmsworth Park debut!
John O'Groat FC arrived in 1893, mostly pupils of West Banks School. They took over from Rovers in the Senior League in 1895/96, acquiring some of the defunct club's players. Dan Baillie and Jimit Doull played in goal behind Alex (Coey) Tait, Rod Mackay, Alex Mackay, Andy Wares, John More, James Wares, John Tait, Alex Miller, Ake Miller, George Doull, John Christie, Jim Tait and Addie Sutherland. An important man from 1920 was Sinc Mackay, secretary (and everything else) for Groats, Wick FA and Caithness for nearly 40 years until his sudden death while working on the pitch at Harmsworth Park.
Academy also started in 1893 and played their first match against Castletown Rangers at Harrow Park, fielding Peter Gunn, James Ross, David Banks, George Banks, Alex Banks, Robbie Farmer, John Christie, Alex Nicolson, Alex Robertson, John Davidson and Willie Eddy. Davidson, teacher at the Academy, started the club and was team captain.
George Banks had four sons – John, Harold, David and George – in the team 30 years later.
Another prominent Wick football family pre-World War I were the Skinners, who had five brothers – Willie, Jimmy, George, David and Frank – in the Academy team. The Millers went one better! From the '20s they had Willie, David and Jimmy (Academy) and Sandy (Thistle), while John and Marcus served both Thistle and Groats.
The Farquhar family – Andy, father of Drewie, Alan G, James and David, followed by Alan and Gary – gave loyal service to Academy and Rovers. The Shearers were Groats and Academy men. The dynasty from great-grandfather Donald continued through Robbie, Donnie and John to Alan and on to Lee, Craig, Greg and Derek.
Academy's first Qualifying Cup team from 1911 deserves a mention – John Begg, William Houston, George Skinner, Alex Fraser, John Waters, William Leys, James H Miller (later secretary and president in his 50 years with Academy), George Sutherland a.k.a. the "Brora Wizard", David Ross (from Thurso), George (Rover) Tait and Dan Bain.
The '30s was a golden decade for Wick football. Harry Clyne (debut 1904) was on the right wing for Groats to the age of 43, while Groat editor David Oag (Thistle) starred in Academy's Qualifying Cup triumphs and big friendlies, alongside Alex Ferguson (also Thistle), Dan and Willie Thomson, Jimmy Hull, Peter Chisholm and Bill Mulraine. Catholic priest Father Sidney Toman was a talented midfielder.
Skipping past impressive Academy teams of the '70s and '80s to the present day, let's congratulate those who have clocked up most appearances – and miles! Top of the charts is newly appointed joint manager Gary Manson with 663, ahead of Richard Macadie (554) and Craig Shearer (497). Gary Weir played in 450 games, netting eight goals in one versus Fort William, while earlier Martin Gunn played 438.
My personal HP appearance "stat" is several hundred as a spectator, often with notebook and pencil or microphone in hand. When's our next match?
---
This website is powered by the generosity of readers like you.
Please donate what you can afford to help us keep our communities informed.
BECOME A SUPPORTER
In these testing times, your support is more important than ever. Thank you.
---
---