Christmas nutcracker steals the show at Caithness Pony Club
---
Published: 08:00, 22 December 2020
| Updated: 09:57, 28 December 2020
---
Get the Courier and Groat sent to your inbox every week and swipe through an exact replica of the day's newspaper
---
---
Fun and games were the order of the day at the Christmas show held by Caithness branch of the Pony Club in Halkirk.
Members and parents alike got into the festive spirit with their imaginative fancy-dress costumes which provided a welcome splash of colour.
District commissioner Debbie Pottinger said: "We had a great turnout for our fancy dress with seven competitors taking part. One very on-topic elfdisplayed their full Covid-19 protection gear. So much effort had been put into the costumes, it really made for a festive afternoon."
Winning the fancy dress was 10-year-old Dylan Sutherland who played the part of a Christmas nutcracker along with his pony Latheron Clockwork. Judging of the fancy dress was carried out by former local district commissioner Maureen Coghill and her daughter Emma, who was awarded a special certificate marking her graduation from the club after being a member for 21 years.
Emma, who is studying for a PhD through the University of the Highlands and Islands in Inverness, is probably the longest-serving member of the branch which has an age limit of 25. She also received the trophy for endeavour to cover her many pursuits with the Pony Club over the years.
"I was delighted she could be there to send her off to carry on her horsey adventures," added the district commissioner who presented Emma with her awards.
Prior to the show a number of annual awards were also handed out to club members celebrating their achievements over the year.
The gymkhana games, organised by Liz Hewitson, also took on a festive theme with an Elf on the Shelf race, hang a ring on the antlers and dressing up a small child.
The jumping competition, held in the outdoor school, included qualifiers for the Pony Club Spring Festival which are scheduled to be held at the Scottish National Equestrian Centre at Oatridge.
Qualifying in the 80cm class were Megan Gillon, riding Beinne Theine, who came second, and Erin Hewitson, riding Cloontuskert Orga Mist, who was third. In the 90cm the qualifiers were the class winners Liam Mackenzie, with Llanidan Bonheddwr, and the second-place combination of Charlotte Gillon and Letterkenny Kaiser.
Gallery1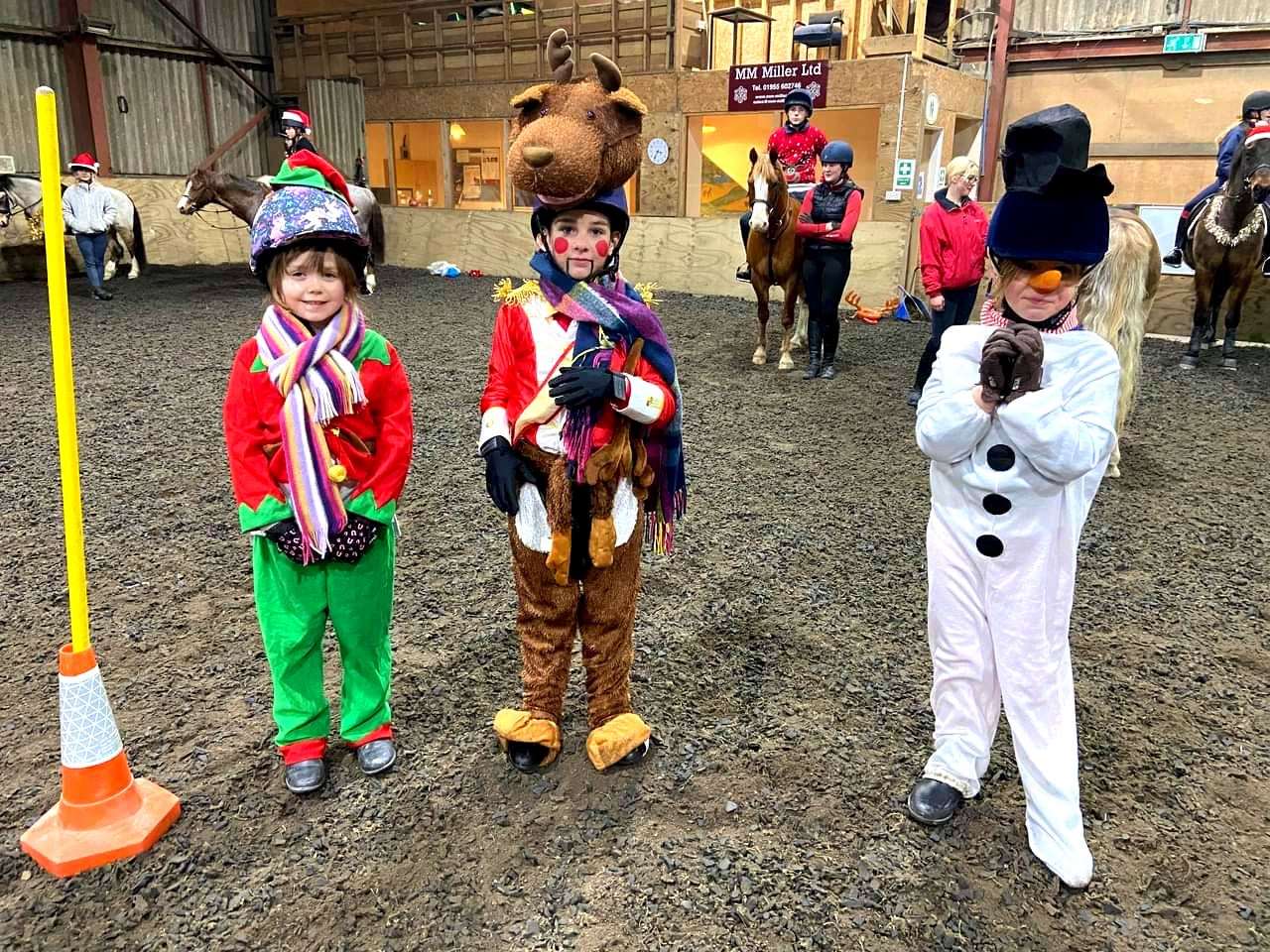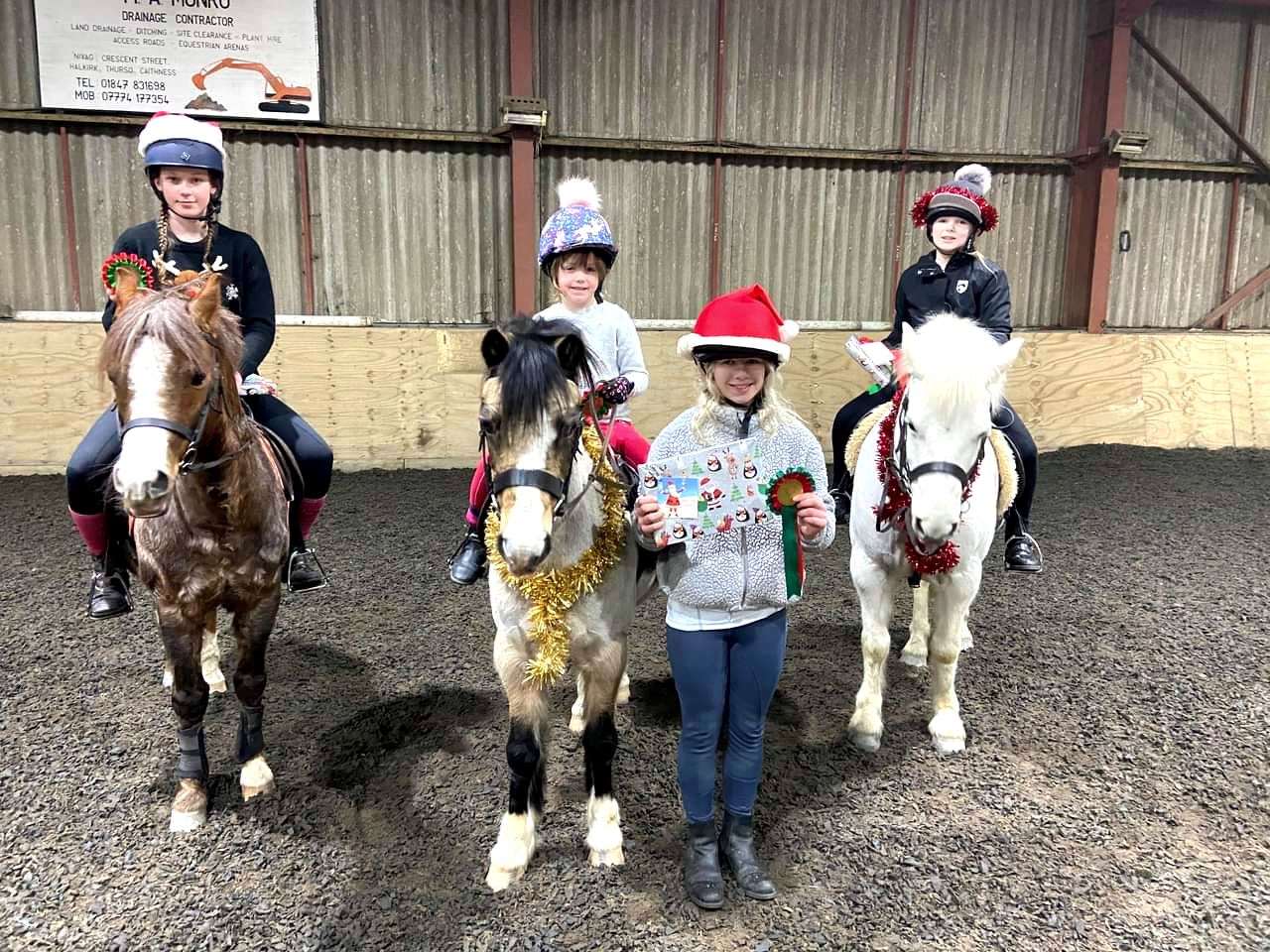 Results
Showjumping – Lead rein: 1 Rachel Macgregor, Dandy, 52.03; 2 Anna Cameron, 1:08:25; 3 Erica Pottinger. 30cm: 1 E Pottinger, BB, 56.72; 2 R Macgregor, 56.91; 3 Dylan Sutherland, Latheron Clockwork; 4 Ella Budge, Fancy. 40cm: 1 Aimee Holmes, Poppet, 41:22; 2 Isla Miller, Silver, 47:88; 3 D Sutherland; 4 Alysha Holmes, Fancy. 50cm: 1 Aimee Holmes, 49.75; 2 I Miller; 3 Amy Louise McIvor, Katie. 60cm: 1 Erin Hewitson, Spencer, 46.75; 2 A McIvor. 70cm: 1 Leoni Kennedy, Linnesdale Sovereign, 40.53 seconds; 2 E Hewitson, Tinkerbelle, 39.28; 3 Rowan Lee, Pedro; 4, Megan Gillon, Rocky.
80cm (Spring Festival qualifier): 1 Liam Mackenzie, Llanidan Bonheddwr, 37.29; 2 M Gillon, Beinne Theine, 37.78; 3 E Hewitson, Cloontuskert Orga Mist, 37.90; 4 L Kennedy, 39.66; 5 Lauren Oag, Mac, 40.47; 6 Emily Campbell, Arty, 43.82. 90cm (Spring Festival qualifier): 1 L Mackenzie, 37.22; 2 Charlotte Gillon, Letterkenny Kaiser, 38.81; 3 Frances Sutherland, Cosmos, 40.59; 4 Alysha Holmes, Lady, 41.59; 5 M Gillon, Beinne Theine, 41.72; 6 L Oag, 42.06. 1m: 1 Andreas Ramsøy, Elsa, 46.66; 2 C Gillon; 3 F. Sutherland; 4 Sophia Ramsøy, Lambada.
Fancy dress: 1 D Sutherland; 2 Aimee Holmes; 3 Isla Miller; 4 R Macgregor; 5 A Cameron, Crusty; 6 E Pottinger, Cherry; 7 E Budge.
Team games: 1 E Hewitson, L Kennedy, I Miller and R Macgregor; 2 C Gillon, E Budge, E Pottinger, Alysha and Aimee Holmes; 3 R Lee, D Sutherland, M and L Mackenzie.
---
---
Get a digital copy of the Courier and Groat delivered straight to your inbox every week allowing you to swipe through an exact replica of the day's newspaper - it looks just like it does in print!
SUBSCRIBE NOW
---
---