£7400 in prize money shared in prestigious weekend of darts at Wick
---
Published: 21:53, 14 May 2019
---
Contribute to support quality local journalism
---
---
DARTS players from as far afield as Elgin and Orkney converged on the Seaforth Highlanders' Club in Wick for three days of competition in the annual Friends of the Glass weekend.
In the men's singles competition on the Friday night Orkney's Kevin Gray marched into the semi-finals, taking care of Willie Ross (Forres), Alan Nicolson and Tam Mulraine (both Wick). His opponent in the semis was Martin Nicolson, who had disposed of Kenny Wales, Ronnie Plowman (Wick) and David "Pie" Mackay (Inverness).
Kevin saw off Martin's challenge in emphatic style with 15 and 18-dart legs to secure his place in the final.
The other semi saw Gordie Morrison (Inverness) playing his doubles partner Barry Maclean (Elgin), with Barry progressing to the final with a 3-1 win, notching up a 13 darter on the last leg.
The final set a high standard for the rest of the weekend with Kirkwall's Kevin Gray running out a worthy 4-2 winner over Barry Maclean.
Gallery1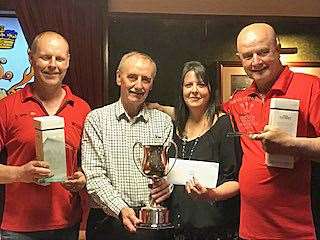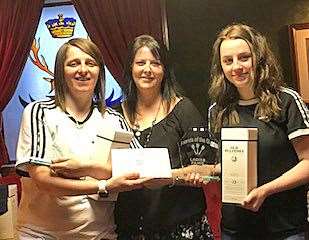 The ladies' singles saw 28 players taking part with the semi-final line-up being Sarah Stephen v Courtney McBain (both Elgin) and Meganne Shearer (John O'Groats) v Freda Perry (Wick), with Sarah and Freda making their way to the final. A close-fought final saw Sarah emerging triumphant, winning by three legs to two.
Saturday's pairs competitions were the big ones with "the Glass", as it's affectionately known, notching up its 42nd year. This year's event was sponsored by MM Miller, Wick, and attracted a large field of quality players.
Again it was Kevin Gray with partner Derek Firth who looked to be in great form, taking out Kevin and Marc Macgregor (John O'Groats) and Geordie Bain and Barry Sutherland (Castletown) en route to the final.
In the other half of the draw, Gordie Morrison and Barry Maclean were forging their path to the final with wins over Mikie Campbell and Ronnie Plowman, Stewart Tait and Billy Davidson, and John Burns and Richie Taylor (all Wick).
Gordie Morrison was looking to set a record fifth win in the tournament but it was not to be as the Orcadian pair ran out impressive winners by five legs to one.
The ladies' pairs saw an entry of 28 pairs with Abigail Duncan (Wick) and Sarah Stephen (Forres) proving too strong for Liz Ronaldson and Claire Thain in the first semi-final.
Shona Gray and Irene Thomson (Orkney) got the better of Mandy Anderson and Maria Ross (Forres) to secure their place in the final, which looked to be going Orkney's way as Shona and Irene raced to a 2-0 lead. Abigail and Sarah stuck to the task very well, though, and edged it by the odd leg in seven for a 4-3 success.
On the Saturday there is a first-round losers' competition where they play for a singles consolation cup kindly sponsored by Andrew Mowat of the Seaview Hotel for the men and Subsea 7 for the ladies.
The men's final was contested by Richard Thain (Wick) and John Bain (Thurso) after they beat Owen Christie and Davy Miller in their respective semis, with John winning a very close final.
The ladies' final saw Marian Ogg (Forres) play Jackie Hill (Fort William) with Jackie claiming the victory.
On the Sunday it was back to the singles format but with a double start.
In the men's tournament, local lads Richie Taylor, Stewart Tait and Kevin Macgregor lined up in the semi-finals with Barry Maclean from Elgin. The first semi saw Stewart win a nail-biter with Richie 3-2 to book his place in the final where he met Barry, who had edged out Kevin.
The final, which was best of seven legs, saw Stewart race to a 3-0 lead. Barry pulled a leg back but the fifth leg turned out to be the game-changer with Stewart missing six match darts from which he never recovered and Barry ran out 4-3 winner.
The ladies' singles saw Sarah Stephen reaching her third final of the weekend with a narrow win over Meganne Shearer in the semi final. Her opponent in the final was a repeat of the Friday night as Freda Perry overcame Courtney McBain in her semi.
The final was a straightforward win by Sarah with a convincing 3-0 scoreline.
All winners of the competitions, except for the consolation cups, received a bottle of 12-year-old Old Pulteney whisky donated by Malcolm Waring, manager of the Pulteney Distillery, along with trophies and a total of £7400 in prize money over the weekend.
---
This website is powered by the generosity of readers like you.
Please donate what you can afford to help us keep our communities informed.
BECOME A SUPPORTER
In these testing times, your support is more important than ever. Thank you.
---
---