Unwelcome visitor in Thurso needs eradicated
---
Published: 15:42, 30 September 2020
| Updated: 15:46, 30 September 2020
---
Get a digital copy of the Courier and Groat delivered straight to your inbox every week
---
---
An invasive species growing next to Thurso Bridge is regarded as a global menace due to its ability to undermine structures when allowed to grow unchecked.
Highland Council said the Japanese knotweed problem "will be dealt with this week" despite being notified that the alien invader was growing around River Thurso seven years ago.
Japanese knotweed can grow up to 10cm per day, and because of this rapacious growth, it has been known to cause damage to building structures and substructures by targeting weak points, such as cracks in masonry, and attempting to grow through them.
It also also said to be spreading rapidly throughout the UK, especially after this year's warm spring conditions.
Michael Thain, a trained zoologist living in the Halkirk area, noticed the "alien invader" growing at River Thurso and said he reported the problem to the council office on Rotterdam street a couple of years ago.
Two weeks ago, he again reported the issue of the nuisance weed he saw growing by an abutment of Thurso Bridge.
"I've done a little research on Japanese knotweed in Highland," said Mr Thain.
"Highland Council is treating its occurrence in Inverness, Fort William and Wick. It's also present at Castle of Mey, where volunteers try to get rid of it."
Mr Thain said the knotweed is very difficult to treat and "hacking it to pieces is the worst approach as buds and even tiny pieces of plant can grow in soil and water".
He added: "It's a menace to home owners – because it creeps into neighbours' gardens and is extremely difficult to eradicate. It's well known to cause house prices to fall. It's a complete nuisance."
"Herbicide takes three years to work, and a special licence is needed to spray near water - as at Thurso Bridge."
After being contacted by Mr Thain on several occasions – and receiving our own requests for updates on the matter – Highland Council finally said the issue is now being dealt with.
A council spokesperson admitted that records dating back to 2013 and 2015 showed that Highland Council knew that Japanese knotweed was present at Thurso Bridge, near to the A9 road, and also at the east and west sides of Millar Bridge on River Thurso.
Thurso and Northwest Caithness councillor Matthew Reiss said: "As environmental knowledge increases it is good to hear the council have tackled this well known problem.
"I'd encourage everyone to report any other occurrences to the council. We have seals, otters, kingfishers and swans on the river already but knotweed is one thing we definitely don't want"
A council officer recorded where Japanese knotweed was growing along River Thurso yesterday and said that because the plants were currently in seed it will be allowed to die back naturally over the winter. Spraying of fresh growth will take place in spring next year and continue until it is eradicated.
Mr Thain was delighted to have received a call from the council telling him the matter was being dealt with now.
Gallery1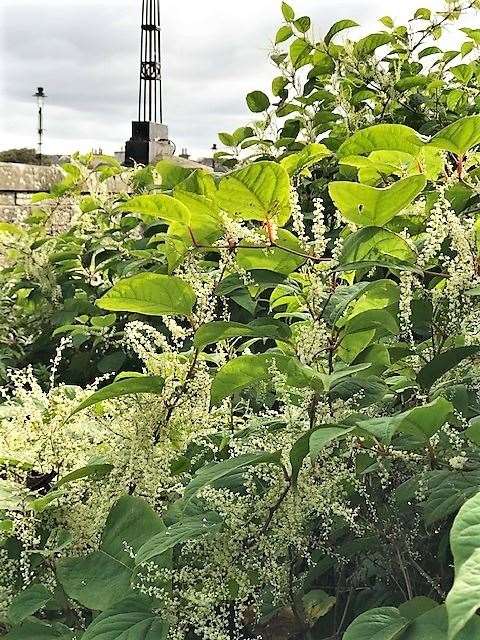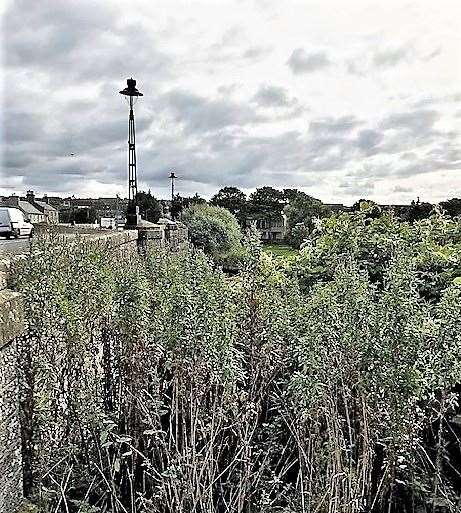 "If it's near a river – particularly the salmon river that Thurso River is – then herbicide is more or less ruled out."
He thinks that a more natural solution to the problem is the best way forward and pointed out research taking place into fungus that attacks the plant and an insect that feeds upon it.
Mr Thain also said he has come across other unusual species after moving to Caithness a few years ago.
"I have also seen one muntjac deer – a couple of years ago – on the road to Halkirk. Nobody believed me, although as an ex-pat Londoner I am very familiar with them."
---
---
Having trouble getting out to pick up your weekly newspaper?

Get a digital copy of the Courier and Groat delivered straight to your inbox every week and read the full newspaper on your desktop, phone or laptop.
SUBSCRIBE NOW
---
---