'Plague of flies' descends on the county
---
Published: 09:08, 15 May 2019
---
Contribute to support quality local journalism
---
---
HUGE numbers of shiny black fever-flies have descended upon Caithness in a mating frenzy and are causing havoc in what one social media pundit called "a biblical plague".
The fever-fly, of the family of flies known as bibionidae, has not been officially recorded in the county before, according to David Glass, secretary of the Caithness Biodiversity Group.

"They hatch from grubs in grass turf and I imagine there has been a mass hatching," he said. "It is not a rare species but the really interesting thing is that it has never before been recorded in Caithness.
"Of course this does not mean that it is a new arrival – it might have been here but never recorded."
Mr Glass said that the photograph we sent him had enabled a specialist at the Highland Biological Recording Group to identify it as the first official recording of the fever-fly, Dilophus febrilis, in Caithness.
"I am told that it is no danger to man or beast," he added.
The flies are about 1cm long, shiny black, and the males have bulbous eyes while the females have small heads. Their sole purpose after hatching is to mate, with millions of the lusty flies mating on the wing or wherever they land – with white surfaces seemingly a preference.
Comments on a local community page on Facebook had people in Wick and surrounding areas painting another picture of the fever-fly, however. Many complained about the tiny creatures causing problems as they got splattered on car windscreens or stuck to clothes drying on washing lines and congregating in their hundreds on light-coloured surfaces.
Jamie Ball was visiting relatives in Wick and said it was "like a biblical plague of flies", referencing God's curse on the Egyptians mentioned in the Book of Exodus.
Billy Gray, who was driving from Watten to Wick, said the flies were "plastered to the windscreen" and when his screenwash did nothing he had to power-hose them off "with difficulty".
Caroline Macleod in Wick had hundreds of flies land on her white garage door and around the doors and windows of her house which she described as "disgusting". Rita Moon called them "love bugs" for obvious reasons.
Gallery1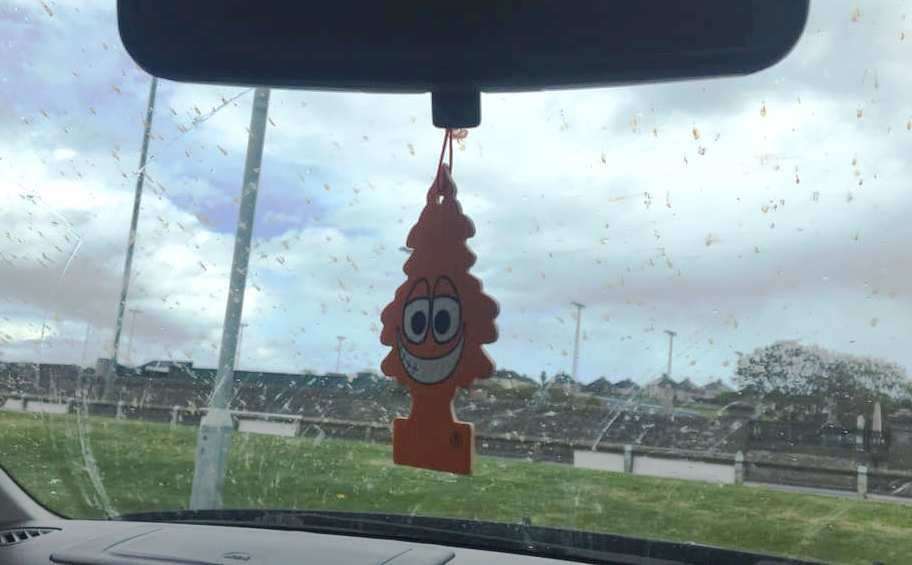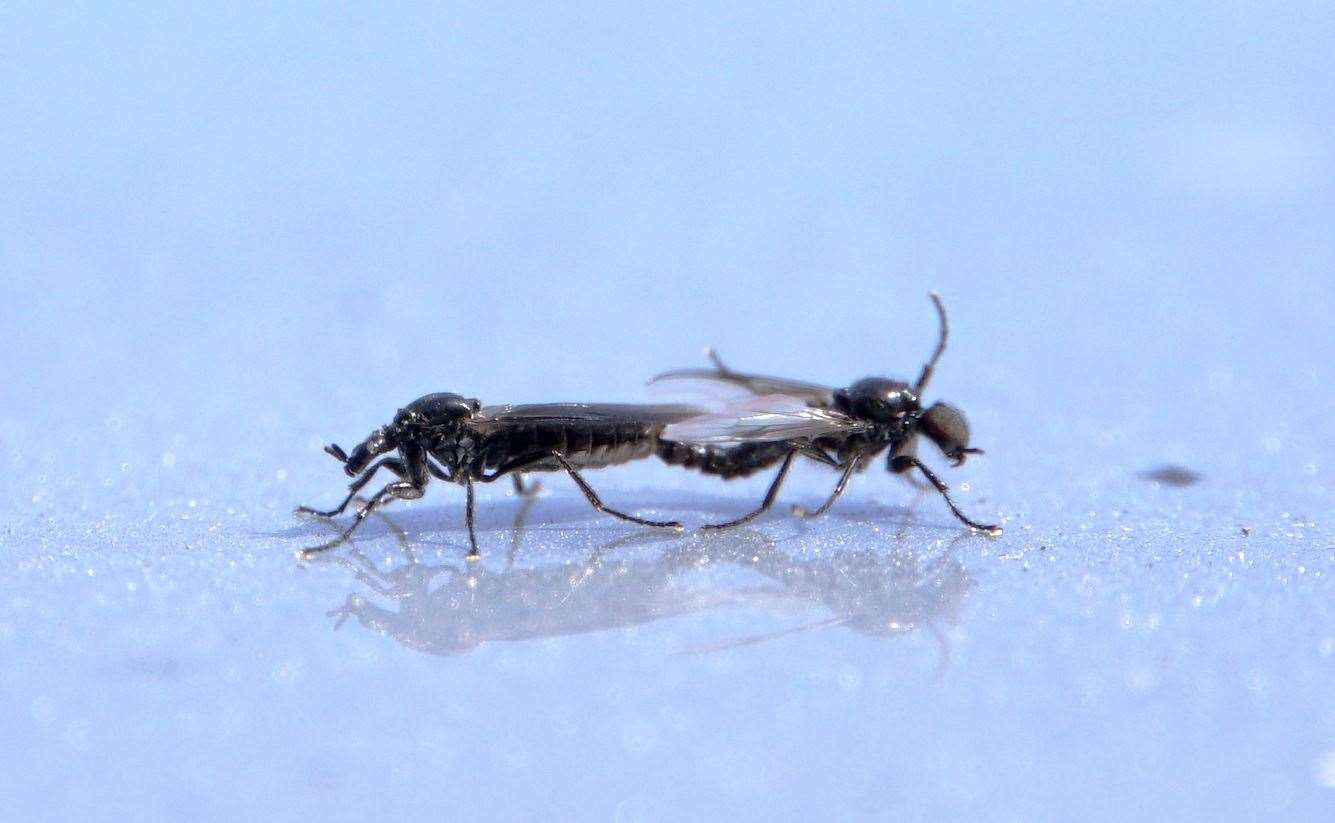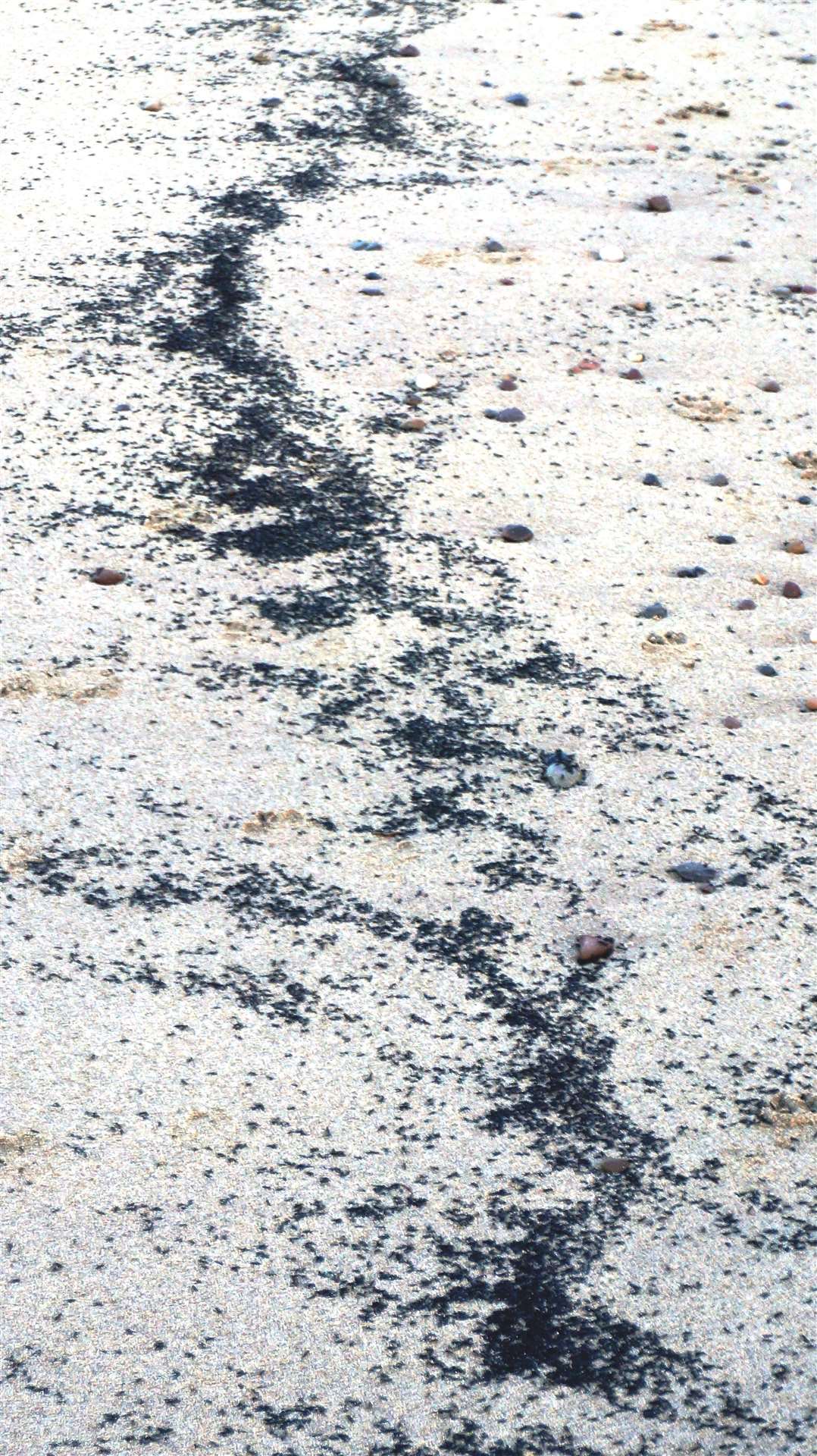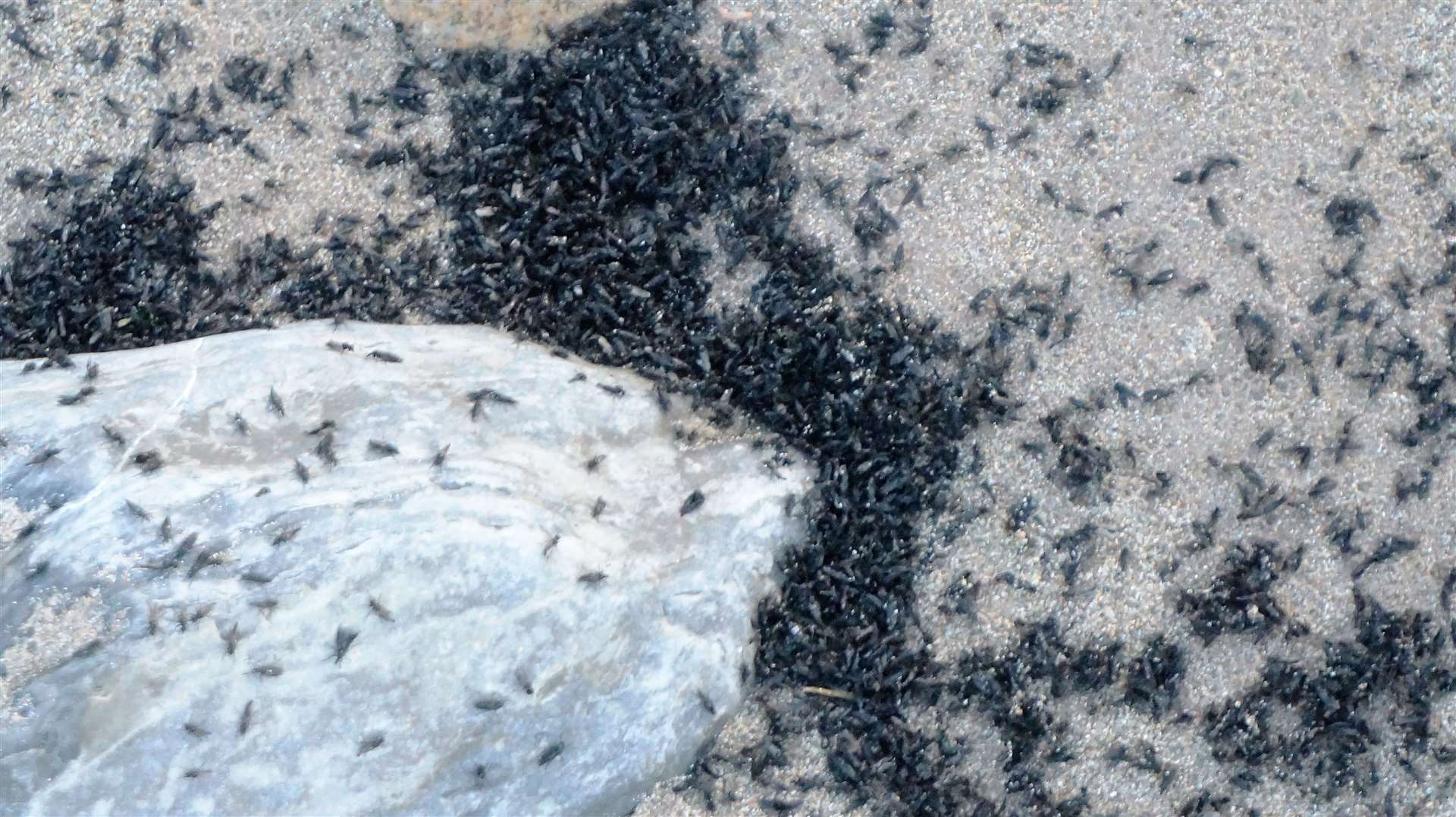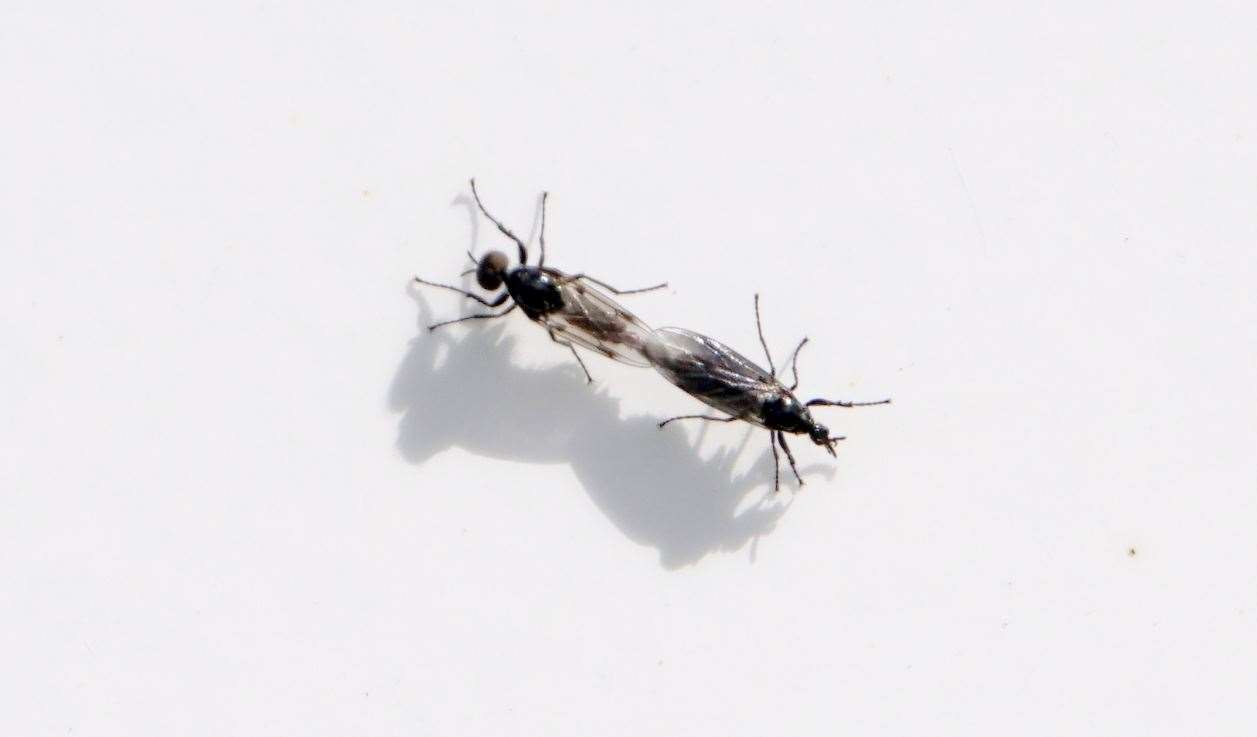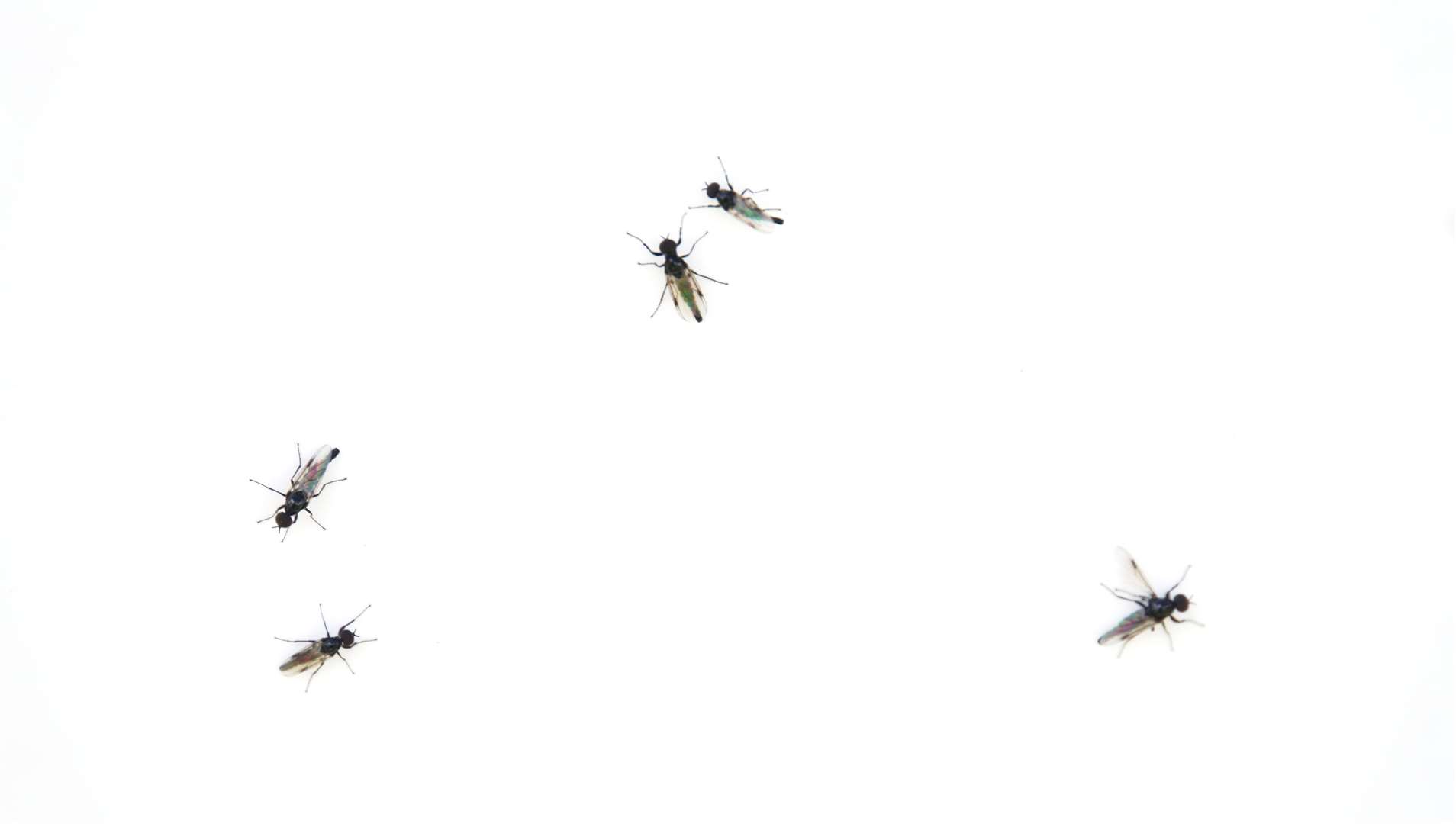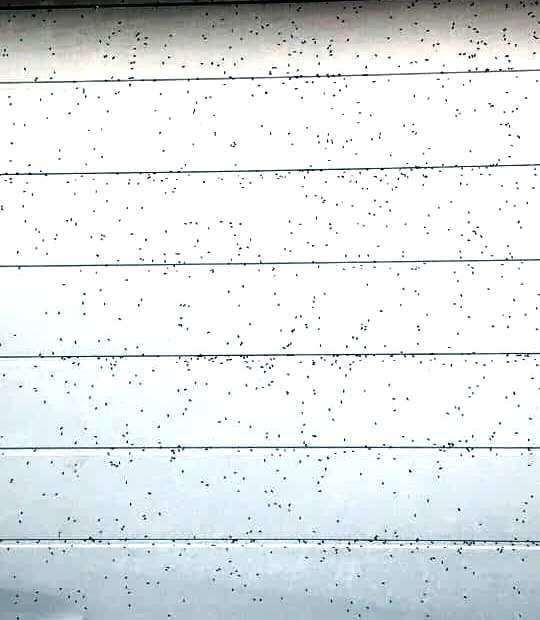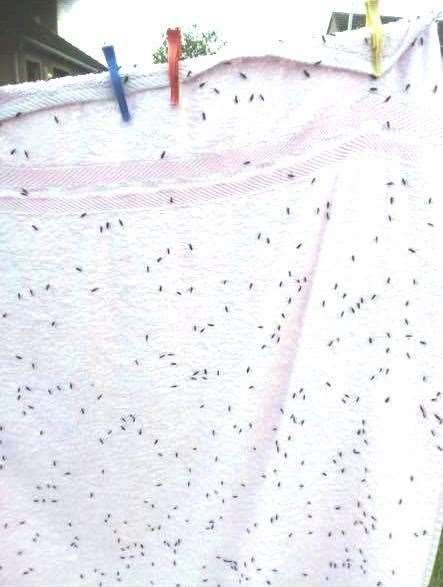 Wick weather watcher Keith Banks thought a rise in the mean temperature of 1.5C above the long-term average for that season was a probably a factor in the mass swarms of flies appearing.
Mr Banks pointed out how the flies are providing a vital food source for the many songbirds feeding their young. "Insects are an essential part of the dietary requirements of our common garden songbirds such as song thrushes, blackbirds, robins, wrens, chaffinches and a host of others.
"Protein-rich flies, together with other insects, are necessary for growth, and therefore account for the major part of what nesting birds must feed their offspring."
Catherine Mary MacLeod, who manages game moors on the Thrumster Estate, said: "It's great. Last year was so dry there was not enough insect life to feed the baby birds that need lots of protein at the start of their life. There was a huge decline in numbers, so hopefully this will be a glut for them."
Another pro-fly comment came from Wick shopkeeper Kevin Milkins who runs Birons Ironmongers on Bridge Street. He also thought the fly invasion was good for business.
"I think they are great. I sold loads of fly spray yesterday," he said.
Huge swarms of flies have been reported in Caithness before with the previous culprits being reported as another bibionid called St Mark's fly – a slightly larger black fly with long dangling legs. The St Mark's fly is so-called because it emerges around St Mark's Day, April 25 – which can be somewhat delayed by cooler temperatures in Caithness. Large numbers of adults can be found in woodland edges, hedgerows, fields and wetlands.
In the Caithness Courier of May 30, 2001, a "black oil slick 100 yards long by 20 yards wide" was reported just off the east Caithness coastline. The "oil slick" turned out to be made up from trillions of flies from different species but many being St Mark's fly.
A Caithness woman, Anne Campbell, posted a good tip online to clear fries from windows and doors. "Get a spray bottle with a mix of water, vinegar and washing detergent. Spray all over the windows. Pardon the pun but they literally drop like flies."
---
This website is powered by the generosity of readers like you.
Please donate what you can afford to help us keep our communities informed.
BECOME A SUPPORTER
In these testing times, your support is more important than ever. Thank you.
---
---