Gray says Highland League officials should make use of midweek dates to get 'head start' next term
---
Published: 11:58, 12 February 2021
| Updated: 11:59, 12 February 2021
---
50% off a six-month digital e-edition subscription with promo code '50OFF'
---
---
Wick Academy's assistant manager Michael Gray has called on Highland League officials to fit as many midweek dates as possible into the early months of next season to give themselves the best possible chance of completing a full fixture list.
With all lower-league football in Scotland remaining paused until at least next month, Gray reckons the chances of finishing the already shortened 2020/21 campaign are looking increasingly slim.
"I think that unfortunately we're seeing the season peter out a little bit. I think that people's confidence is drifting quite a lot," said Gray, who was appointed at the start of September as assistant to Gary Manson in the Wick dugout.
"Without having a crystal ball, if this season wasn't to conclude and there was no summer football, it may permit them to get a good head start on the next winter season.
"If there were any lessons to be learned I would say that if they could get more midweek games in the earlier part of the season when the weather is good you might give yourself a head start. Who knows about the future – but if we have this kind of scenario next winter again, where there's a lockdown or a semi-lockdown or restrictions, at least you're ahead of the game as opposed to trying to keep up with things.
"I know that some clubs aren't keen on midweek games purely because of the potential loss of revenue, but if people are going to be watching football on a midweek date in August or September is that any worse than freezing on a Saturday in January or February?
"I know everybody has different views on it, but I am very much an advocate of winter football because of the alignment to the wider game. You have to think about the practical side of things and what would be best for the clubs.
"I know that when I was a player I used to love midweek games because you didn't have to train as much."
Gray added: "It's a very difficult situation but we're going to have to be pragmatic about it and how we get through this.
"Everybody is going to have to understand that there is no ideal solution. We've just got to go into it with open minds and try our very best."
Gray (44), who works as a Dounreay project manager, says he will be happy to continue serving as assistant boss at Academy into next season and believes Manson has all the attributes to be a success.
"To be fair to Gary, he does his very best," Gray said. "He does his Zoom quizzes and sets the guys weekly tasks, weather permitting. But there is a limit to what he can do and what he can effect at this time.
"His enthusiasm is one thing that shines through, but with every passing week you have to feel that the ability to finish the season is coming more and more under threat, unfortunately.
Gallery1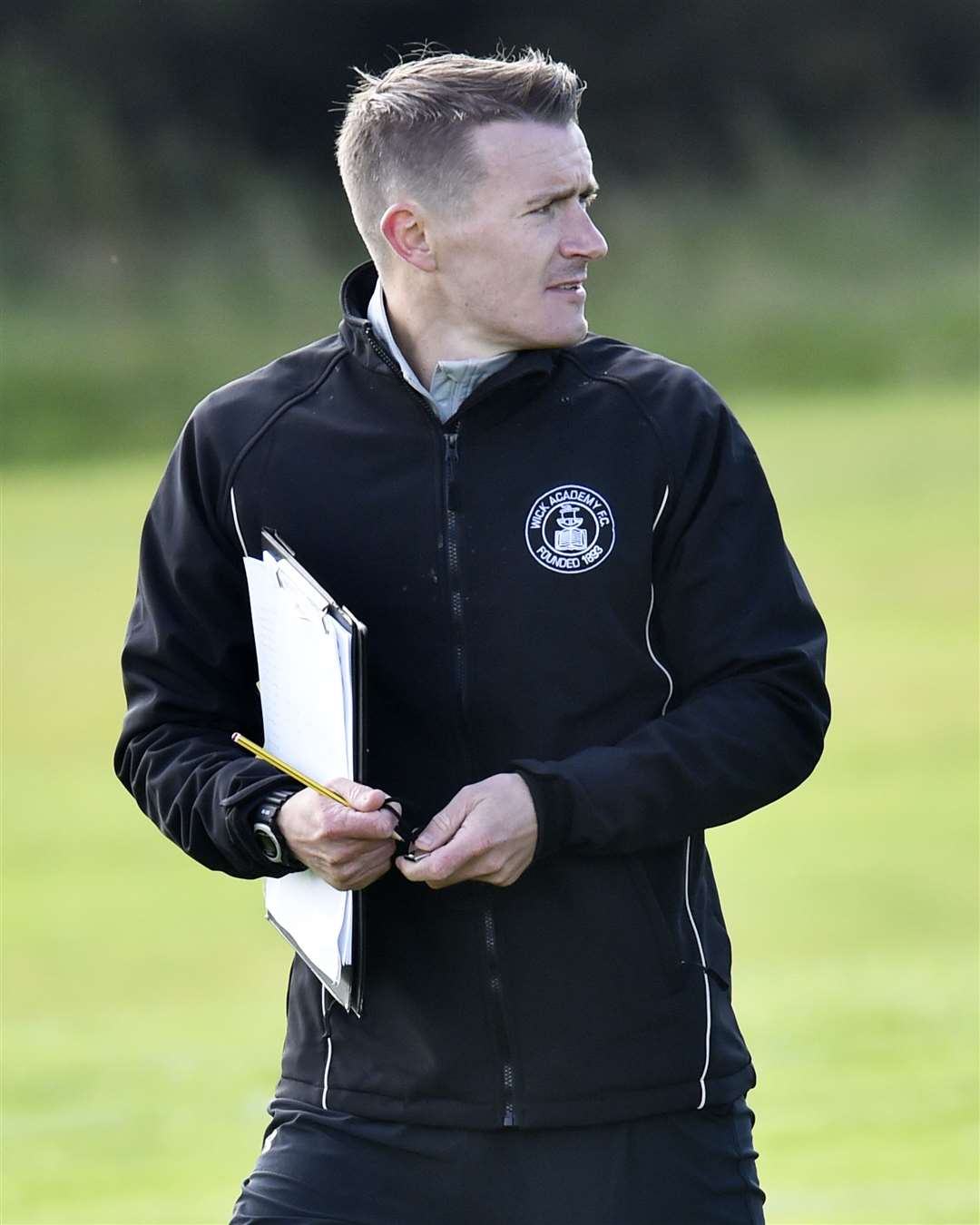 "I'm really there as a sounding board as much as anything. Gary is a very hands-on guy – he takes a lot of the training himself, he does a lot of the strategy stuff himself and he does a lot of the talking himself. He is very enthusiastic and that should certainly come across to the players.
"He has tried to keep things as fresh and dynamic as he possibly can in terms of his approach to the training and the approach to pre-season. Ultimately I think if results were going to be on effort from the manager alone, he would certainly be at the top of the league.
"Obviously that doesn't always pan out and there are going to be challenges ahead for him and the club. Certainly he has got all the characteristics to do well, purely from the enthusiasm and the freshness that he has got.
"He'll maybe have a chance to shape his squad a little bit more with next season in mind. He is certainly a very big advocate on bringing the younger players through.
"I think it is absolutely critical to keep that balance. For a while Wick had a very stable squad, and some people may say that it got a little bit stale at times. That wasn't the fault of any one manager, it was just that a generation came through together who were very, very good with guys coming back from Ross County, and that set them on a different level in terms of their professional approach to the game.
"They didn't have to be told to look after themselves outwith training, they just did it automatically, and that rubbed off onto a lot of the other players.
"I think Gary has come in at the point where there needed to be a little bit of an injection of fresh personnel, and he has started doing that. There are limitations to it because some people don't want to play Highland League football, for one reason or another.
"That balance is fifty-fifty. You can have all the talent in the world but if you don't have the commitment you aren't going to make it. And people that aren't so talented can make it. There are plenty of players that I played with that may not have been able to do all the fancy flicks and tricks, but they were effective on the football field because they were willing to go through all the hard yards and do the dirty side of the game.
"As long as I'm required I will certainly make myself available for Gary."
Gray also praised the input of first-team coach Gordon McDonald.
"Gordie brings an excellent dynamic too," he said. "Gordie is good value on the training ground and he is very keen to get involved.
"The guys have found it pretty tough this year, starting and stopping, starting and stopping, and having guys like Gordie on the training field with them is good. He takes on quite a lot, his training is good, and he brings a bit of lightness to it as well."
---
Do you want to respond to this article? If so, click here to submit your thoughts and they may be published in print.
---
---
Get a digital copy of the Courier and Groat delivered straight to your inbox every week allowing you to swipe through an exact replica of the day's newspaper - it looks just like it does in print!

Sign up today and get 50% off a six-month subscription with promo code '50OFF'.
SUBSCRIBE NOW
---
---