Allan has no plans to stop as he looks to the future with Wick Academy
---
Published: 07:38, 22 January 2021
---
50% off a six-month digital e-edition subscription with promo code '50OFF'
---
---
After 12 years with Wick Academy, Davie Allan is one of the senior players at Harmsworth Park and is happy to be passing on some of his experience to the younger members of the squad.
However, fans of the Scorries can be assured the 31-year-old forward has no intention of stepping aside to make way for the next generation in the foreseeable future.
The shortened 2020/21 campaign has been badly disrupted by the pandemic, with the Highland League suspended for the time being. But, looking to the longer term, Allan is keen to play his part in getting Academy challenging for honours under manager Gary Manson.
"I've certainly got no plans to stop any time soon," Allan said. "As long as I'm still fit enough and the manager thinks I'm contributing enough, and I think I'm contributing enough, I'll keep going. I enjoy it still.
"Obviously I've played with Gary all my time at Wick so I know him well.
"He's got the same values and the same way of looking at football as I have. His ideas are good and the training is based on what we're doing at the weekend, trying to get us prepared for what team we're going to play.
"It's just a shame it has been stop-start and we've never got a proper run at it. Hopefully looking towards next season we'll be in a better place."
Allan, who works as a design technician at Vulcan, has been a favourite with the Wick supporters since making his debut in November 2008. Renowned for his pace, power and finishing ability, he has racked up 372 competitive appearances and is one goal short of 150.
Now he is helping to guide the up-and-coming squad members.
"You do kind of change your mind-set once you pass into your thirties – you have to try and help the younger boys," Allan said. "There are some good players, the likes of Mark Macadie and Brandon Sinclair, and even younger boys than them coming through, so hopefully that'll be good for Wick in the future."
Gallery1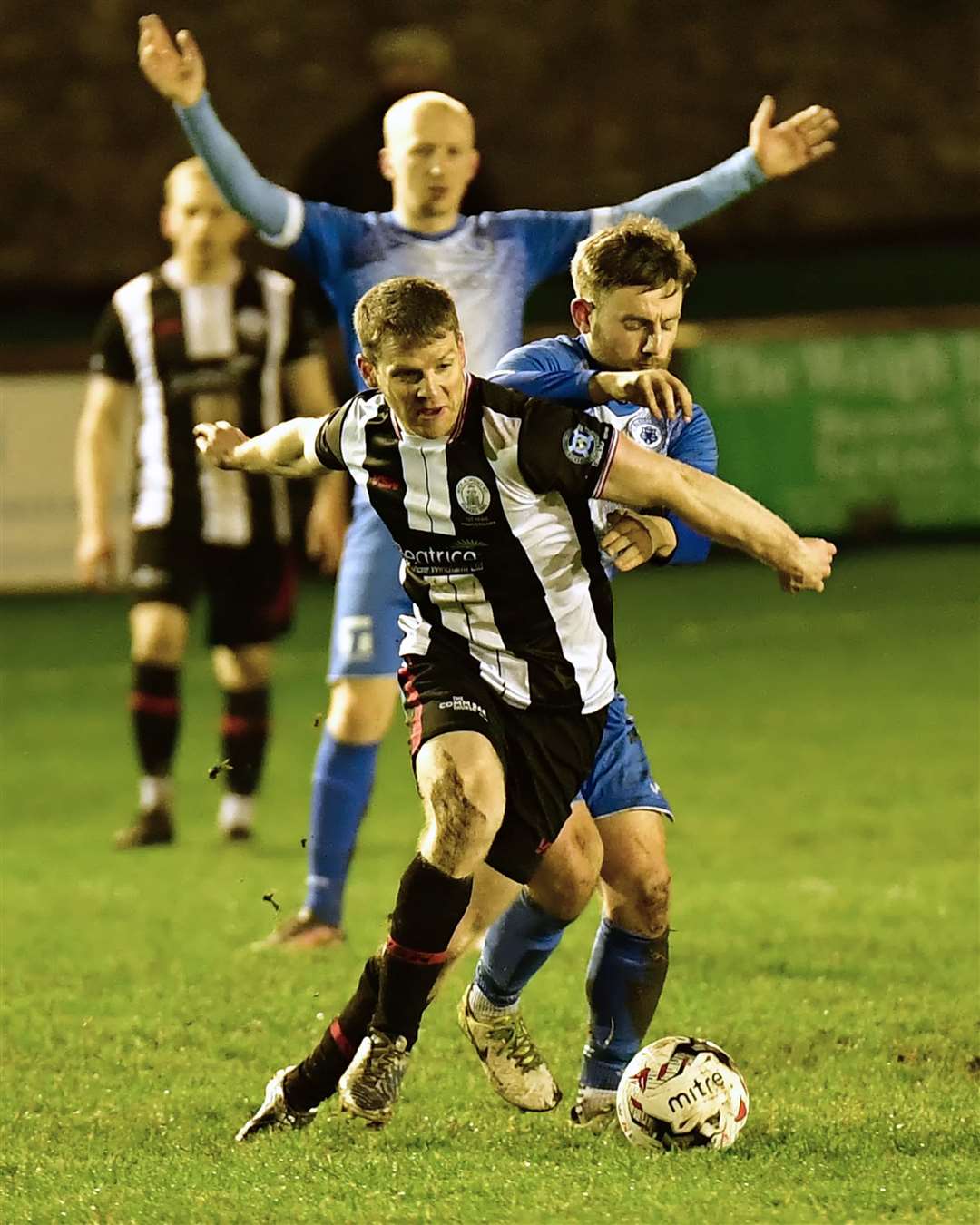 The Scorries have managed only four games since the season kicked off on November 28 – two league fixtures and two Scottish Cup ties – all under Covid restrictions and against a backdrop of worry over the spread of the virus.
"Certainly football-wise it has been quite frustrating," Allan said. "We were meant to be starting in October originally and we had quite a good pre-season, six or seven weeks of some good work. Then obviously we got told it was being delayed, so it was a bit of a blow at that point.
"We played four games before it got stopped, and you're only really getting going after your first few games. It was pretty difficult."
In the meantime, with no group training permitted, the players are working on their own to maintain their fitness.
"We're doing what we can to keep ourselves ticking over," Allan said. "At this time of year it's difficult with the weather even to get out, but I think most people are just doing a bit of running or gym work or whatever they can do at home. It's all you can really do at the moment, just keep yourself ticking over and wait to see what happens."
Nothing can be taken for granted but Allan is optimistic that when the season resumes it will be played to a conclusion.
"Ideally we will get it finished, because it has started now, but with the virus it's hard to predict what's going to happen – especially as this time it seems to be spreading more up here than it was originally," he said. "So I guess it's hard to really justify playing football at the moment."
Academy's last match was the 2-0 defeat at Cowdenbeath in the first round of the Scottish Cup, played in atrocious weather on Boxing Day just as level four restrictions came into force across mainland Scotland. Club chairman Pat Miller said later that concerns over continuing to play football had been brought to a head by that experience, stating that it had been "inhuman" to ask people to play in such cold and wet conditions and not be able to have a shower afterwards.
Reflecting on that difficult trip to Fife, Allan said: "Ideally, let's be honest, you don't really want to be travelling down to Cowdenbeath on Boxing Day, but it kind of comes with the territory. You just get told to play football and we turn up.
"The conditions, the time of year, everything, it wasn't ideal.
"We were a wee bit unlucky. In the first half we played quite well without creating too many chances but probably in the second half they did have the better of the game. We were missing a couple of players which maybe didn't help matters."
Allan has recovered well from a knee ligament injury a few seasons ago that kept him out for 14 months.
"It was quite frustrating because we could never really get to the bottom of what was wrong," he said. "We had scans done but could never find out what the problem was. It just eventually got better, basically."
He was finally able to return to the team in March 2018 – and scored within a minute of coming off the bench in a 6-0 home win against Fort William.
Allan is now part of an entirely home-grown squad at Harmsworth Park, with all the players based in Caithness. "It has always been a thing with Academy – we're quite a close-knit team and everybody knows each other well," he said.
"That's probably a good thing – not that there's anything wrong with taking players from down the road, because they came in and did well and got on well with the squad too.
"When you're spending all those hours together on the bus it probably does bring you more together as well."
---
Do you want to respond to this article? If so, click here to submit your thoughts and they may be published in print.
---
---
Get a digital copy of the Courier and Groat delivered straight to your inbox every week allowing you to swipe through an exact replica of the day's newspaper - it looks just like it does in print!

Sign up today and get 50% off a six-month subscription with promo code '50OFF'.
SUBSCRIBE NOW
---
---