A long history of football drama at the Dammies
---
Published: 10:05, 21 June 2020
---
Contribute to support quality local journalism
---
---
Ken Wood looks at the development of football at Sir George's Park in Thurso almost 150 years after it was gifted to the town

In the year that Wick celebrates (or probably NOT in present circumstances) the Harmsworth Park centenary, members of the Thurso football fraternity can point out that their park at the Dammies was gifted to them almost 50 years earlier, in 1871.
Thurso Thistle was the first "official" club, playing against Lybster and Dunbeath in 1887, although there had no doubt been plenty of informal games at the Dammies before that and maybe even cross-border matches with Golspie and Helmsdale.
The Dammies also saw challenge games between Artillery and Volunteers and various trades teams.
In 1893 the park was established firmly as a community facility when Sir Tollemache Sinclair drew up a more formal charter for "that piece of ground… to be used in perpetuity as a park for the recreation of the inhabitants and to bear the name, Sir George's Park [named after his father]". Sir Tollemache also donated funds to erect "a neat little house for dressing" which was used by football and cricket clubs for decades.
In November 1894, members of the four Thurso clubs met in the "Café". D Brims, James Tulloch (Thistle), James Munro, Charles Docherty (Rovers), R Stratton, D Campbell, James Oliver (Victoria) and Harry Swanson and D Tait (St Clair) were the men who set up the Thurso league. St Clair beat Rovers 5-0 in the first match on December 18 but lost then lost 4-0 to Victoria in January.
The four original clubs survived only until the early years of the 20th century but by then two other clubs had been formed – Swifts in 1897 and Academy in 1898. Among Swifts' best-known early players was goalkeeper Willie Hunter, a painter who moved to Edinburgh to work and was promptly signed by Scottish League club St Bernard's. He was followed between the sticks by Tom Sutherland and D Leith, who were both talented enough to be regulars in the Thurso select teams. Other Swifts of that time were Dan Manson, Sinc Manson, William Miller, James Sutherland and Alex Sinclair.
Gallery1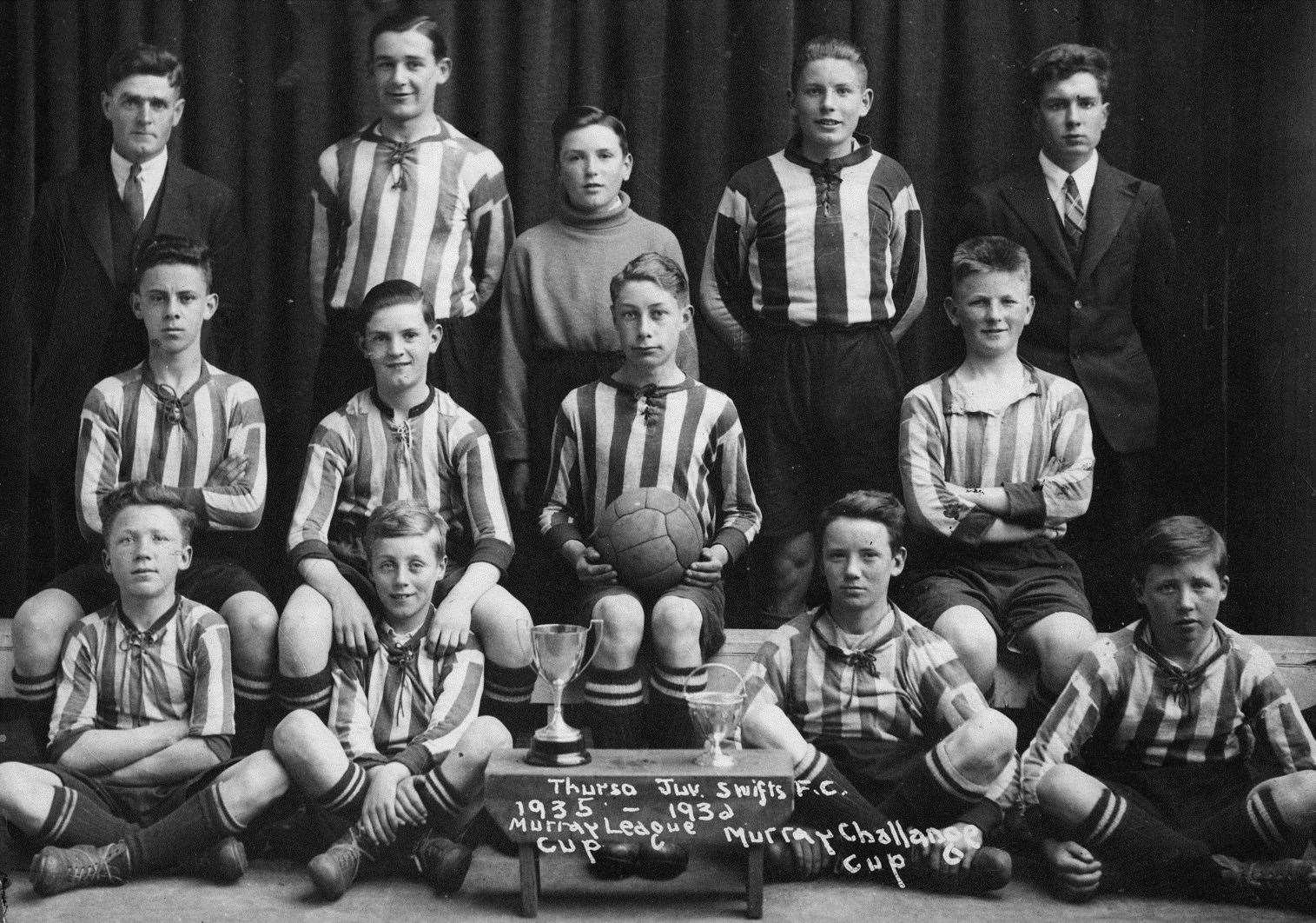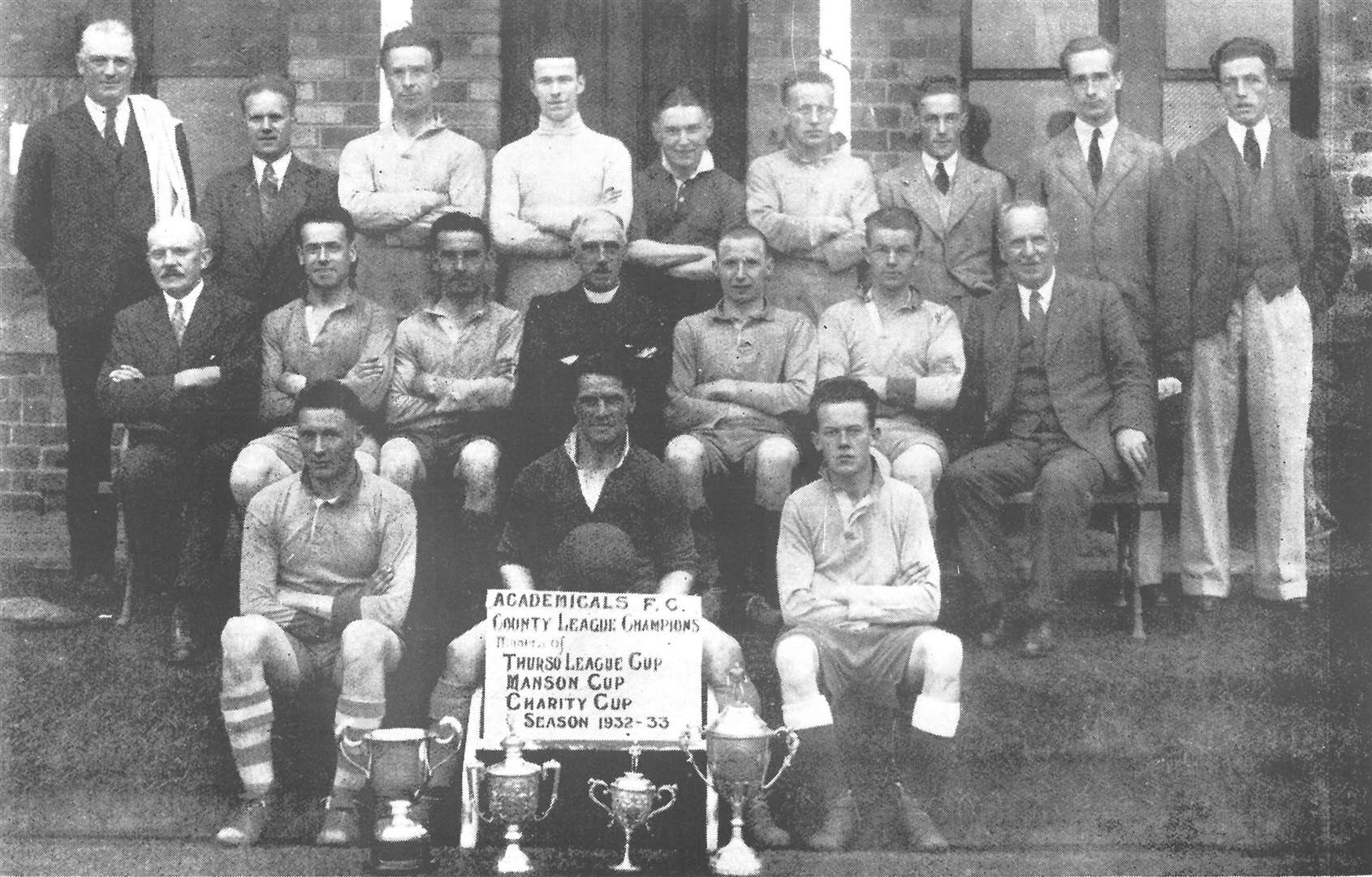 Academy became Academicals in 1901 when they won the league for the first time with D Cairnie, D Campbell, D Dunnet, R George, H Gerry, A Macleod, J D Milliken, D Ryrie, James Sutherland and a young David Ross.
The first inter-town match against Wick for the Harmsworth Bowl was played at the town's other football venue, Policy Park, near Thurso Castle, on March 16, 1901. Thurso scored first but lost 5-2.
The Caithness v Sutherland Portland Bowl matches started in 1913 and, when first staged in Thurso in March 1921, a crowd ofSir George's Park spectators paid a record £30 to see a 5-2 home win.
Thurso men home from war played a few games against Navy teams and stayed together to form Pentland in November 1918 and were the top team, losing only once in their first three years. The first captain was John Smith. His younger brother, Robbie, led the attack and when Thurso beat Wick 8-1 in the first post-war Harmsworth Bowl contest he netted six of the goals. Other key players included full-back Colin Morrison and James Rosie.
When the county league started in April 1927 it was as a six-team knockout cup, Acks beating Pentland 2-1 in the final on Friday, May 13, to be first recipients of the trophy donated by Captain J A Mackay. In 1930 Pentland needed to beat Acks in their last game to earn a play-off versus Wick Thistle but lost 3-1. However, the league trophy eventually came back to Thurso in 1933 when Acks beat Wick Thistle in a play-off after the teams finished top equal with 17 points. Acks were county champions in 1934 and Pentland won their first title in 1935.
In 1934 Thurso Pentland had registered with the SFA to play in the Qualifying Cup but the draw was not kind and they lost in two successive years away to Ross County at Dingwall. A first home game in 1936 drew a crowd of 1250 but Brora won 1-0. The 1937 draw produced a local derby and Pentland lost 4-2 to Academy at Wick. In 1938 Pentland earned a 1-1 draw at Brora, but after a 4-4 draw at Sir George's Park they lost the toss for home advantage in the second replay. Brora won 3-0 at Dudgeon Park. Roy Manson, Angus Munro and George Rosie played in all the games while Alex Macleod, Willie Robertson and George Ross only missed one.

Footballers returning home to Thurso from World War II found Sir George's Park requiring extensive repairs and equipment in short supply. There was no football until the Thurso cups were played in the summer of 1947, when Swifts lifted all four.
The county league was started for season 1947/48 but was not completed, as pitches were unplayable due to inclement weather. Of the three Thurso clubs only Swifts had failed to lift the trophy pre-war but they at last emerged triumphant in the '48/49 competition, run as a knockout cup with home and away ties. Swifts' line-up for the final comprised Farquhar, Gunn, Dundas, Mackay, Phimister, Cameron, Patton, Taylor, Sutherland, Simpson and Cook. Sutherland netted four goals and Cook the other two as they beat Wick Academy 6-1 in the second leg of the final.
Acks claimed the next two titles plus a clean sweep in 1950/51 of all Thurso trophies, as well as the Mackenzie Shield for beating the Sutherland champions. Names on Acks' team-sheets of the period included Campbell, Cowie, Elder, Horne, Macdonald, MacIvor, Mackenzie, Malcolm, Morrison, Ross, Sinclair, L Sutherland and R Sutherland.
Swifts won the county league again in 1951/52. Pentland recorded their second title in 53/4 and Swifts were champions again in 56/7.
Acks were county league champions in '59/60, the last season before Caithness AFA, like Thurso AFA, switched to summer football.
The names inscribed on the county league trophy from 1962 were Pentland, Acks, Acks, Swifts, Dounreay Athletic (members since 1957) and Acks. Acks triumphed again in 1969. A prolific goalscorer of the period was Ronnie Mackenzie of Swifts, who netted a hat-trick in each half of a 1964 game versus Wick Groats and repeated the feat a month later in a Thurso League Cup game.
Gallery1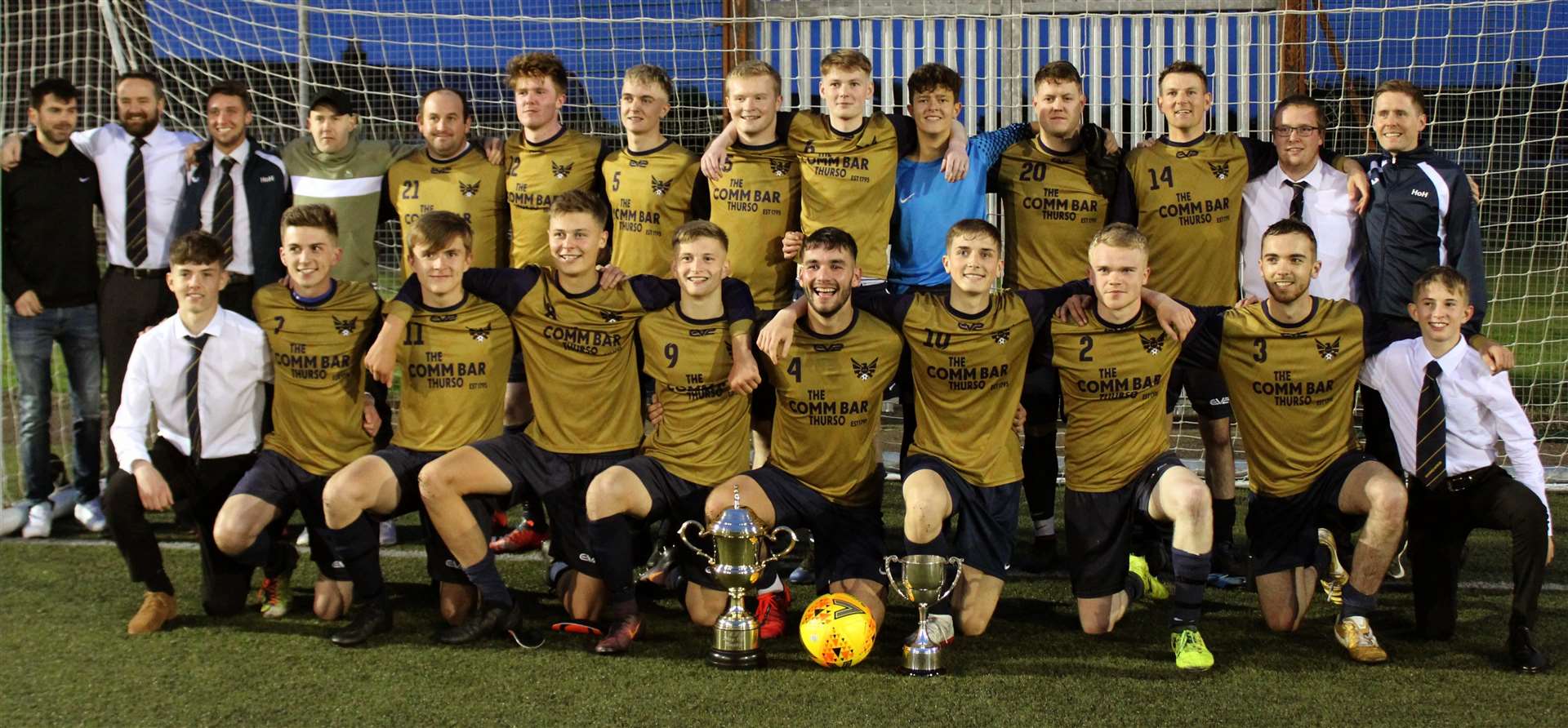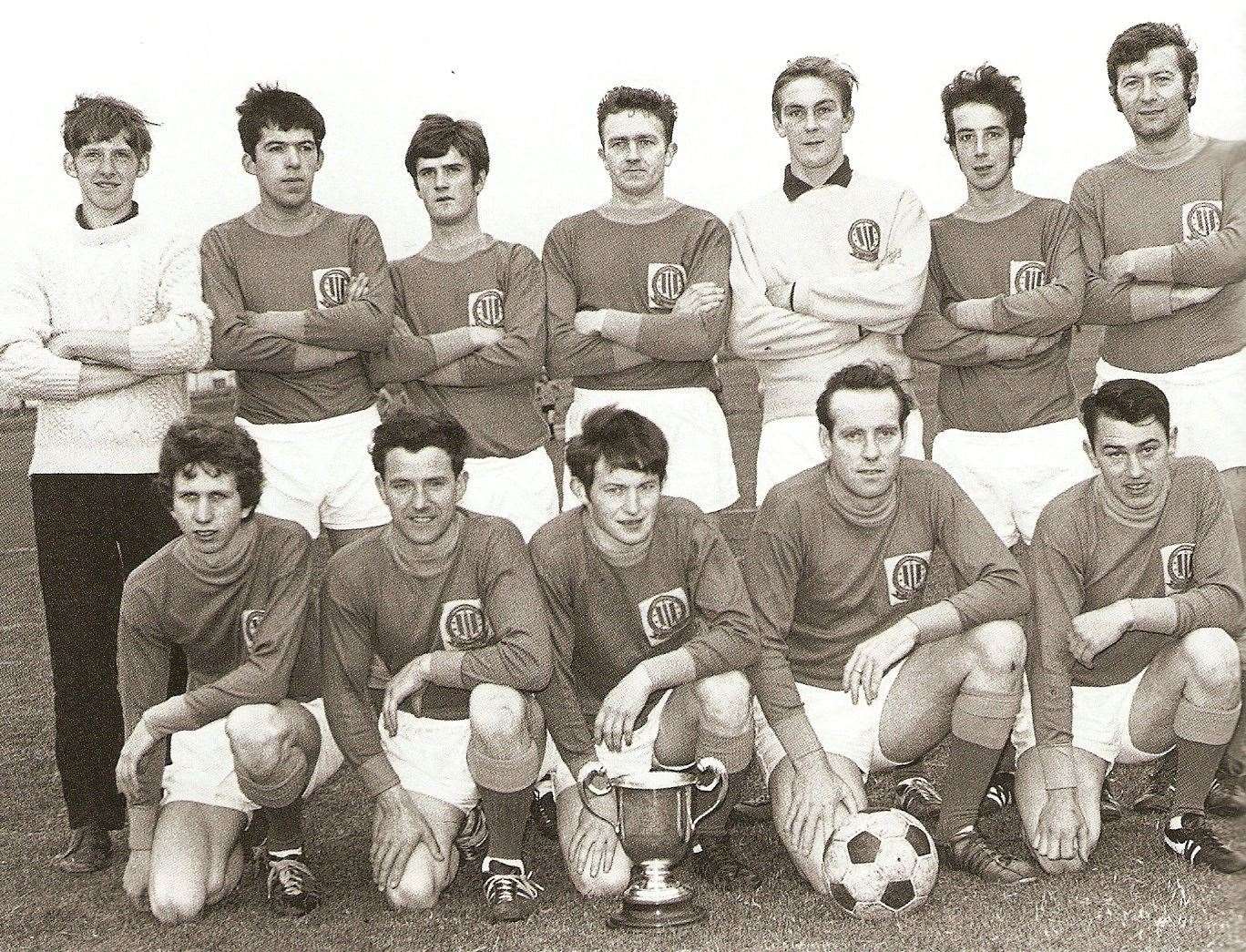 John Macdonald, who came from Fife to work at Dounreay, played about five seasons and in that time netted 14 goals for Thurso versus Wick and four for the county team. John, of course, became better known and highly respected as a coach and manager.
In 1975 Caithness AFA took the rural league teams into the county league, but there were no county league champions from Thurso in the '70s.
Pentland, however, had a great season in 1978, winning the CAFA second division and all the Thurso trophies. The only disappointment was losing the final of the inaugural Highland Amateur Cup. Pentland went on to win the Highland Amateur Cup in 1980, '81 and '83 and the county league in 1981 and '82. The 1978 Highland Amateur Cup final team was John Suttar, Ian Macdonald, Jimmy Steven, Jim Suttar, Donald Allan, Davie Lyall, Grant Maxwell, Derek MacAdie, Donald Mowat, Clark Grant, Alan Bremner. The sub was Raymond Taylor.
Others who wore the green and black around that time were Hugh Sutherland, Peter George, Donald MacLean, Harvey Cowe, Philip Sinclair, Iain Grant and goalkeeper John Arrowsmith. The manager of that team, Murray Mackay, had been a top goalkeeper in the '60s, first for Swifts and then the all-conquering Acks team and the county as well as for Highland League team Brora Rangers. His later tireless efforts for Caithness AFA as manager, committee rep and president saw him become chairman of the SAFA Highland committee and his near 50-year commitment was rewarded in 2014 with SAFA life membership.
Over the years, teams such as Pentland Boys' Club, Ormlie and later Ashes and a reincarnated Thurso Thistle came and went from the county league scene. There was also a thriving "pub" league which affiliated to SAFA as the Thurso and District Friendly League. The newcomers to make the biggest impact were Holborn and they were the town's next county champions, though not until 1994. Summer evenings saw a multiple fixture list with games at Millbank, Ormlie and Naver, as well as the four clubs sharing the Dammies.
Acks celebrated their centenary in style in 1998, lifting the David Allan Shield and hosting a match against Inverness Caley Thistle. They won the county league again in 2005, the last Thurso club to do so in a two-decade spell which has been dominated by Pentland United and Wick Groats.
A recent Thurso success story is that of High Ormlie Hotspur, promoted to the first division after a play-off win versus Castletown last August, while Top Joes have also been around a few years.
In the winter, Thurso FC have competed in the North Caledonian League since 1998. Champions in 1999/2000, 2002/03, 2009/10 and 2012/13, the Vikings have also have tackled Wick Academy and Brora Rangers in North Cup ties.
Unfortunately, as well as wondering when football will return after the Covid-19 pandemic, the Thurso football fraternity also has worries about the large-scale drainage work needed for Sir George's Park. Surely something will be done to have repairs completed in time for the 150th anniversary next year.
---
This website is powered by the generosity of readers like you.
Please donate what you can afford to help us keep our communities informed.
BECOME A SUPPORTER
In these testing times, your support is more important than ever. Thank you.
---
---