Tartan Army members set off from Caithness to support Scotland at the Euros
---
Published: 18:20, 13 June 2021
| Updated: 18:21, 13 June 2021
---
Get the Courier and Groat sent to your inbox every week and swipe through an exact replica of the day's newspaper
---
---
Scotland football fans from Caithness were in full voice as they set off this morning on the road to the European Championship finals.
A group from Thurso-based Top Joe's Tartan Army were given a rousing send-off from the Northern Sands Hotel in Dunnet at the start of their 1500-mile journey.
"Some people do the North Coast 500 – we're going to do the length of Britain 1500," declared Martin Nicolson, who owns the hotel.
Martin was among a group of five who left from Dunnet this morning in a motorhome customised with Scotland flags and Tartan Army slogans, heading for Glasgow and London for Scotland's Group D matches.
David Farquhar, Ally Webster, piper Bob Bell and driver Joe Wright made up the rest of the advance party. Their first stop was Thurso to collect another supporter, Adie Forbes, and they will be picking up fellow Top Joe's Tartan Army members Scott Bell, Lee Durrant, Ewan Scott, Neil Smith and Darren Oag at various points along the way.
Martin pointed out: "Lee is an English lad but he's going to be forced to wear a kilt if he's coming with us – end of story."
Stadium attendances for the delayed Euro 2020 finals are restricted because of Covid-19 rules but Martin (51) is among those who have secured tickets for all three of Scotland's group matches – against the Czech Republic on Monday, England on Friday and Croatia the following Tuesday. This is because of the amount of Scotland Supporters' Club loyalty points built up through following the national team home and away.
Martin has supported Scotland at two World Cup tournaments but this is his first European Championship.
"Four of us, including myself, have got tickets for the first three Scotland games," he explained.
"I'd like to mention the guys that are left behind and who never got to go due to the lack of points. We're all one family and normally there are 40 of us that go off."
Gallery1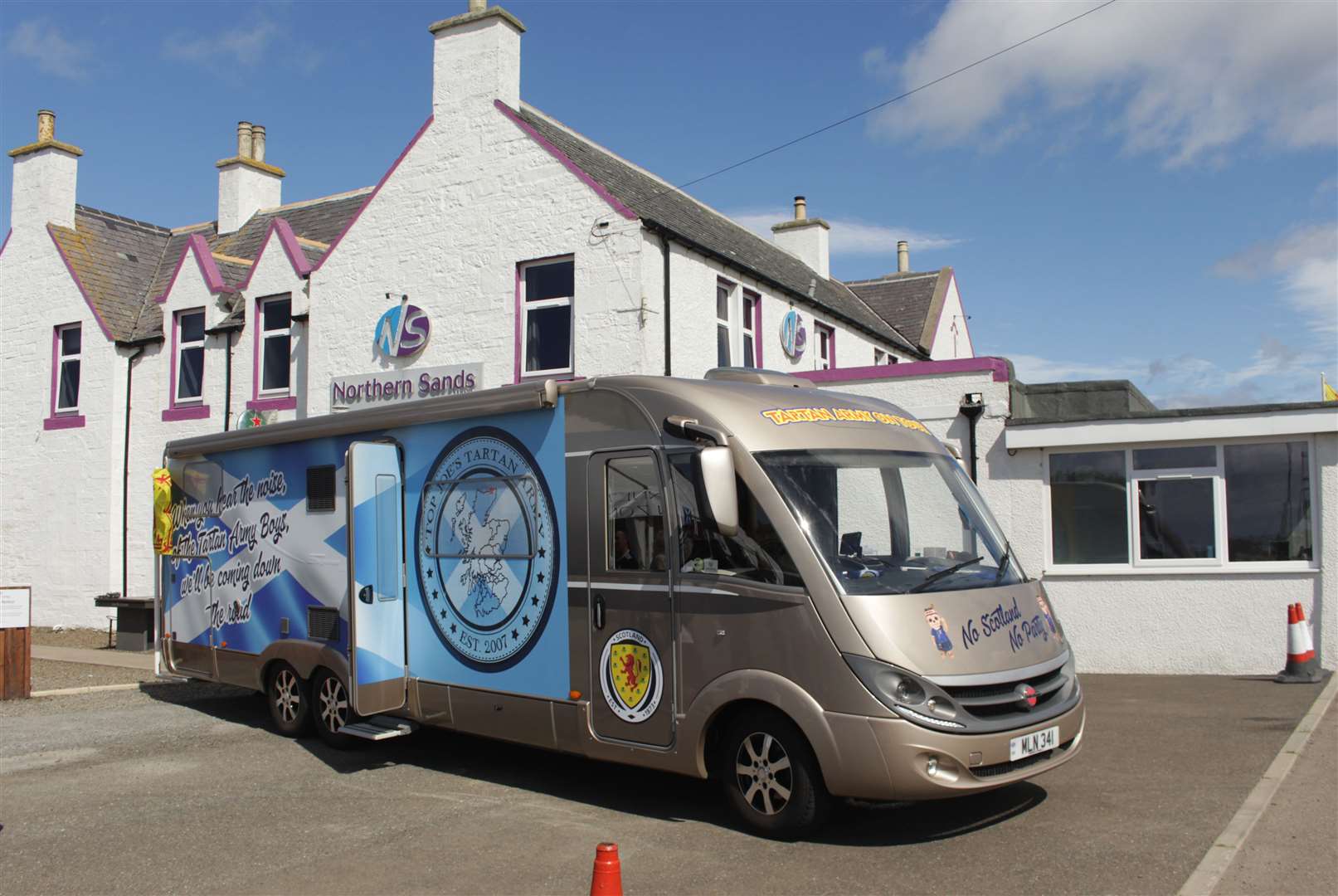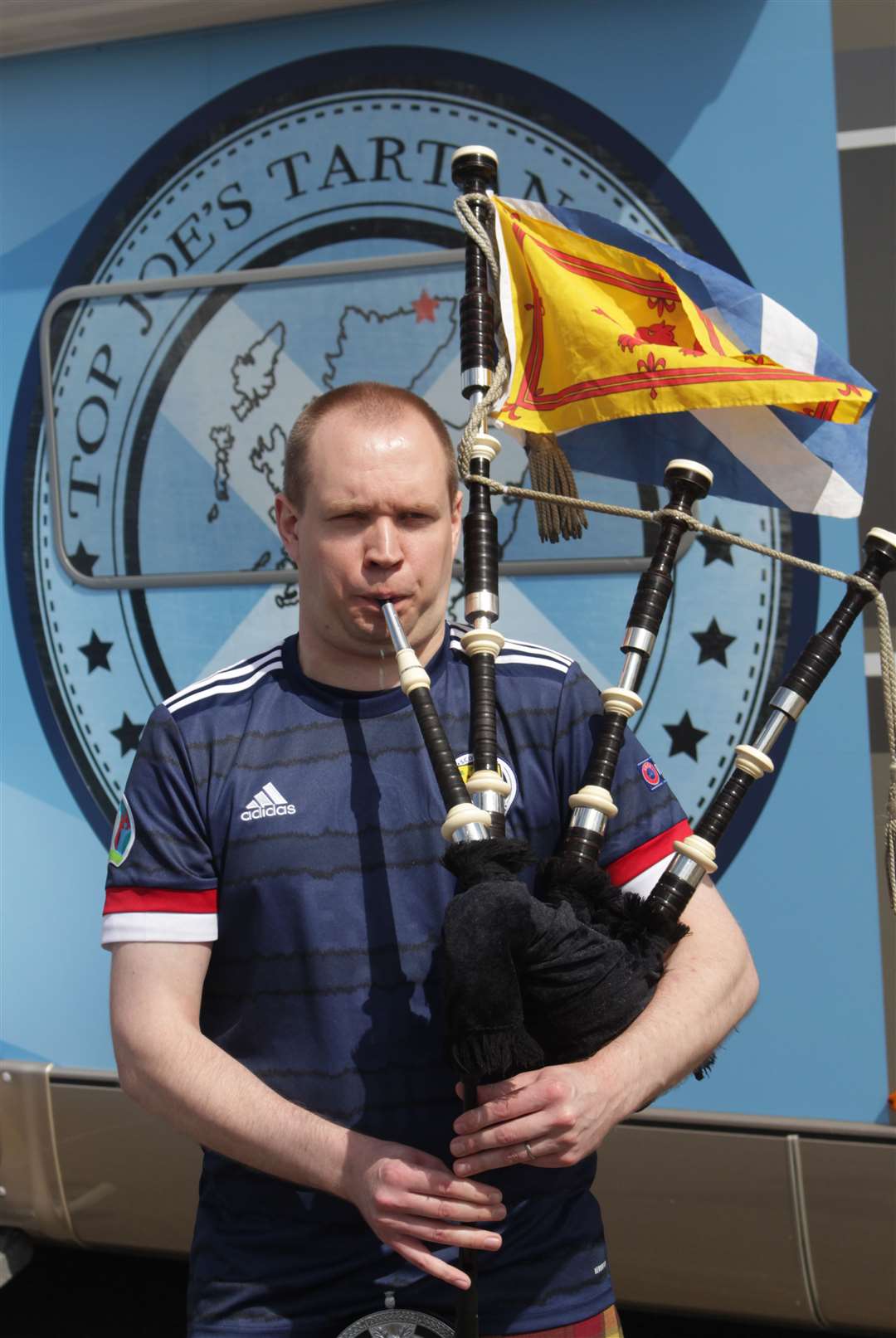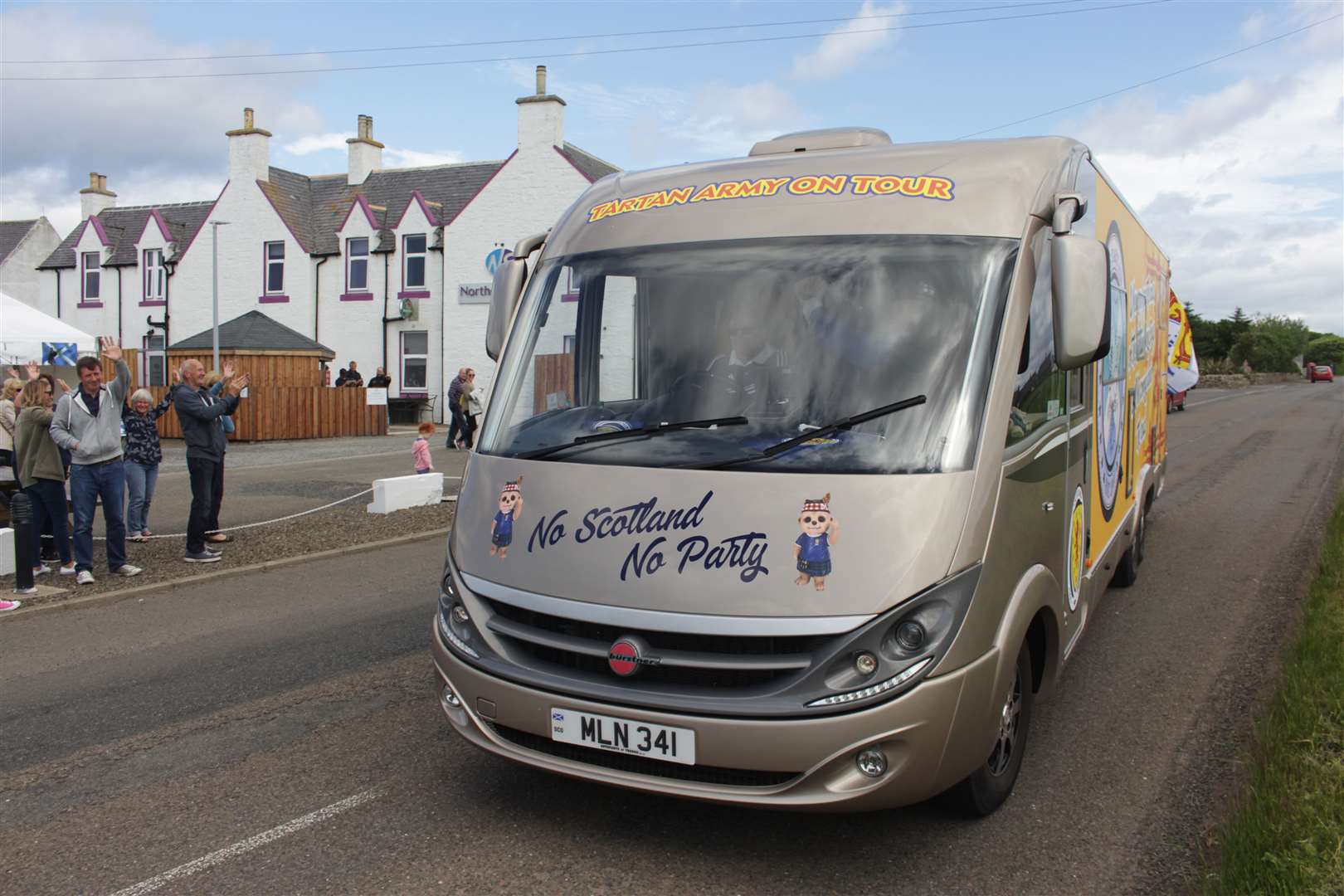 Martin and his fellow fans treated well-wishers in Dunnet to a couple of Tartan Army songs as they prepared to leave.
It is the first time the national team has qualified for the finals of a major tournament in 23 years but the fans are convinced Steve Clarke's team will do the country proud and perhaps surprise a few people.
"Scotland will do fine," Martin said. "We're underdogs – we're going to come fourth in the group, according to everybody else, but nobody is going to relish playing Scotland and when our backs are against the wall that's when we'll come out fighting.
"Twenty-three years ago was the last time we went off. I was in France in 1998 and Italy in 1990, so this has been a long time coming and a lot of money has been spent.
"It's the guys left behind that I feel sorry for. They've spent thousands of pounds and now they can't go when we qualify."
He added: "We're not afraid of any team. We've got two games at Hampden and one game at Wembley – bring it on."
Bob Bell (34) gave a rousing rendition of Scotland the Brave before climbing on board the motorhome.
Originally from Thurso, he was a member of the town's pipe band from 2003 to 2007 and is now living in Aberdeen.
"I was in primary school the last time we qualified for a tournament," Bob said. "It has been long, it has been hard, it has been turbulent, and there have been times when we thought we would never qualify for a tournament again.
"I genuinely feel we've got a chance to get out of the group. We've never lost to Croatia and we can go down there to Wembley and give England a game."
---
Do you want to respond to this article? If so, click here to submit your thoughts and they may be published in print.
---
---
Get a digital copy of the Courier and Groat delivered straight to your inbox every week allowing you to swipe through an exact replica of the day's newspaper - it looks just like it does in print!
SUBSCRIBE NOW
---
---