PICTURES: Greenpeace heads out of Wick harbour on protest mission for oil workers
---
Published: 23:00, 21 July 2021
| Updated: 13:20, 22 July 2021
---
Easier access to your trusted, local news. Have a look at our brand new digital subscription packages!
---
---
The John O'Groat Journal was given special access to a protest by Greenpeace activists today [Wednesday, July 21] as they set out from Wick harbour to the Beatrice offshore wind farm.
Greenpeace UK is calling on the Scottish government to take action to deliver a just transition for oil and gas workers, or risk abandoning a whole workforce, as was seen with coal miners and shipbuilders in years gone by.
At Beatrice offshore wind farm this morning, three 16-year-old Scottish climate activists Holly Gillibrand, Lily Henderson and Dylan Hamilton hoisted up a 1500 sq ft banner calling for a "Just transition for oil workers".
Holly, who has been striking with Fridays For Future Scotland for three years, said: "The climate and ecological emergency is at its heart a social justice issue, so the solutions need to centre around the welfare and needs of people. It is so important that as young climate activists we listen to oil workers and have these conversations involving people from many different backgrounds and experiences.
"Unless we move away from fossil fuels towards renewable energy, we don't have a hope of stopping this crisis. The people in power need to start treating this like a crisis instead of tinkering around the edges without disrupting business as usual, which is ultimately what we need."
Conditions out at the wind farm were mild, with the sea very calm and the turbine blades barely turning as Rainbow Warrior took up position to juxtapose the banner against the backdrop of the Beatrice field.
Rigid inflatable boats were launched to allow photographs and footage to be shot by news teams and the event appeared to go without a hitch. At the helm of Rainbow Warrior was the captain Mike Fincken, who said there are two other Greenpeace vessels called Esperanza and Arctic Sunrise which are currently out on different operations. "The reason we are here is to bring attention to the need to change energy sources but not just to transition the energy but the workers from the oil industry too," he said.
Campaigners are urging Scottish Government ministers to engage directly with workers, remove hurdles to retraining, and back up warm words with a proper specialist fund for energy workers.
Morten Thaysen, oil campaigner for Greenpeace UK, said: "Scotland has the opportunity to drive forward this energy transition, and see its North Sea communities thrive by helping fossil fuel workers move over to sustainable green jobs.
"But instead, the Scottish Government is following Westminster's playbook, and is complicit in propping up the destructive oil industry, while ignoring its key workers in the energy sector.
"This has to change. Oil workers and Scotland's young people are united in wanting a brighter future. We urge Just Transition Minister Richard Lochhead to do his job, and listen to them."
Gallery1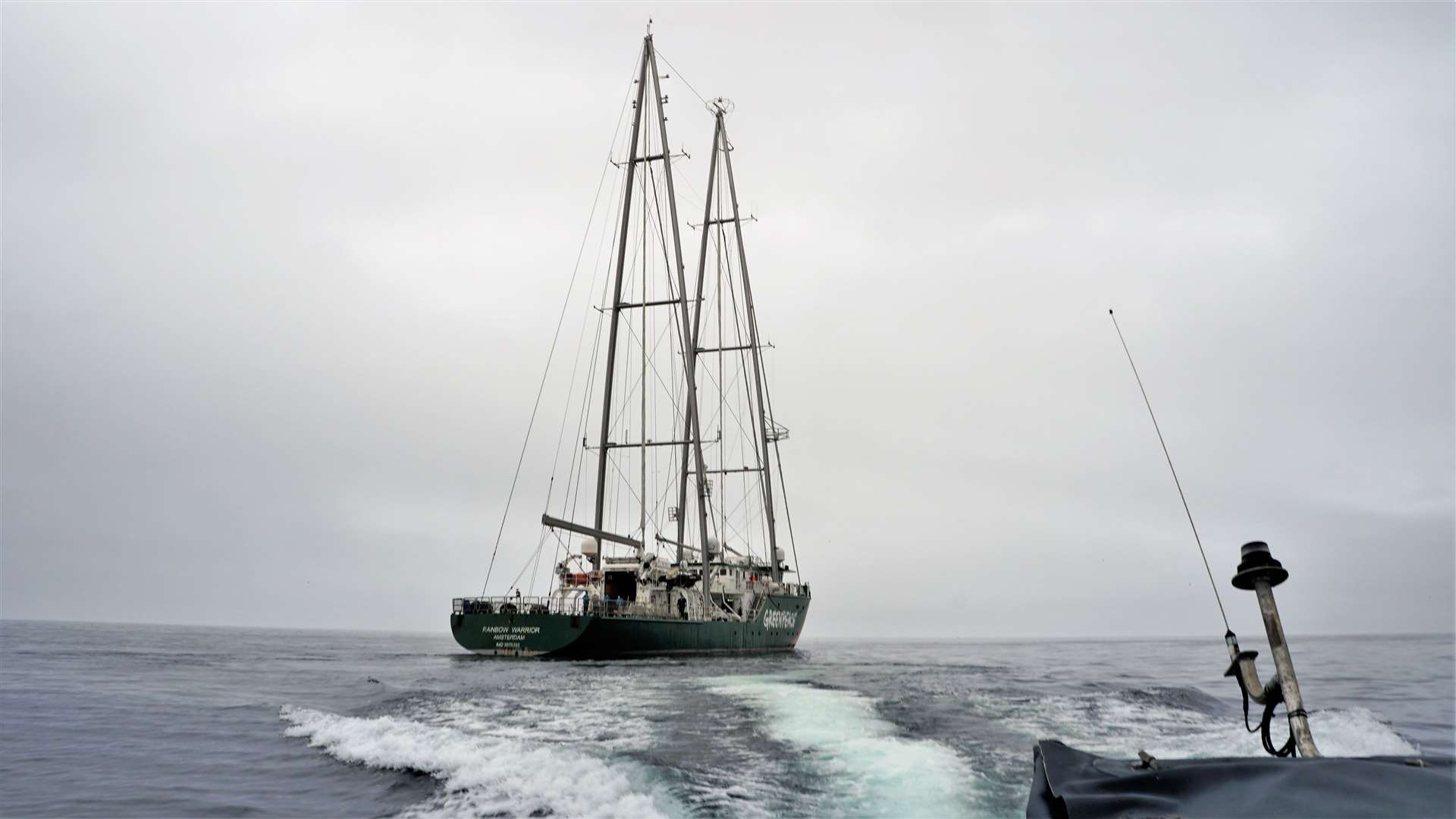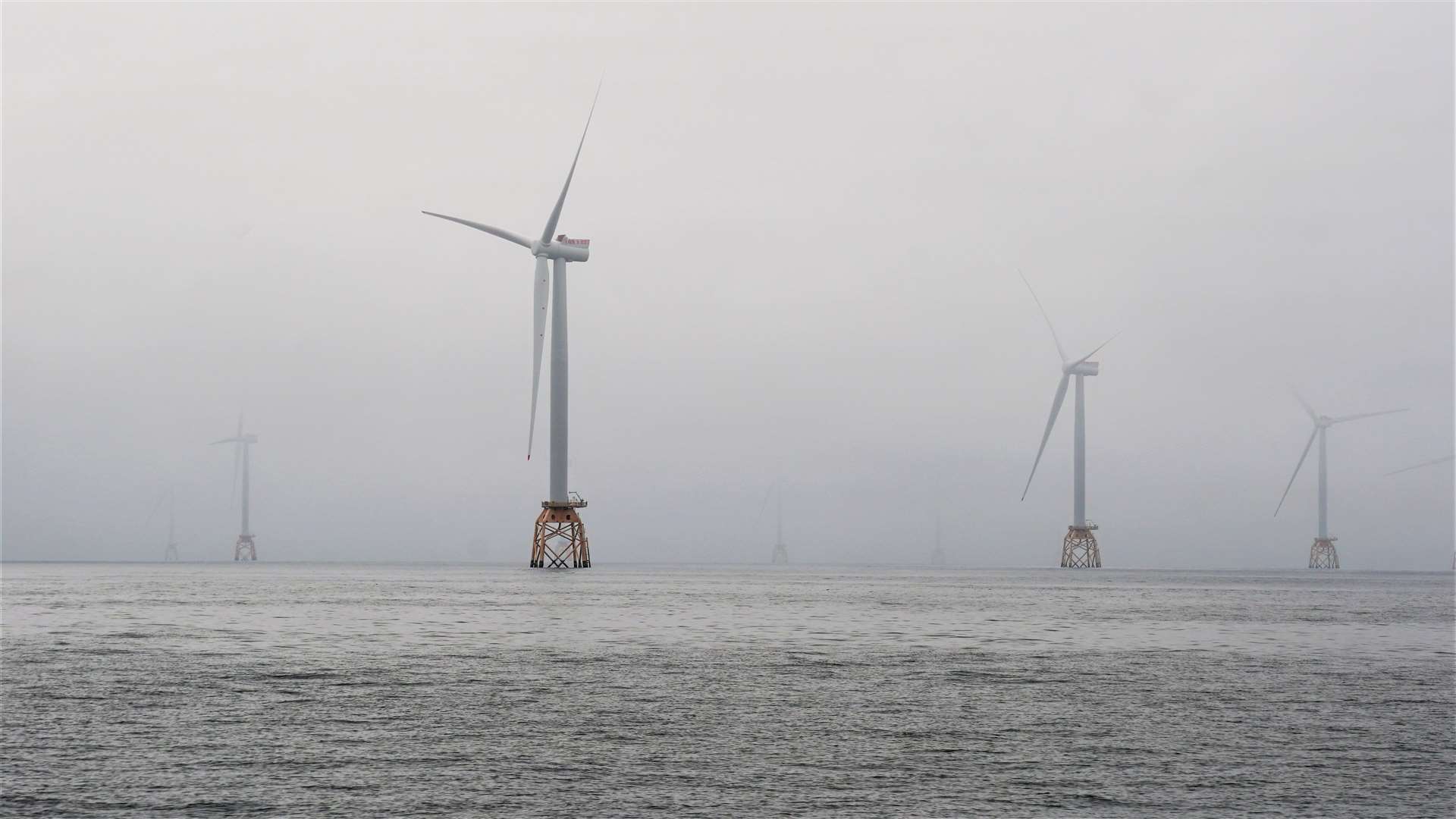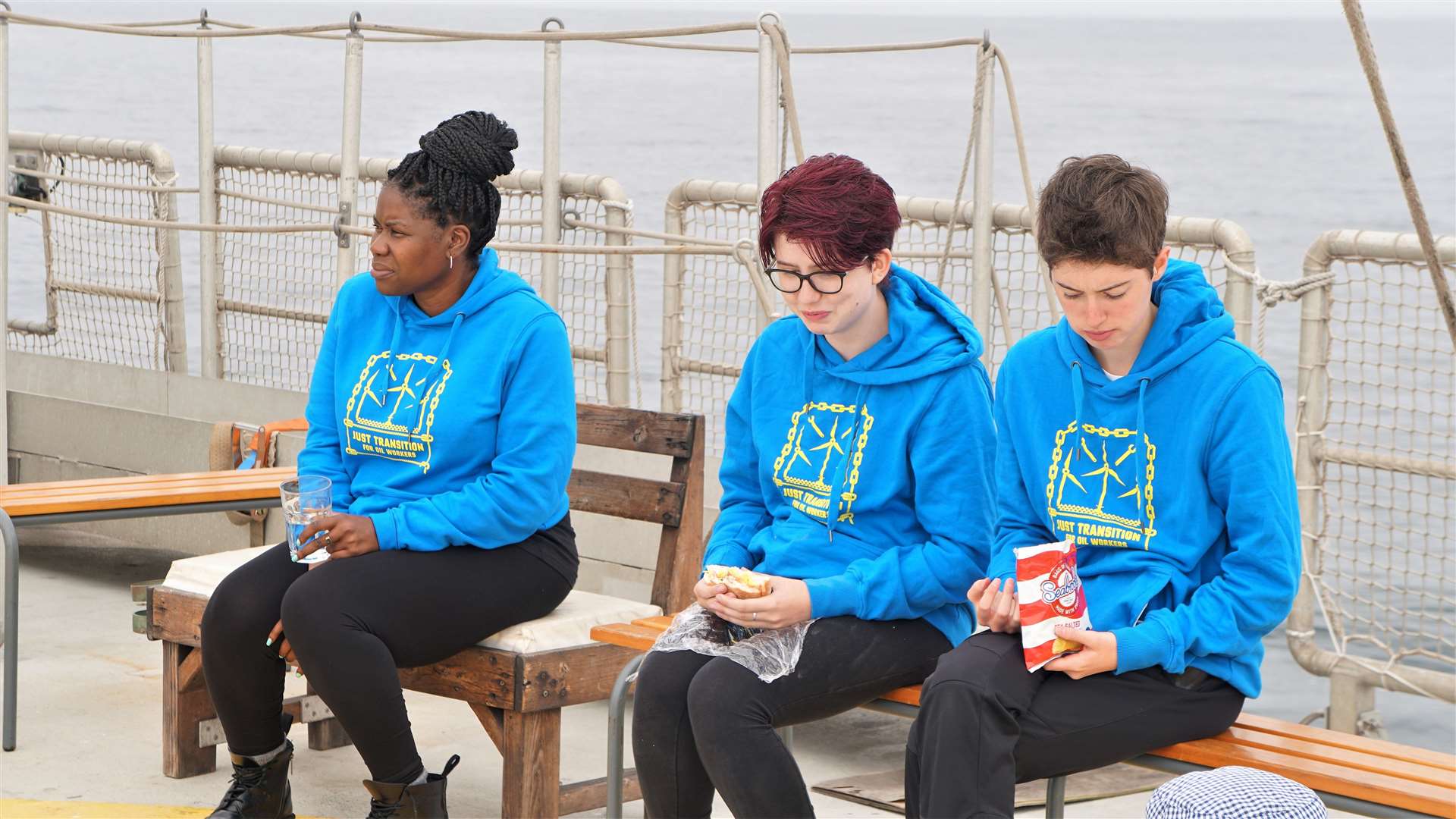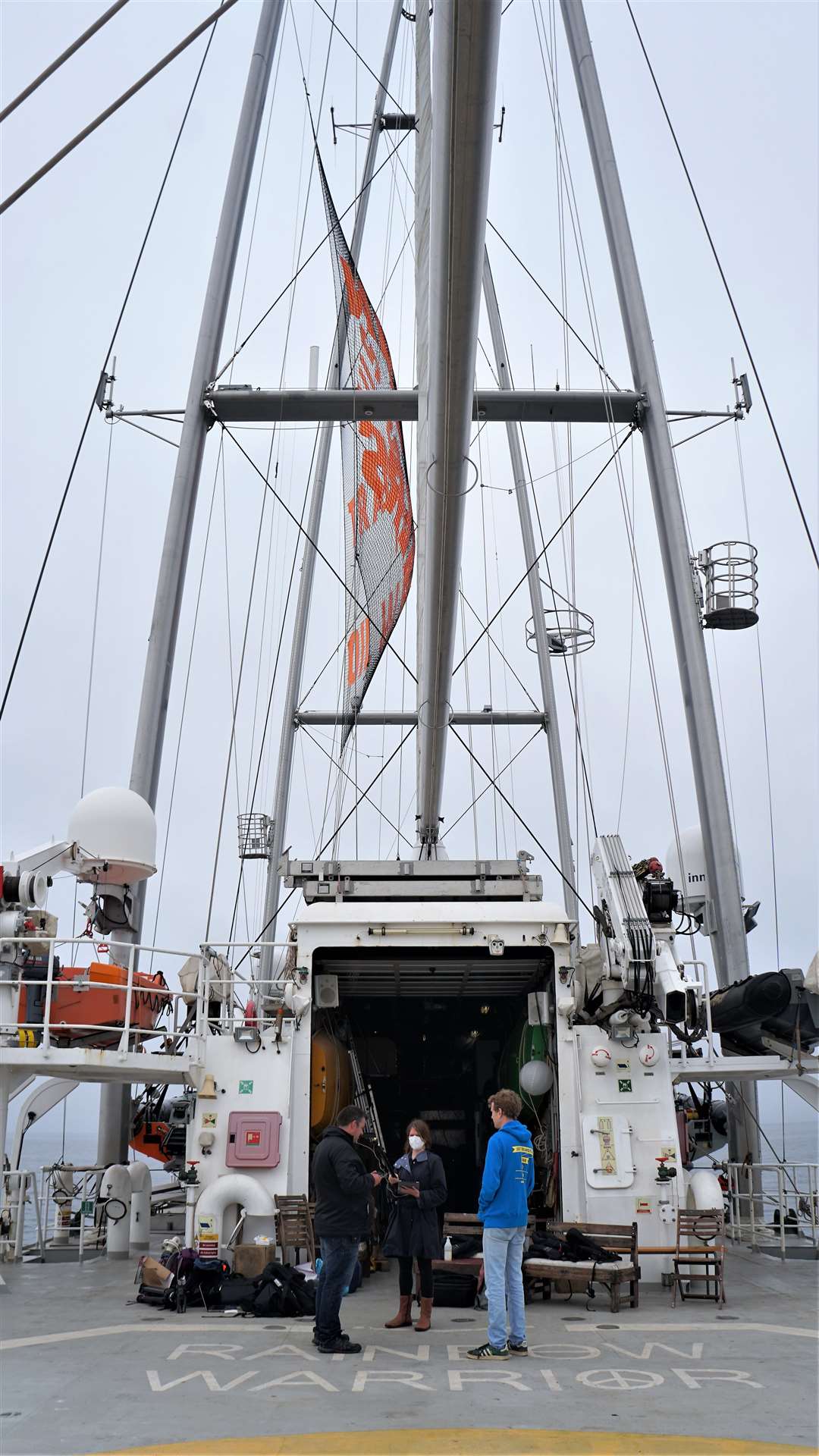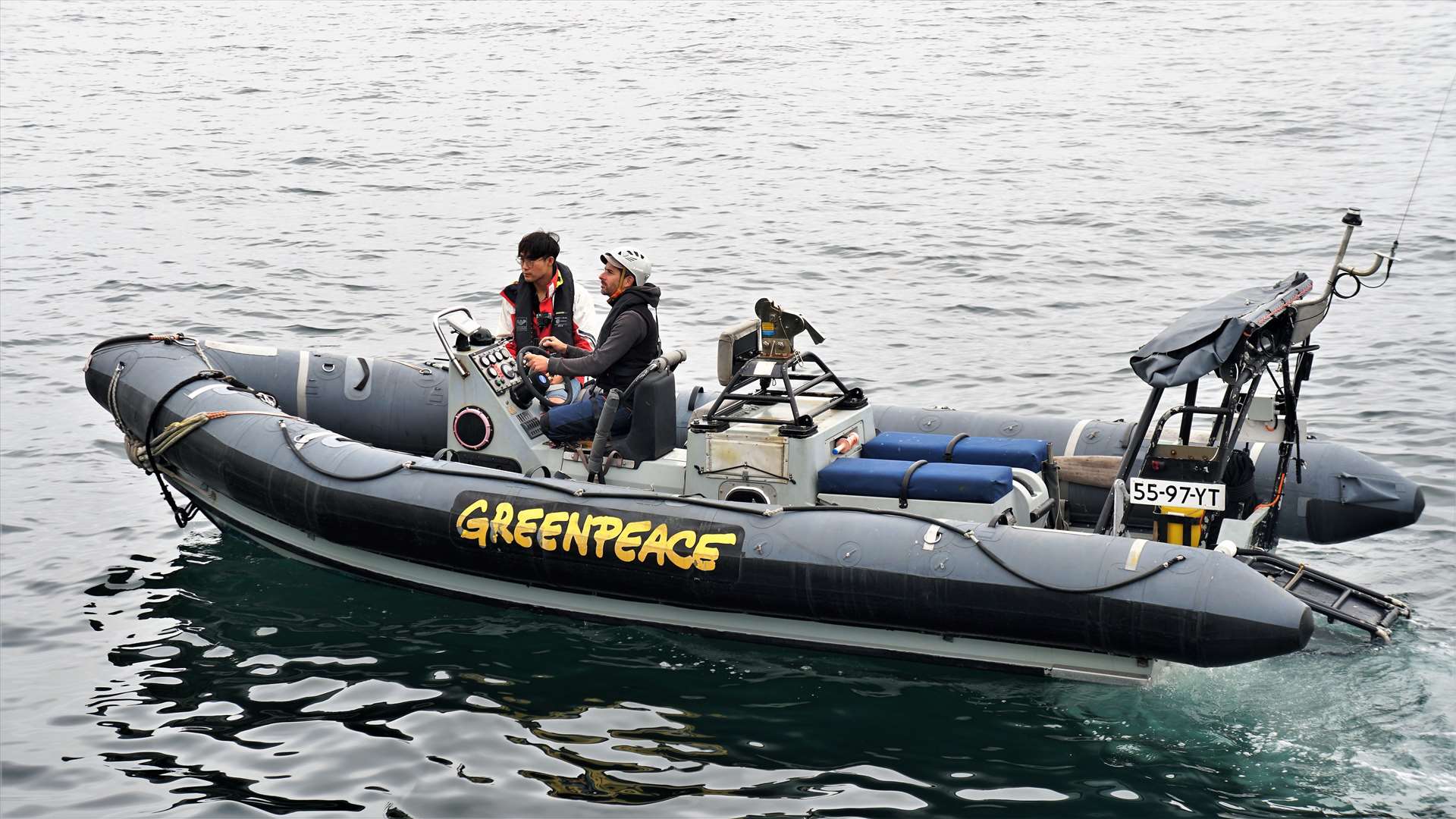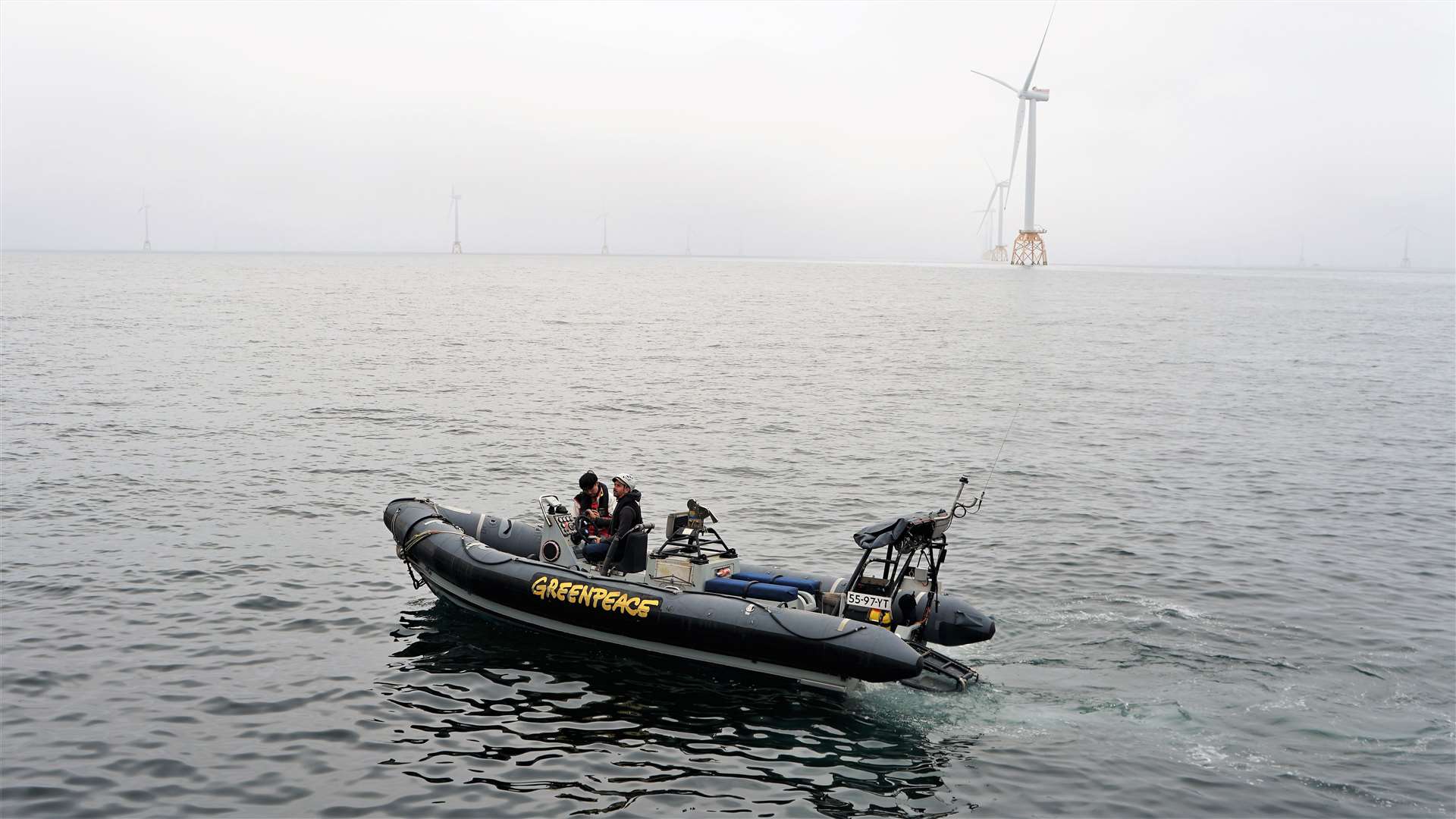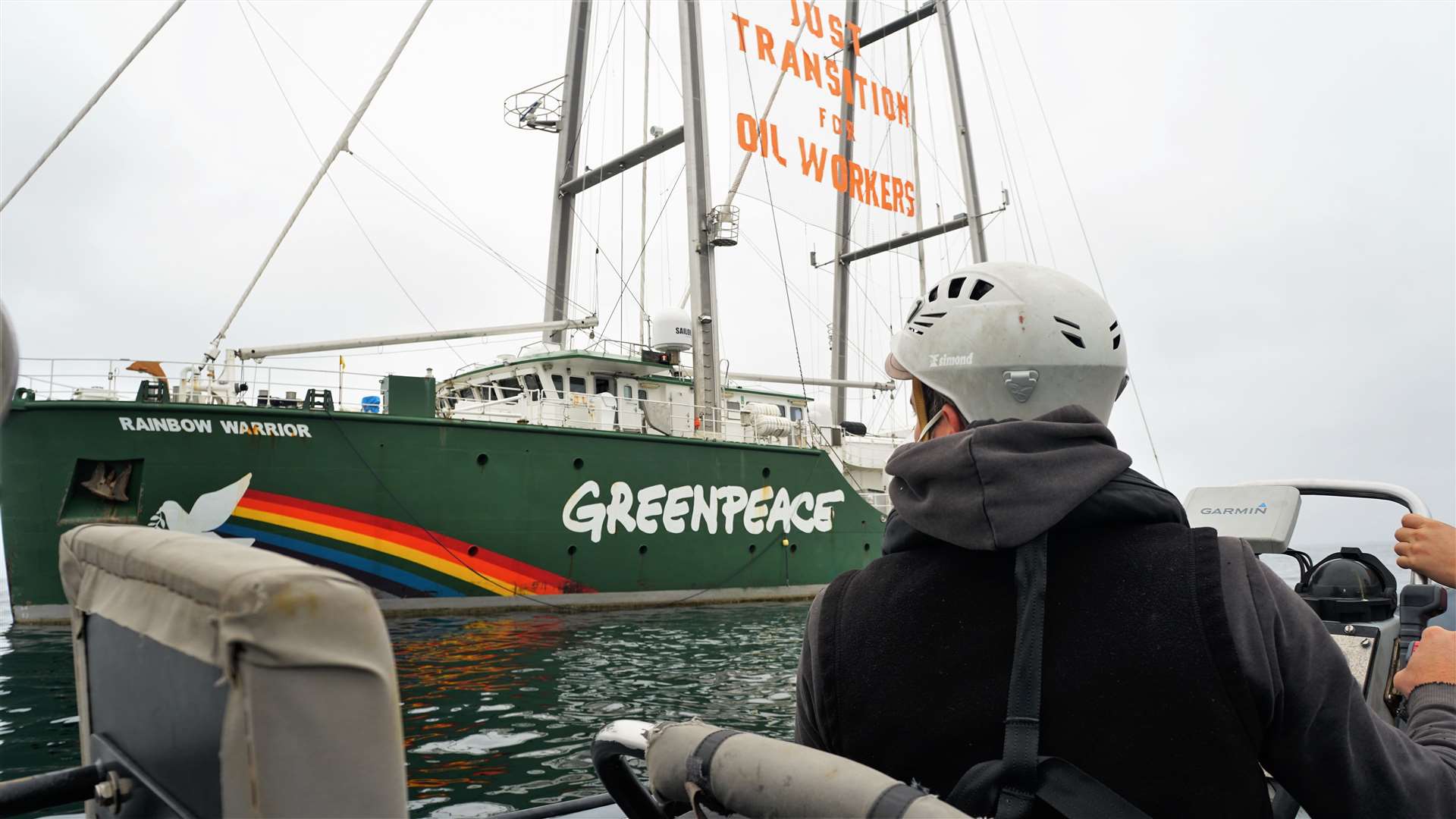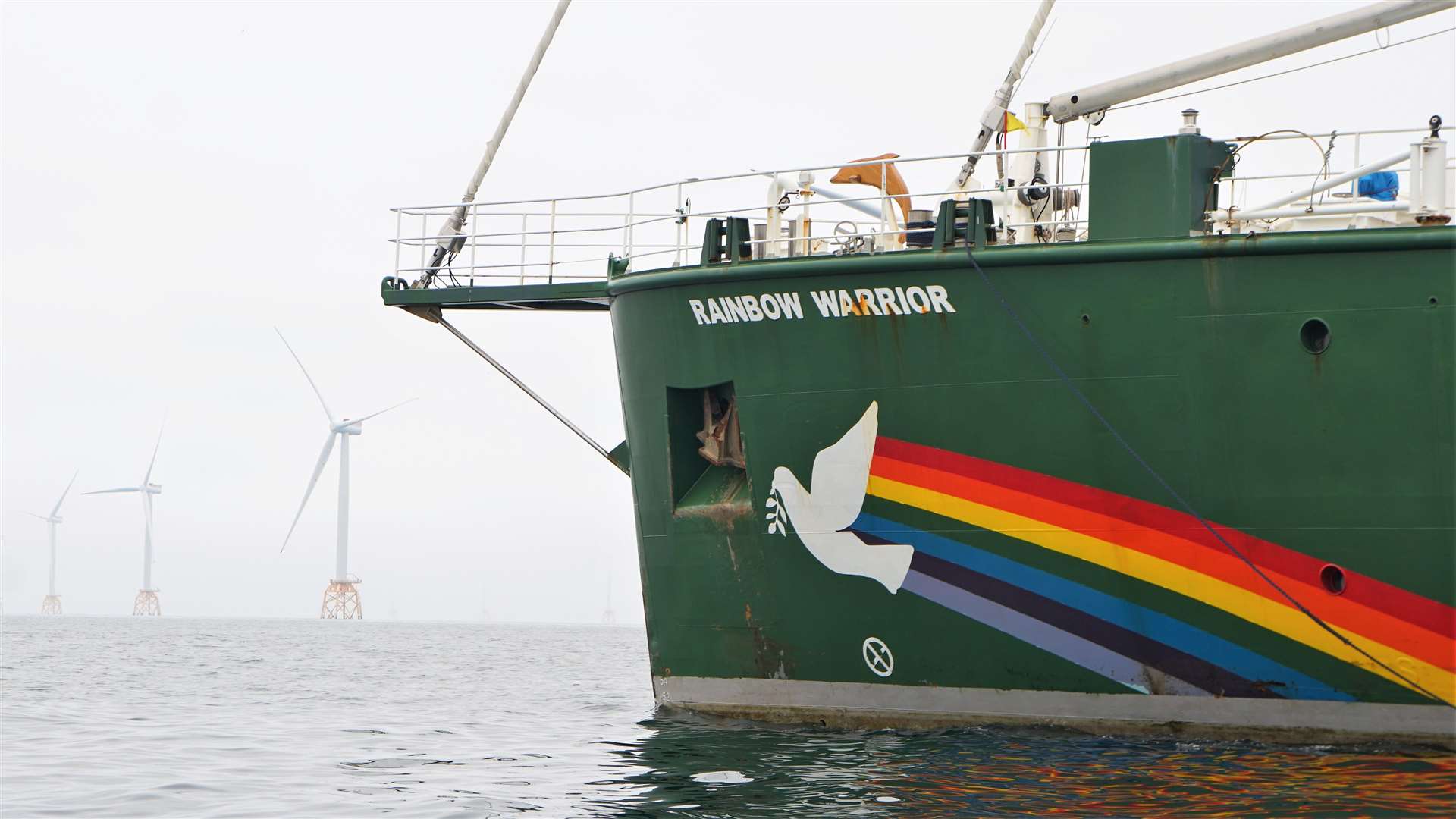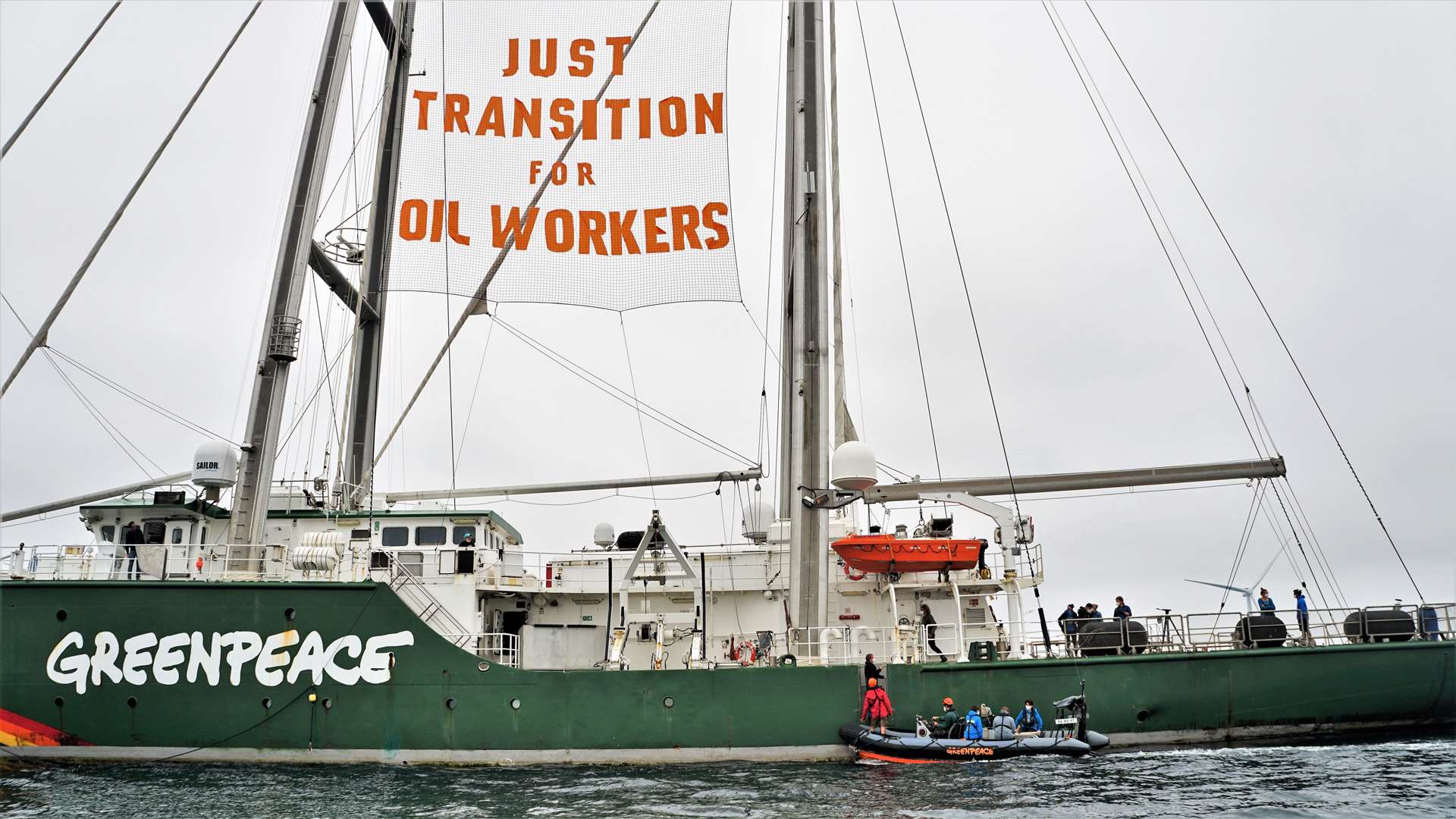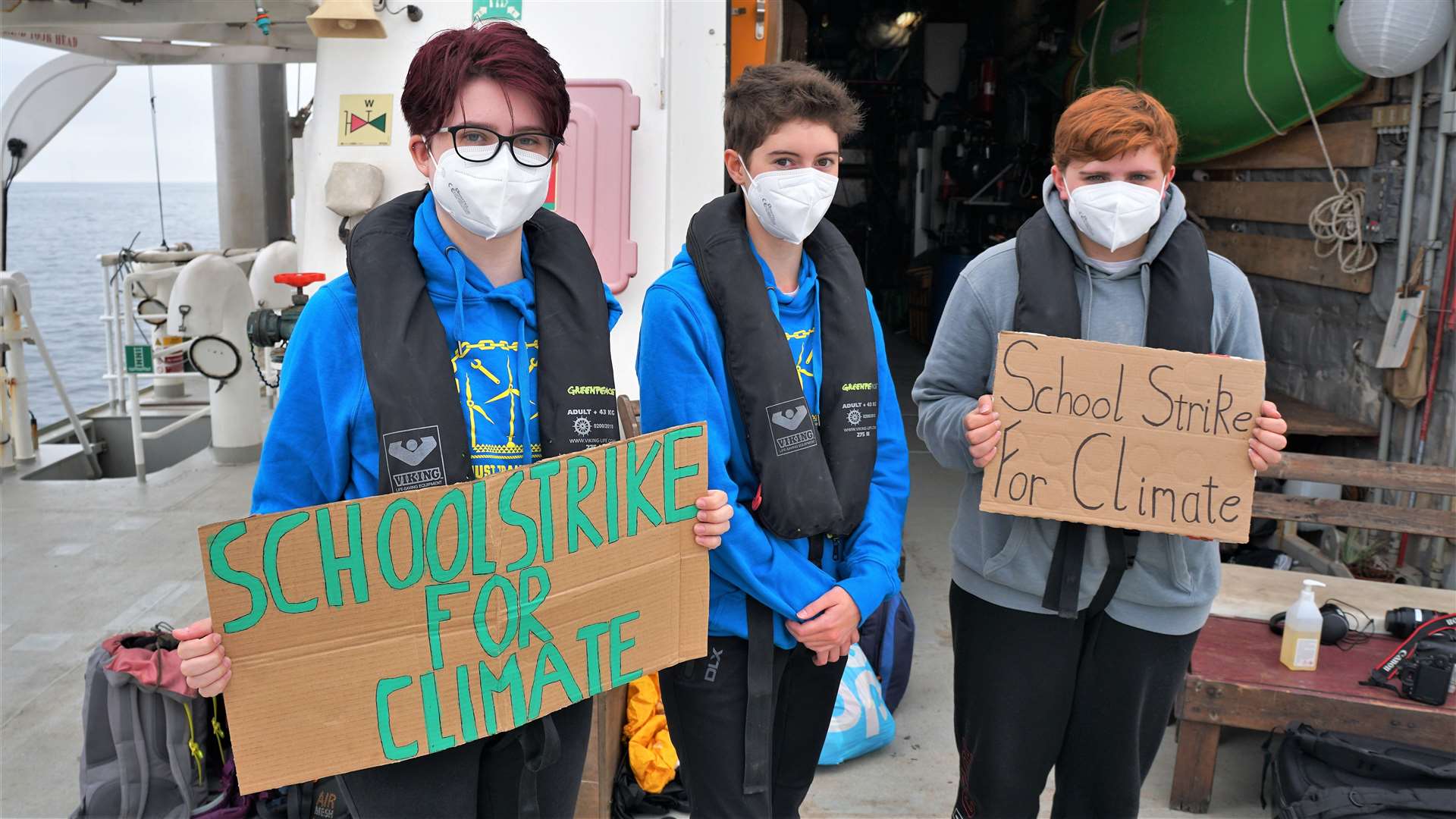 The Beatrice wind farm was built on the site of a former oil field, but has been controversial because key contracts were "handed to firms overseas, rather than boosting Scotland's economy and job opportunities", says Greenpeace. This makes Beatrice a symbolic site illustrating the opportunities and challenges that exist in the UK's transition to renewables.
Speaking on board Rainbow Warrior as the protest banner was raised, Ian Duff, Greenpeace deputy campaign director, said: "What this ship tour is all about is trying to build a stronger relationship and open conversations with oil workers and the energy community. It's well known that Greenpeace has been campaigning on fossil fuels for many years and the link with climate change.
"The Scottish and UK governments should be building a relationship with the oil community – it's an industry that is in transition. They should be supporting them in that transition and not leave them out to dry like they did with the coal industry. We've spoken to a lot of oil workers over the last year and one of the things we hear is that it's very expensive to retrain from one industry to the other even though the skills are very transferable.
"They often have to retrain under different bodies and repay for that training even though it's basically the same."
Gallery1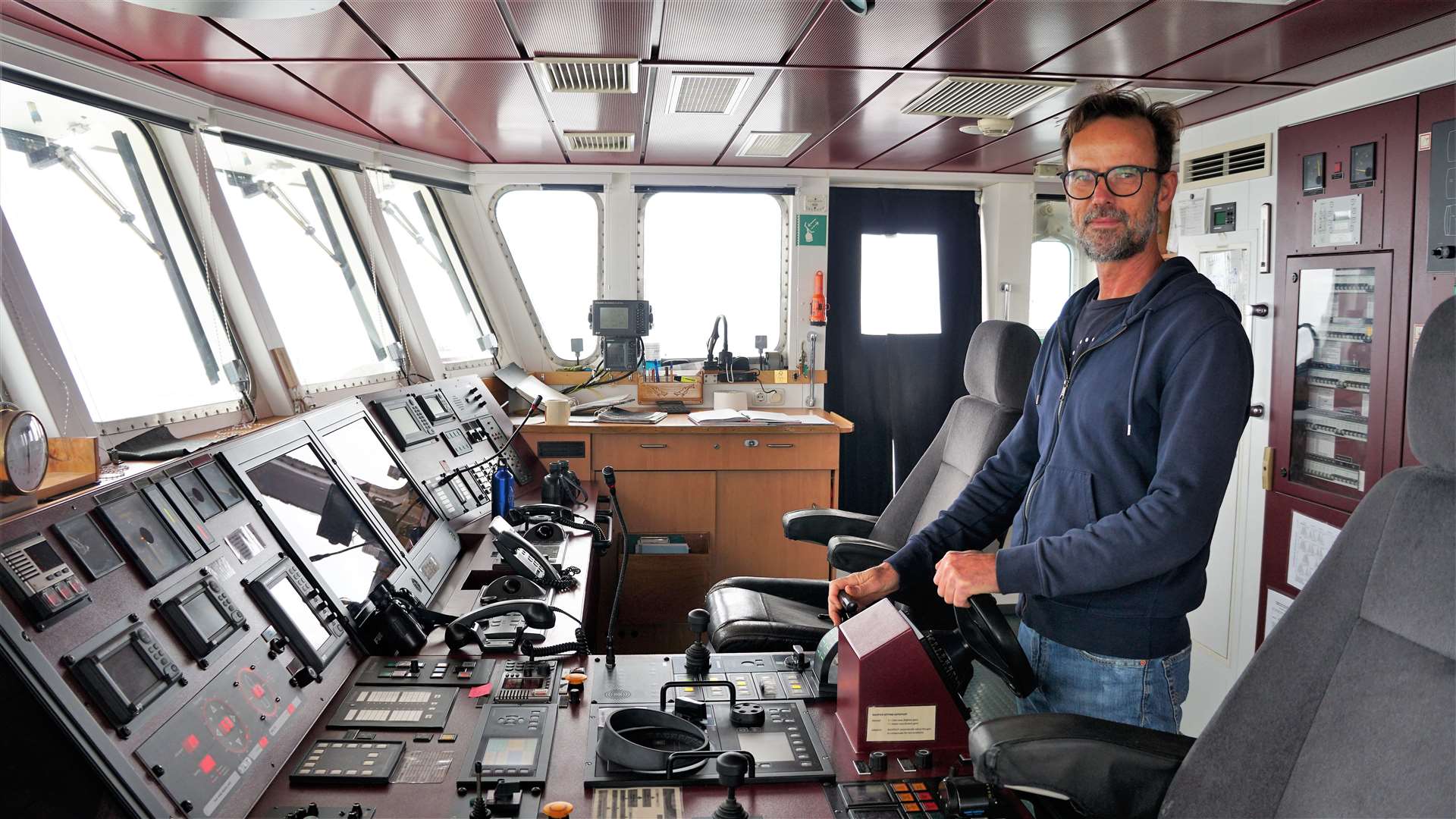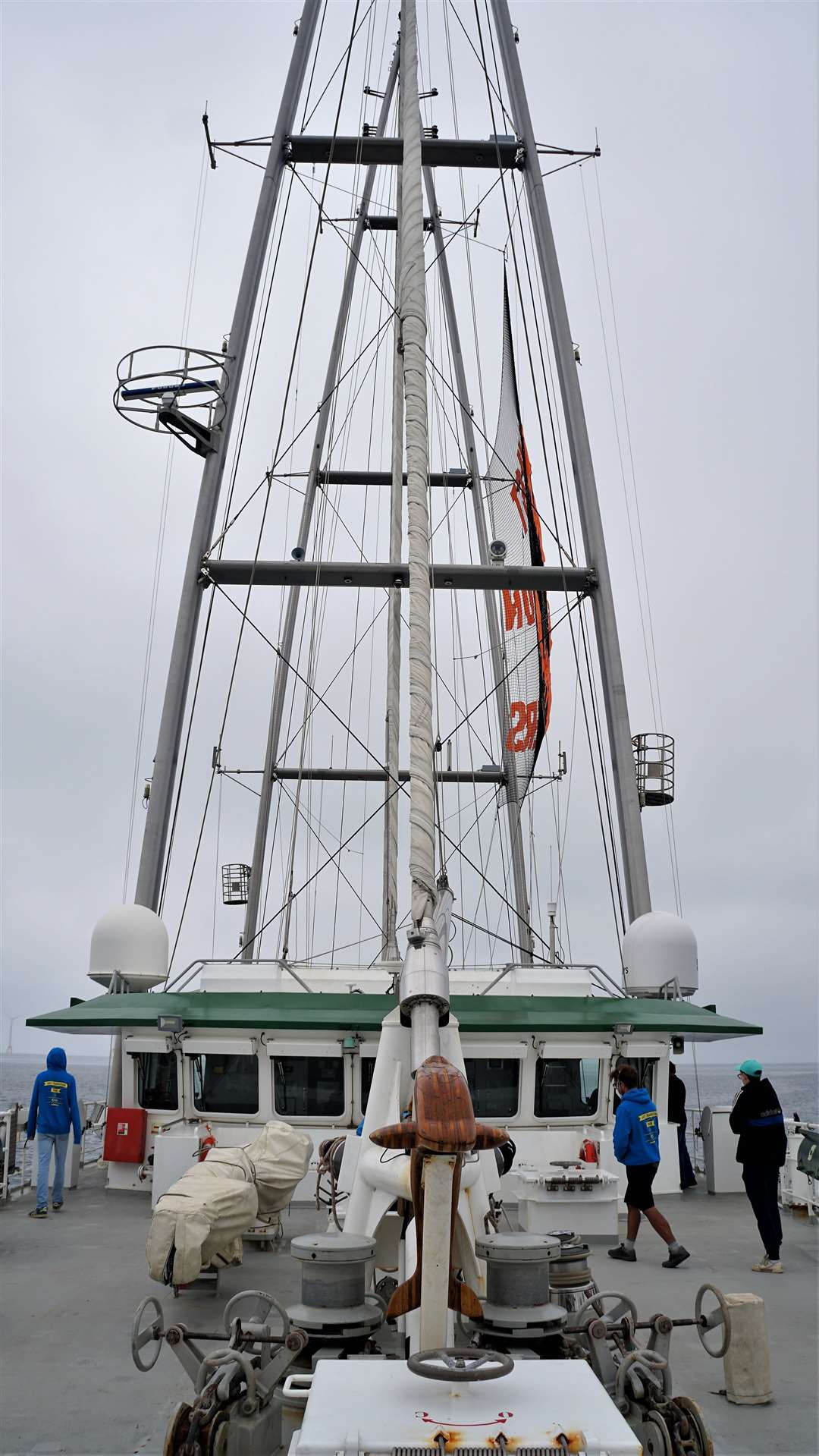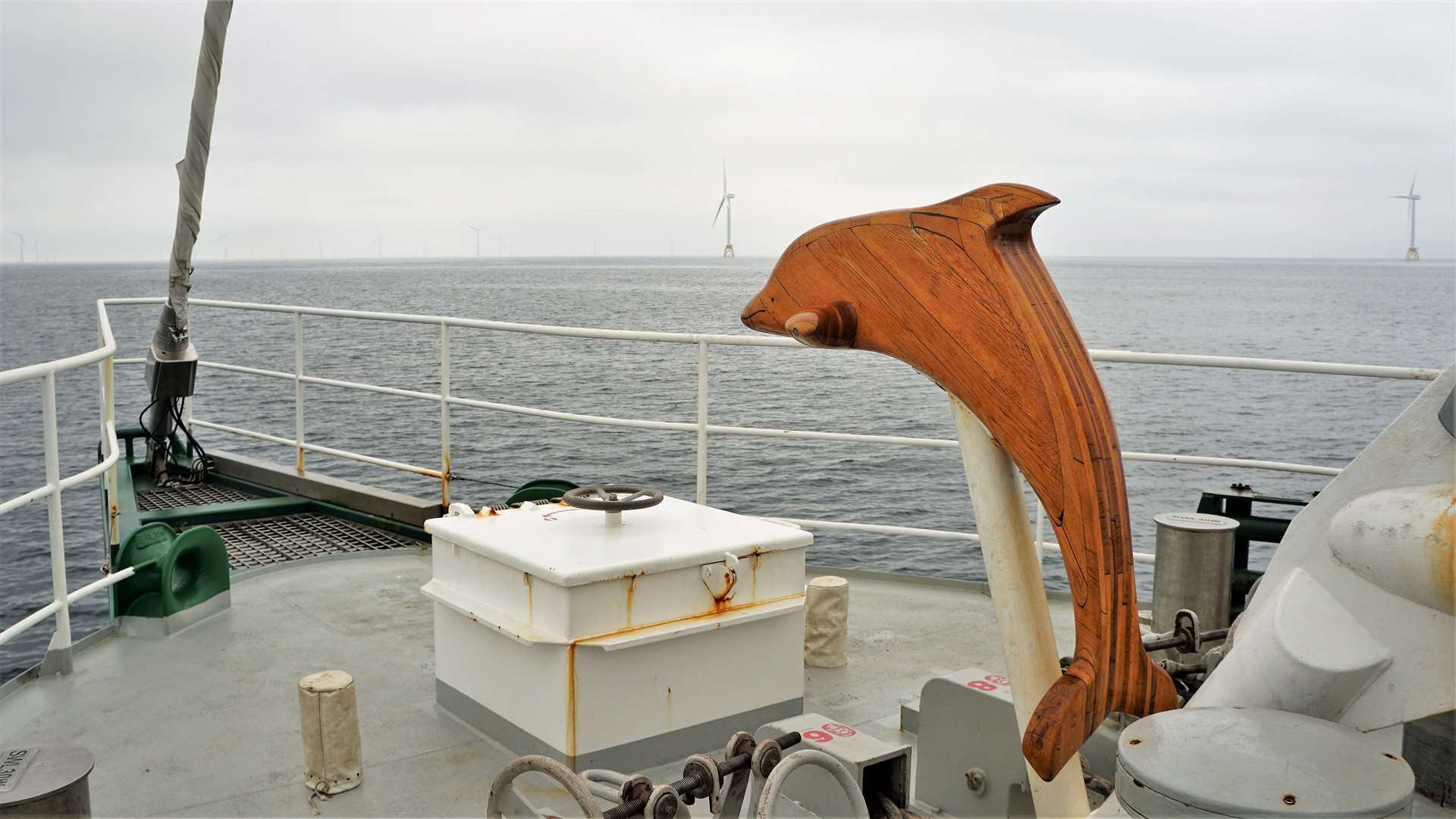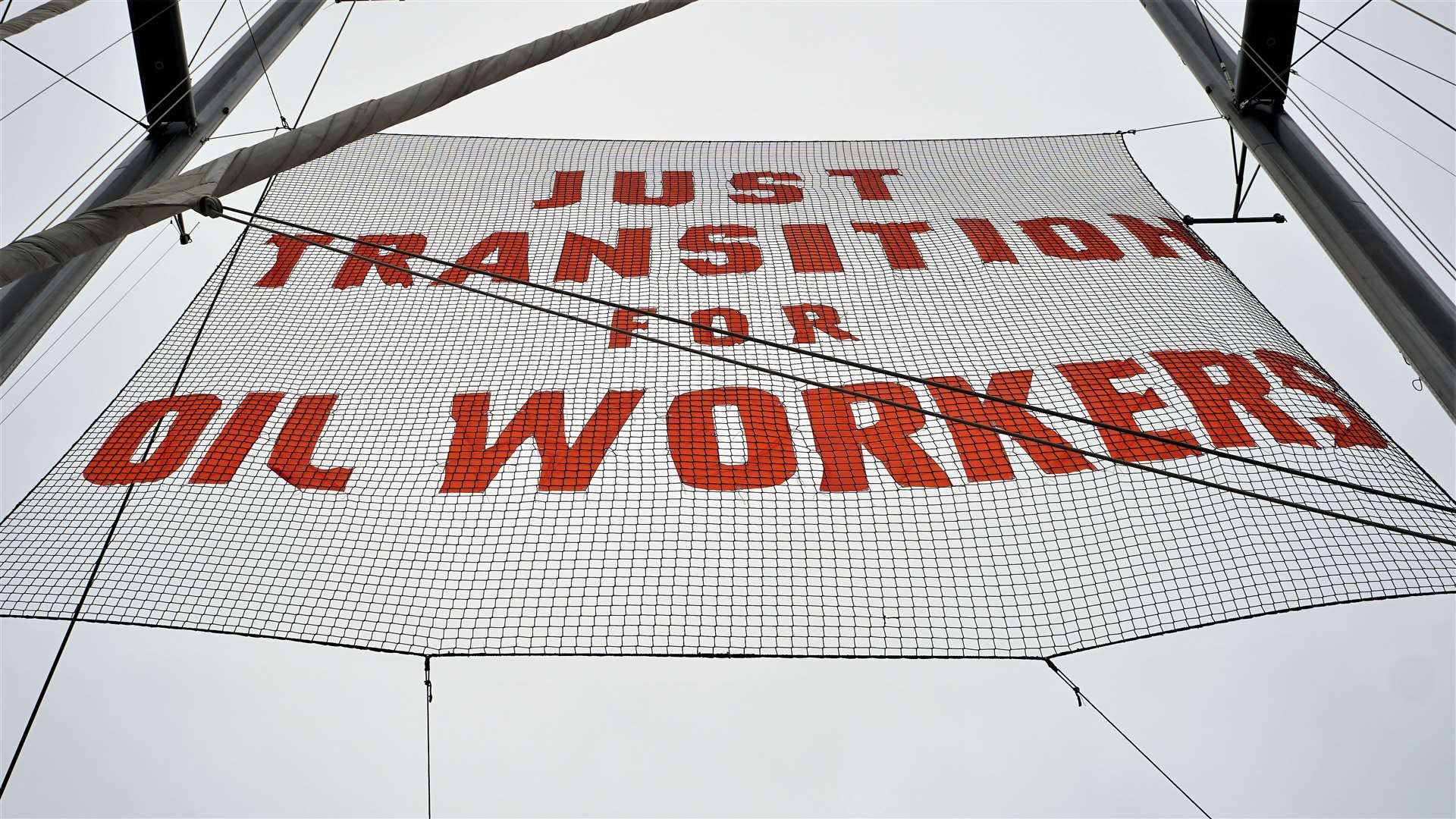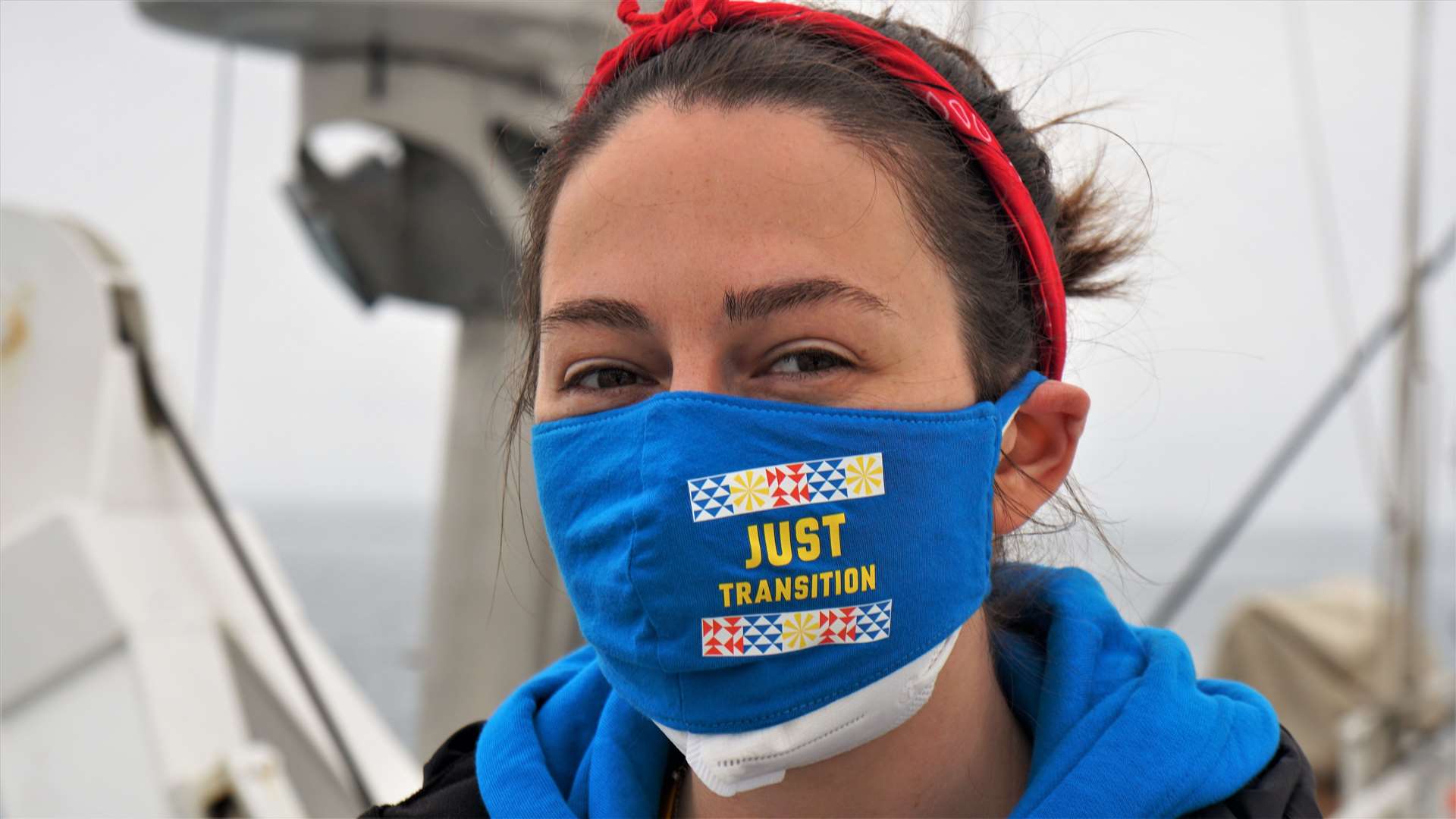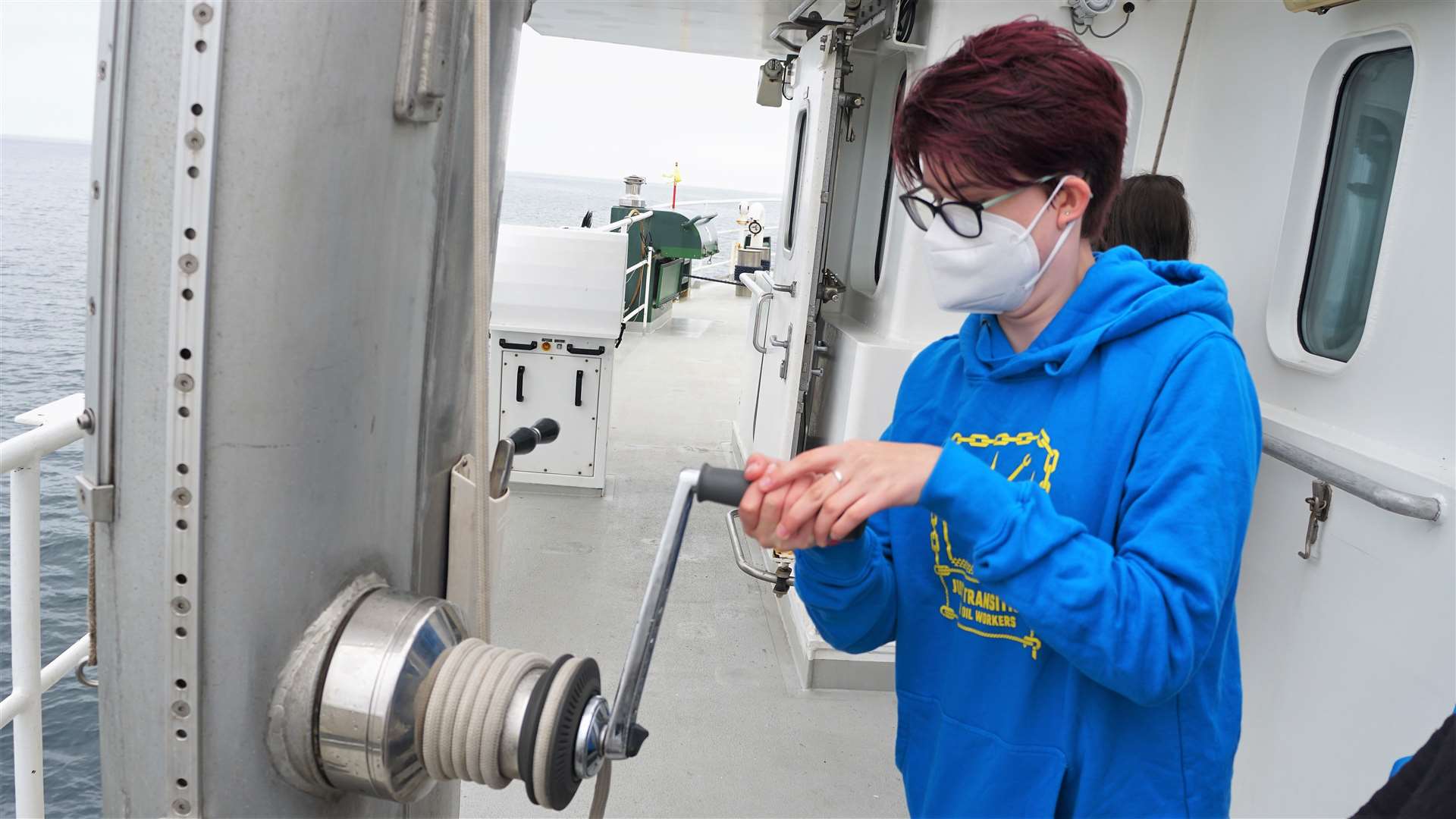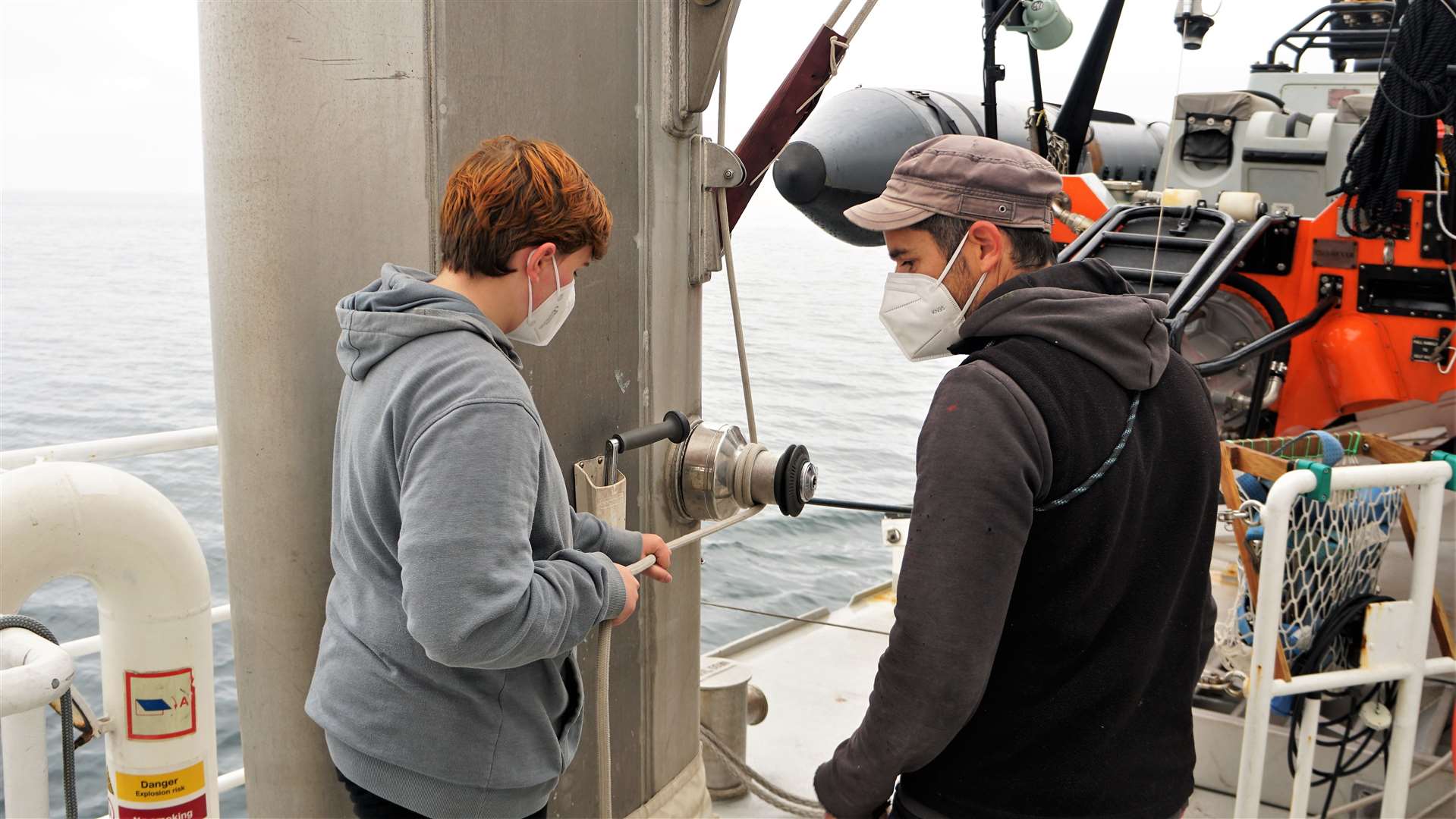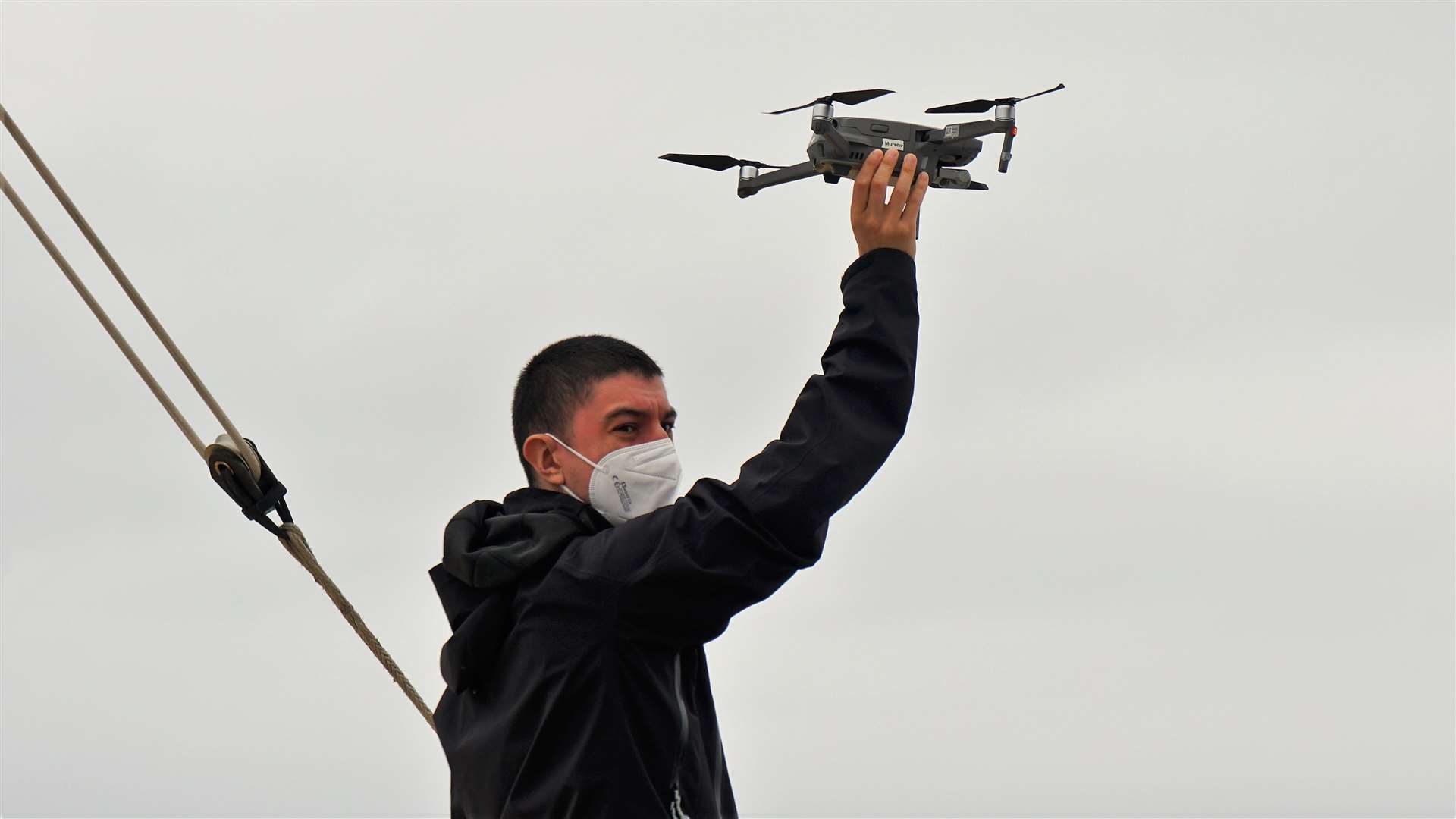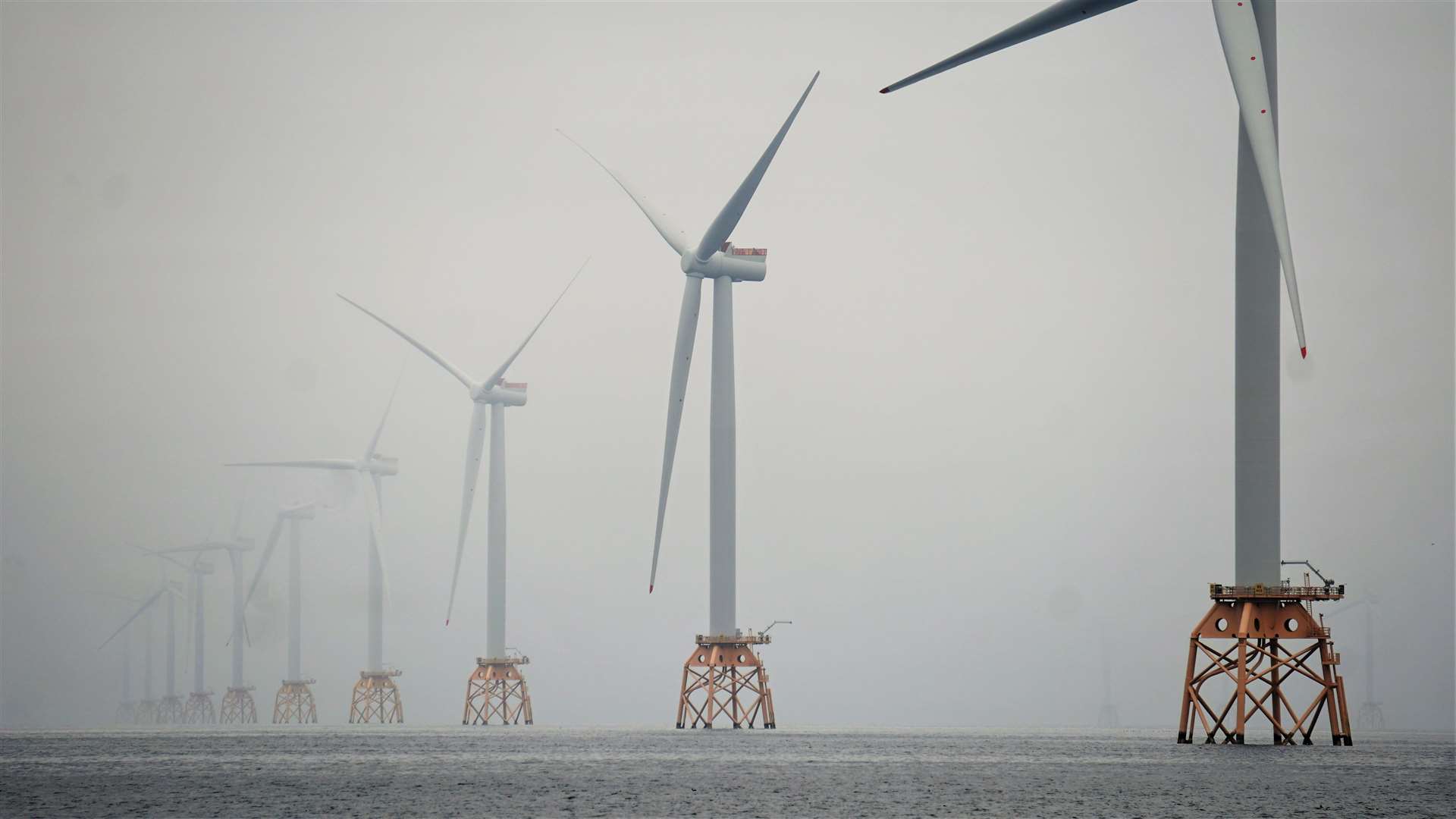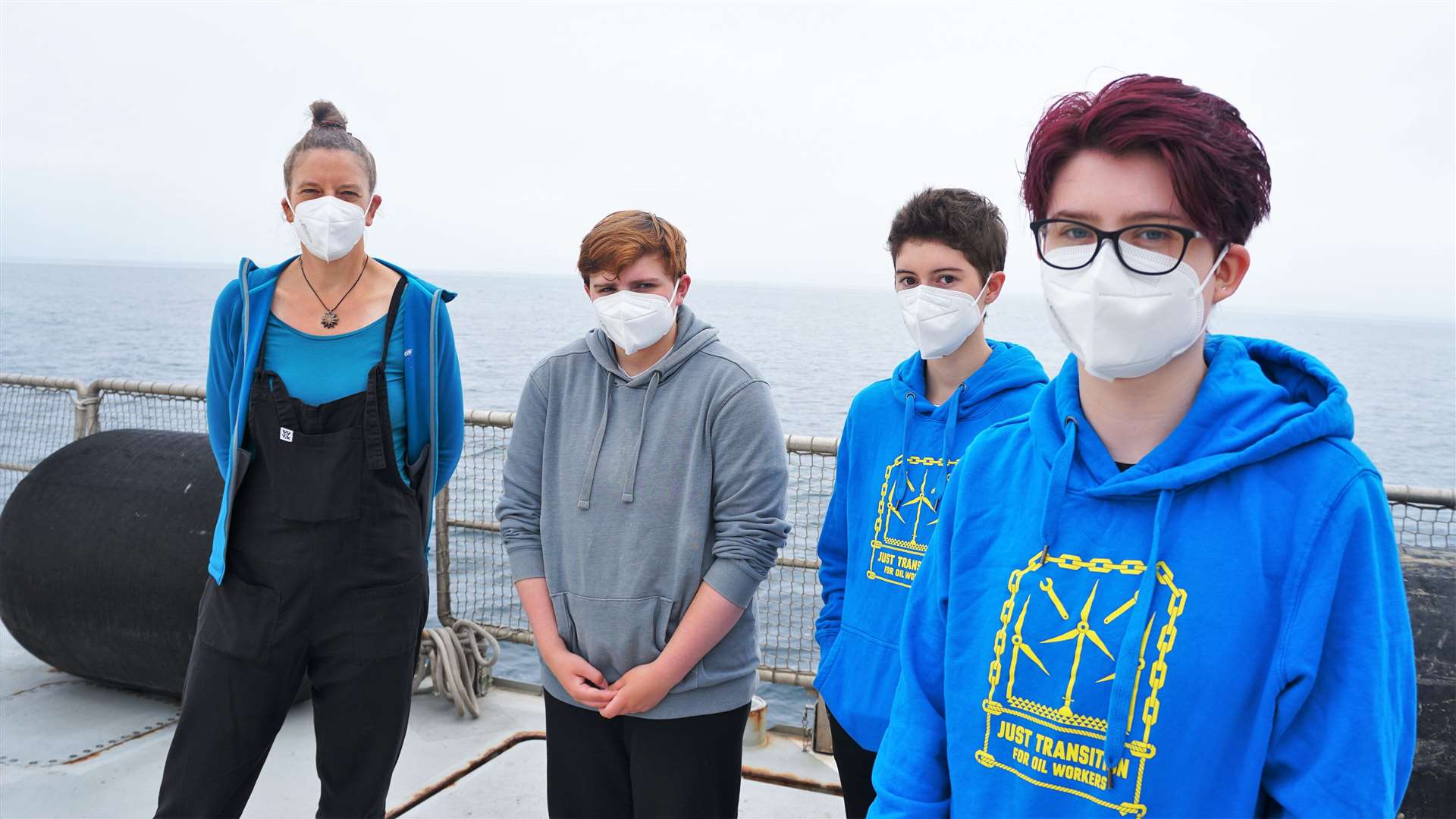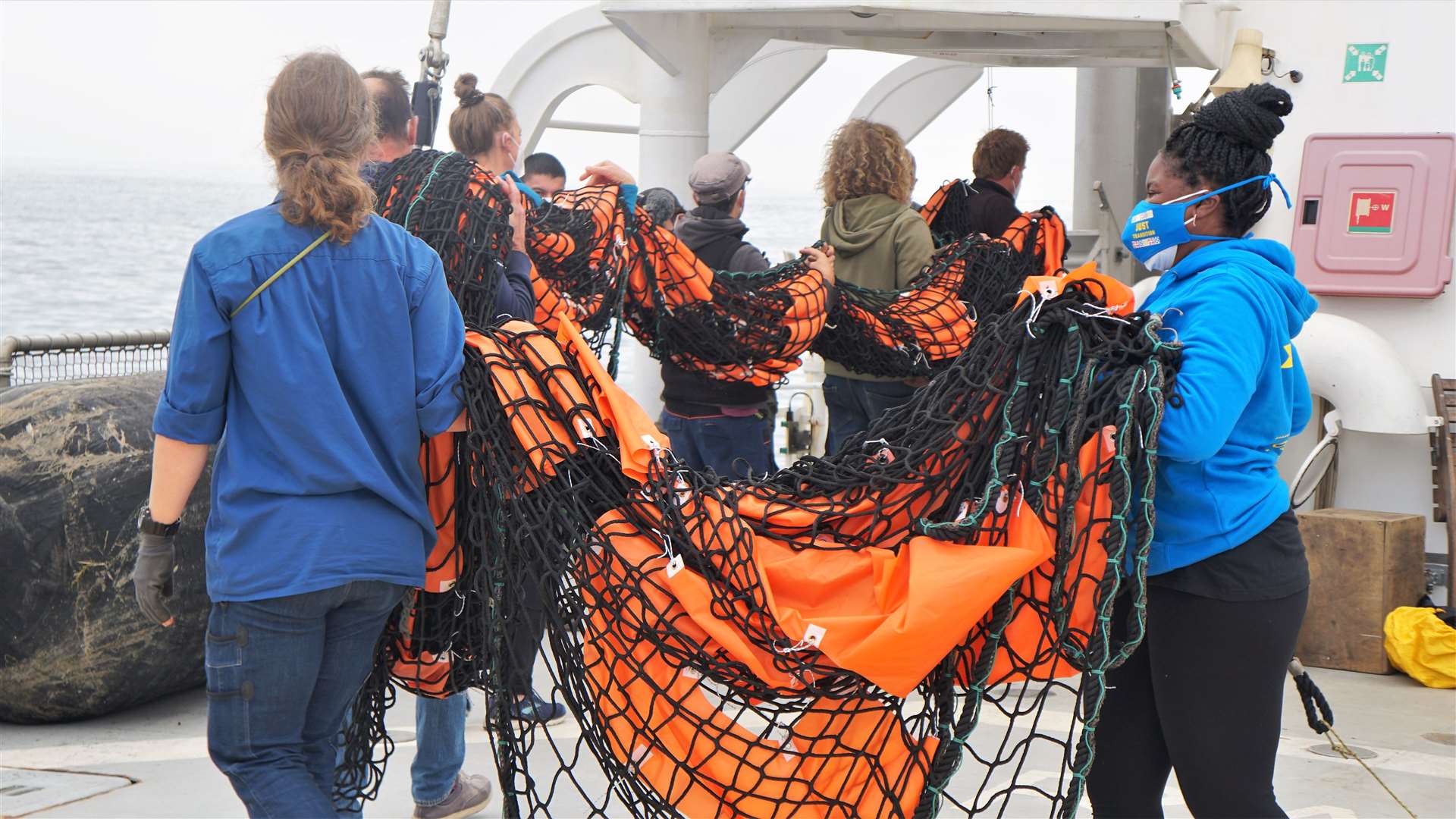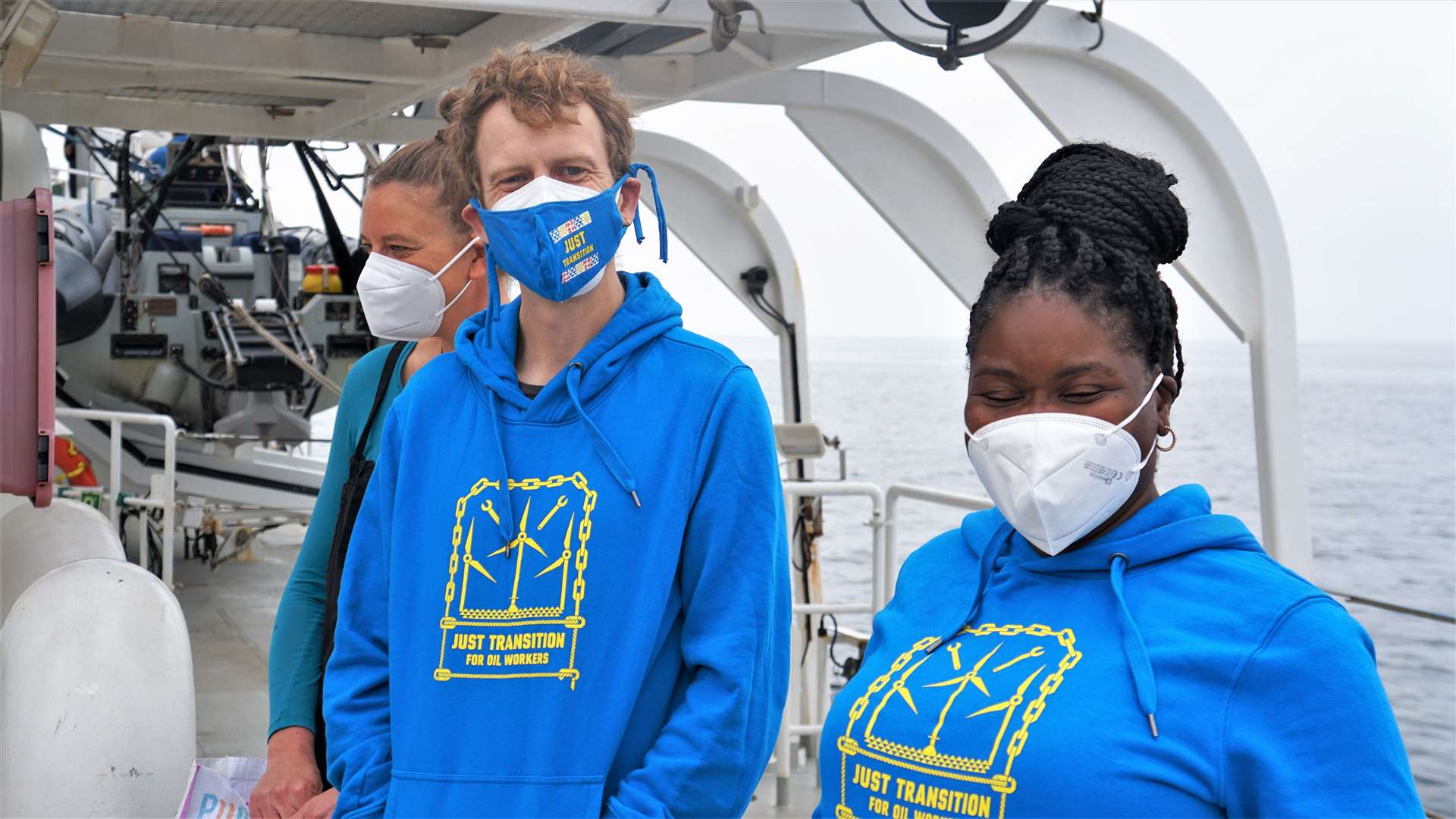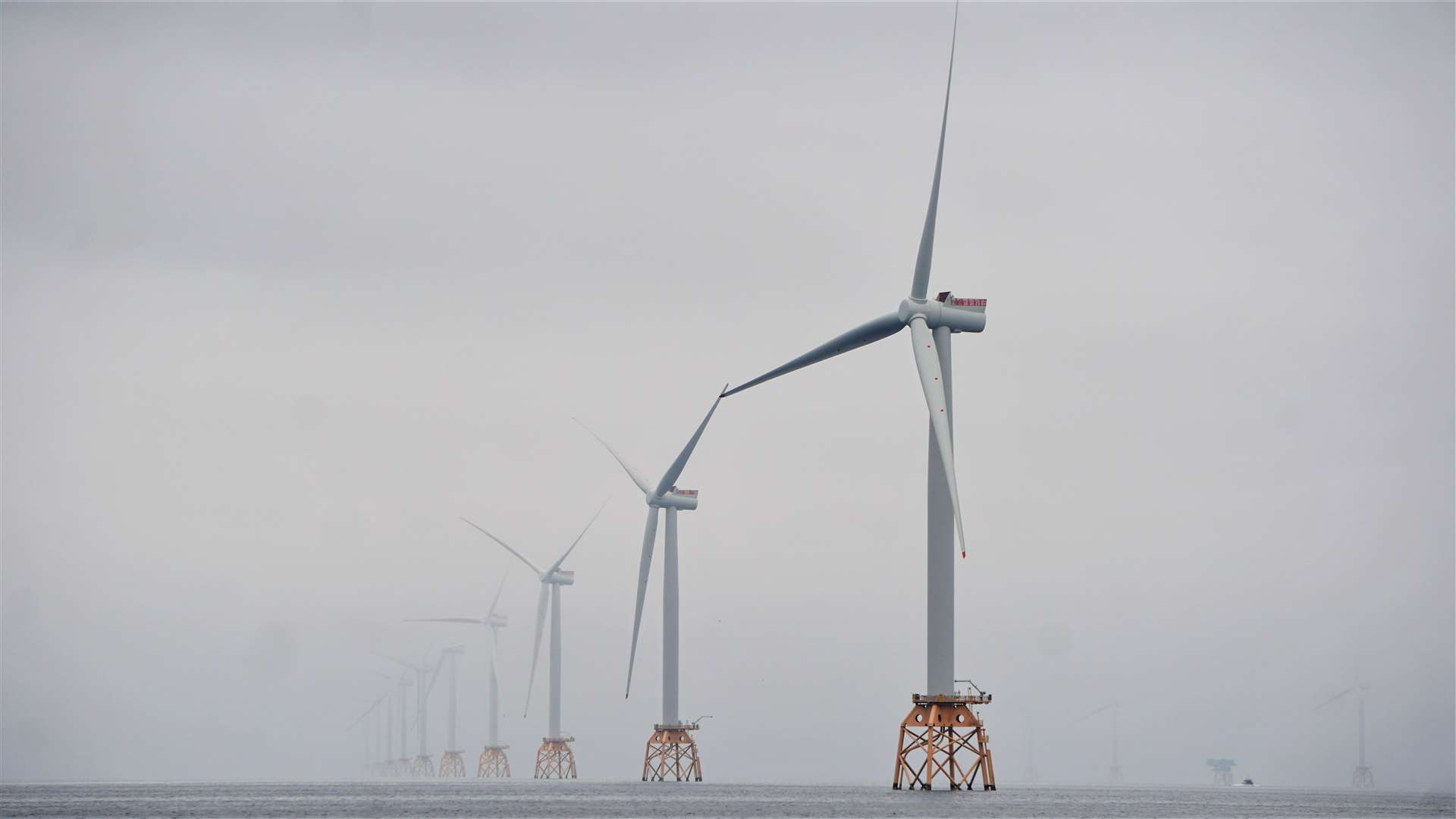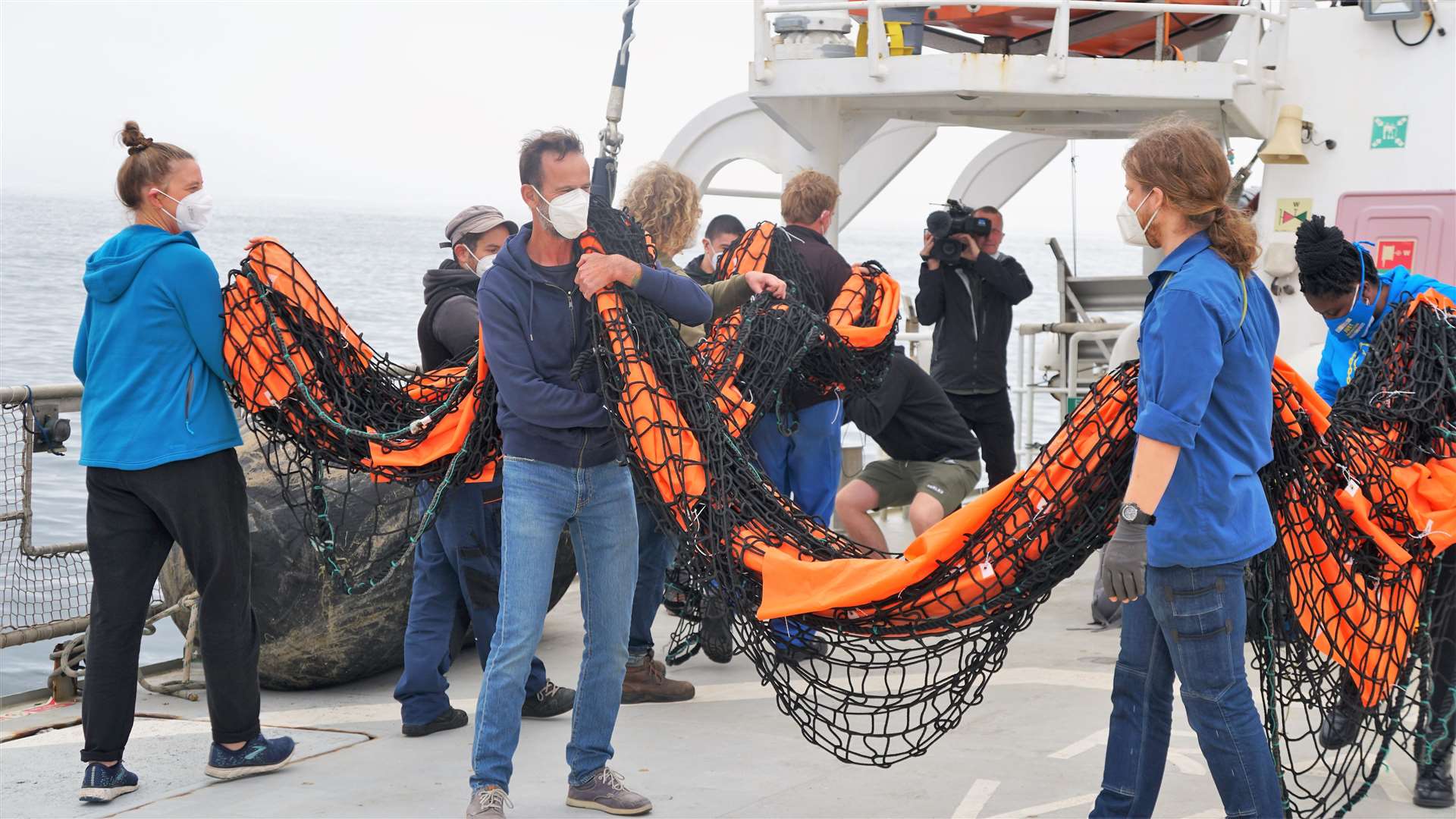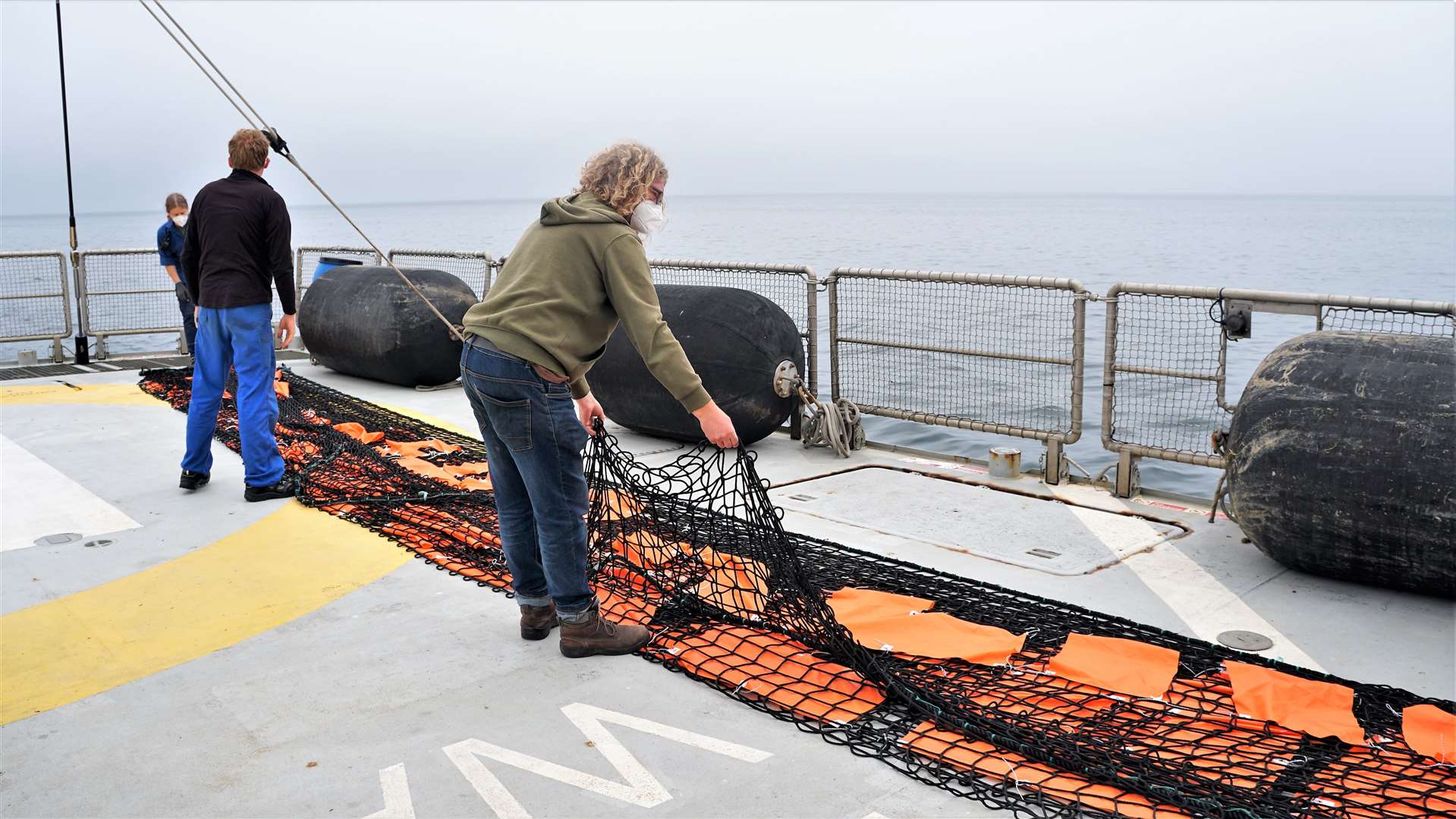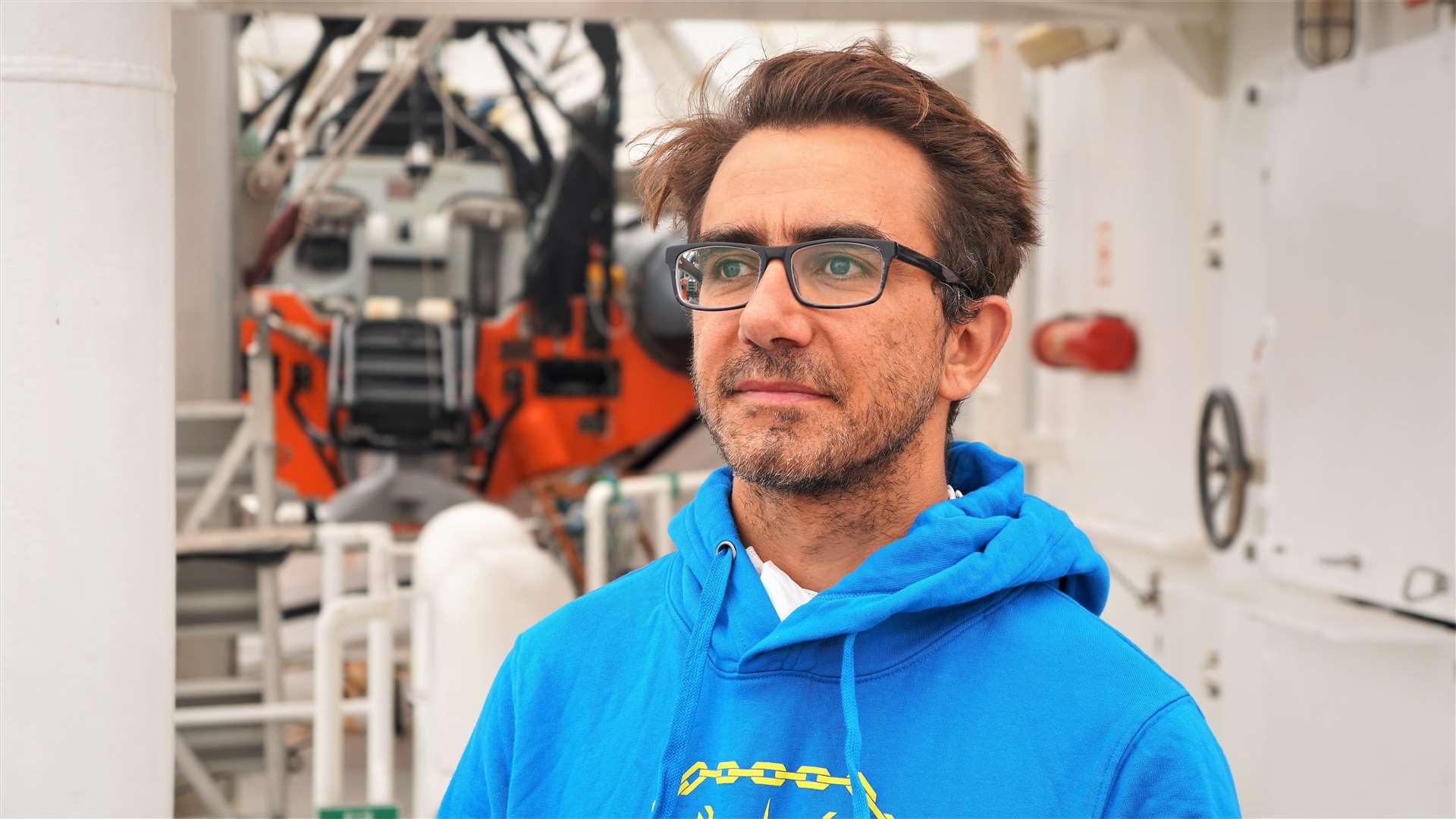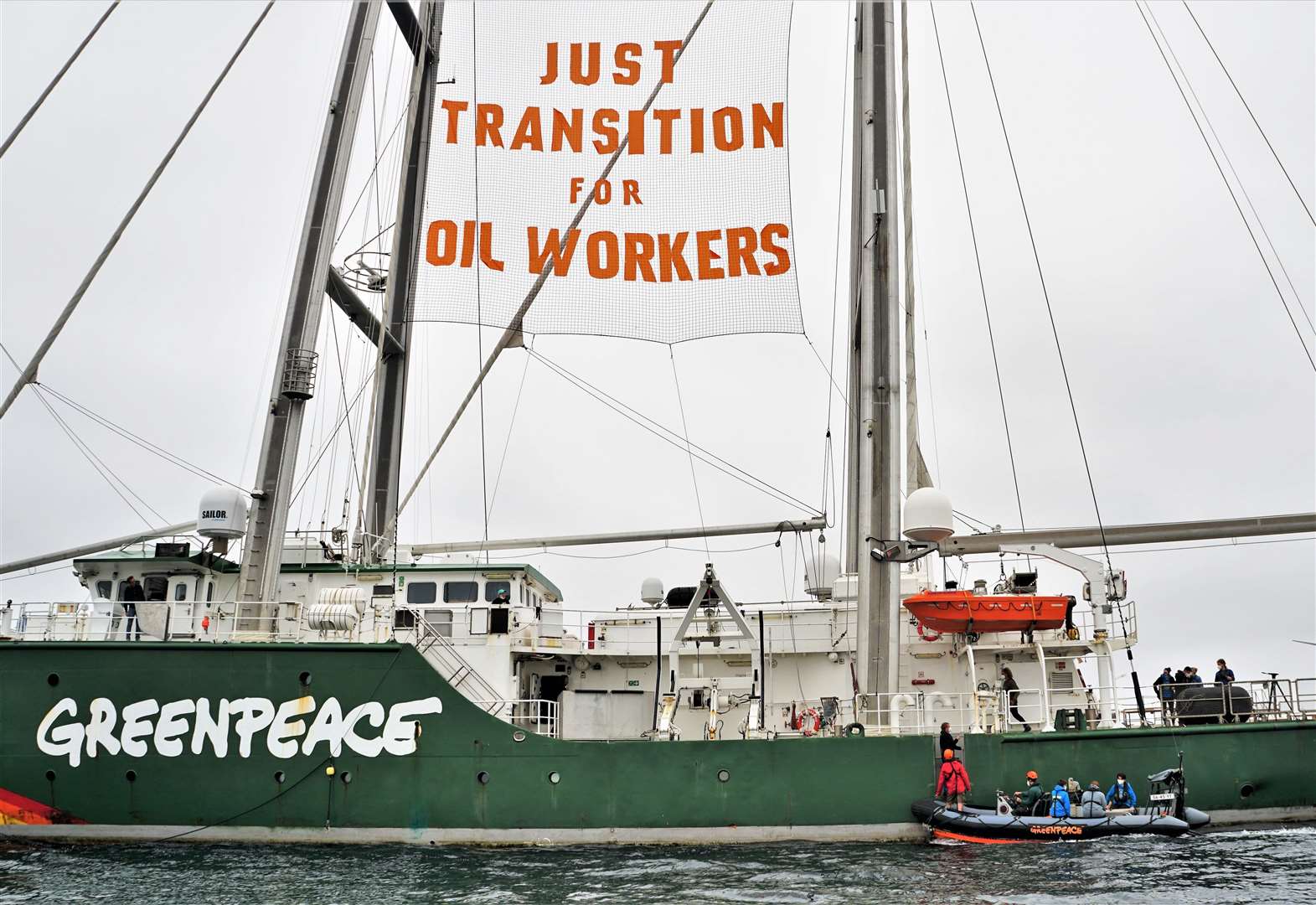 Today's protest is the latest stop on Greenpeace's Just Transition Tour, in partnership with Friends of the Earth Scotland and Platform.
Greenpeace is taking a 13-metre wind turbine blade around Scottish cities, inviting people to #SignTheBlade in support of a just transition for oil workers. It has already amassed hundreds of signatures in Inverness, Aberdeen and Dundee, and MSPs Ariane Burgess, Mercedes Villalba, Joe FitzPatrick, and MP Chris Law are among those to have signed it.
More than 12,000 people have also signed an online petition calling on First Minister Nicola Sturgeon to side with Scottish workers and the climate, not oil bosses.
It comes after a Greenpeace survey of more than 300 Scottish offshore workers – with more than 600 UK respondents in total – revealed that workers face expensive, repetitive costs in the oil industry and if they want to access jobs in wind.
Gallery1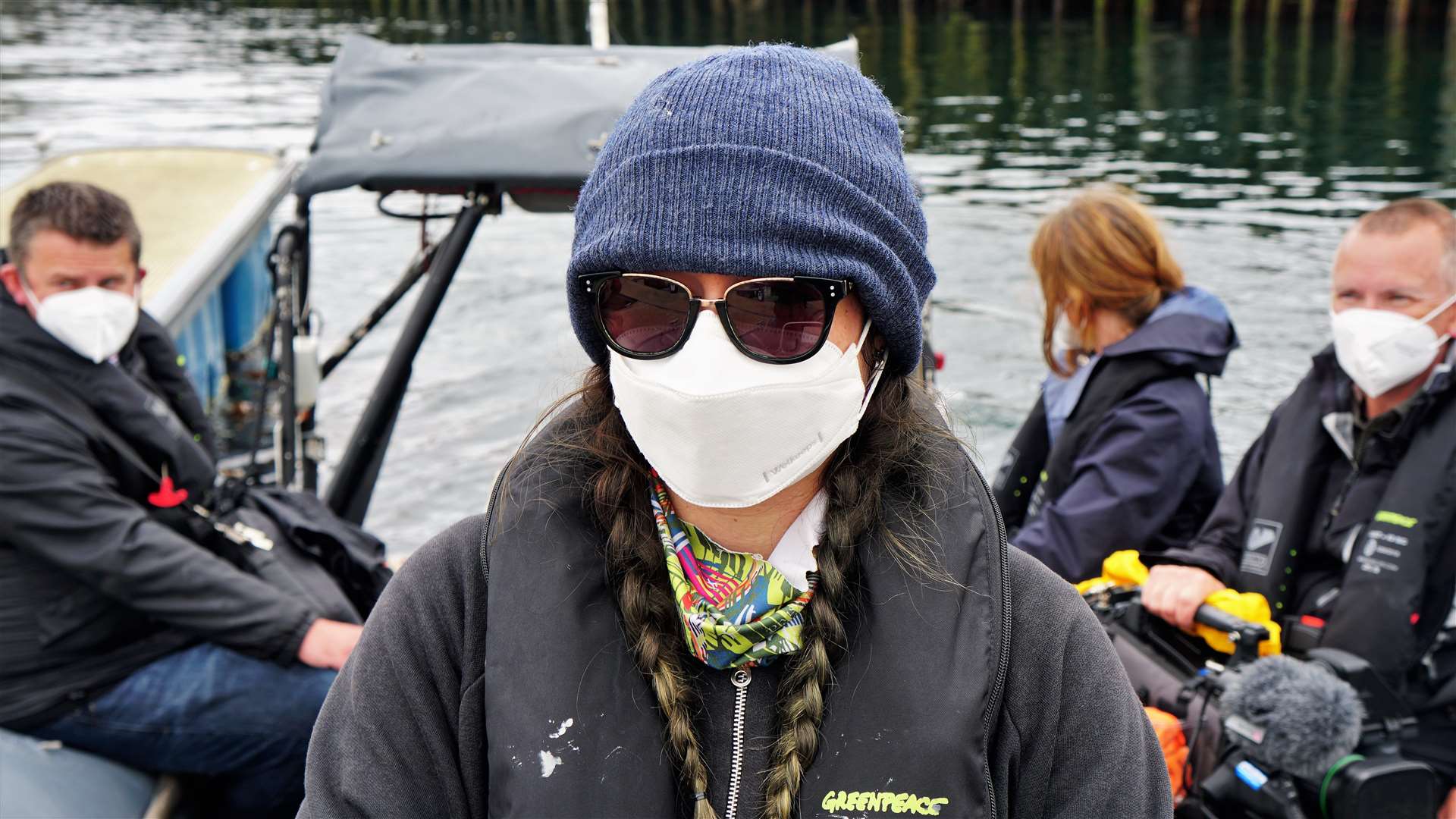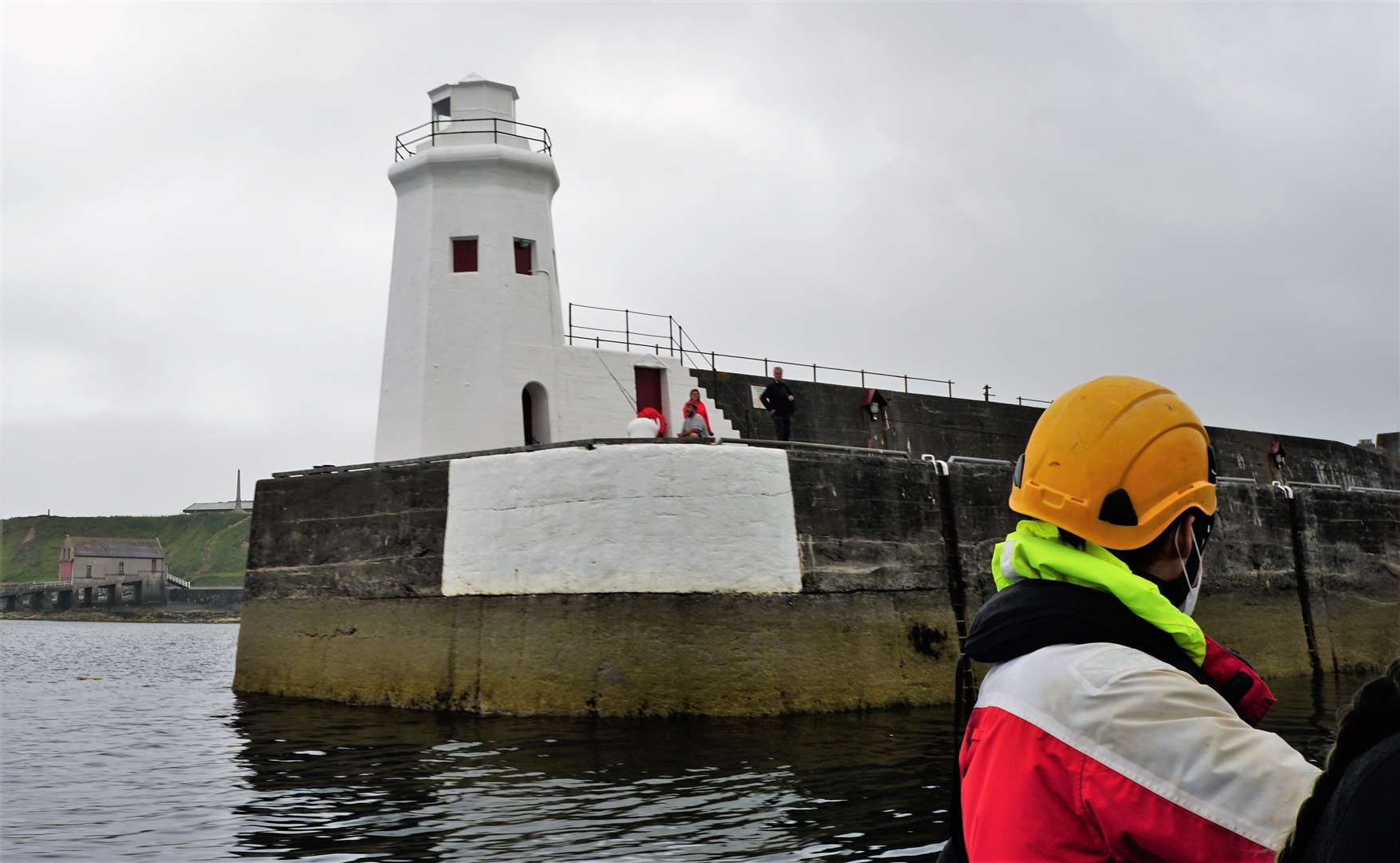 Nearly two thirds had been forced to repeat training qualifications they'd already done when changing to a new employer, and workers were spending an average of £1,627 per year on training costs. An overwhelming 93 per cent of workers surveyed were in favour of introducing standardised training – an "offshore passport" – for working offshore whether in oil, decommissioning or renewables.
Greenpeace's next stop on the Just Transition Tour will be in Aberdeen, on Saturday, July 24, where the campaign group will host a 'town hall" style meeting at Aberdeen Harbour. The event will see politicians, union representatives and community leaders take part in a panel discussion about how to drive forward a just transition for the good of workers and for the climate.
The leading representative body for the UK offshore oil and gas industry, OGUK, responded through its workforce engagement and skills manager Alix Thom, who said: "Our supply chain is crucial to not only our sector now, but also to developing the low-carbon energies and industries of the future – their expertise will be key to unlocking a successful net zero.
"It is vital that governments continue to liaise with us and help us develop solutions like carbon capture and hydrogen through the North Sea Transition Deal – industries which our workers can transfer to and thrive in.
"We will continue engaging with employees at all levels across the sector to ensure the workforce transition is implemented in a way that works for our people and their skills too."
Related article:
Greenpeace ship arrives in Wick tomorrow for latest campaign
---
Do you want to respond to this article? If so, click here to submit your thoughts and they may be published in print.
---
---
Keep up-to-date with important news from your community, and access exclusive, subscriber only content online. Read a copy of your favourite newspaper on any device via the brand new HNM App.
Learn more
---
---