'No Worzel Gummidge style play areas please,' says Thurso activist
---
Published: 18:47, 06 October 2021
| Updated: 18:49, 06 October 2021
---
Easier access to your trusted, local news. Have a look at our brand new digital subscription packages!
---
---
A community activist is further pushing to improve play areas for Thurso's children and has a working group established for that aim.
Alexander Glasgow has been discussing issues around the town's dilapidated play areas with parents and others "who have an interest in the wellbeing of local children and young people".
"Our focus remains Murkle Terrace and Beach Road," said Mr Glasgow. "The most urgent issue is the roundabout which is in a dangerous state of disrepair. It may be over 60 years old. Unsecured fencing is routinely pulled down presenting an additional trip hazard to children. It cannot remain like this."
Mr Glasgow says he suspects the swings are too rusted to support a child's weight and the cast iron pipes at Murkle Terrace may be around 50 years old. He adds that Thurso Community Council and other community organisations are aware of his group's aims and aspirations.
"I have spoken further with councillors who are amenable with including our group in future discussions. A full site inspection has now been completed. Marine quality paint has been ordered for cosmetic enhancements. Some refurbishment and new equipment has been suggested for a limited number of centrally-located sites."
The self-styled community activist thinks that a unified strategy is welcome "but just the start" and that the £40k earmarked by the council for improvements is just "a drop in the ocean".
"Even if there were a magic porage pot of money, Highland Council would be unlikely to be able to access it but community-led groups can. Working with councillors, officers, and other agencies, we can all access funds and bring fantastic results as has been seen with other play areas in Caithness."
Mr Glasgow says the the Thurso boating pond play area is a "crowning example of community-led development". Designed in the 1960s, the facility was more than showing its age in the 2000s. The Thurso Town Improvements Committee identified a lack of family friendly, outdoor leisure facilities for local people and visitors. It consulted with young people to find out what they would like and involved them in planning the site which was eventually opened in 2010 for a cost of £150k.
"After being handed back to the council, it fell into disrepair for lack of a basic maintenance fund. I estimate that the removed hopper, a Zebedee four-seat bouncer, cost £4000, so where is it now? Will it be restored?"
Mr Glasgow wished to state that there are "some excellent councillors especially recently elected or stood down" who have pushed on the matter for some time. "Others may well have been keen to appear when new play areas were opened but less so when they entered prolonged decline because of lack of basic maintenance.
Gallery1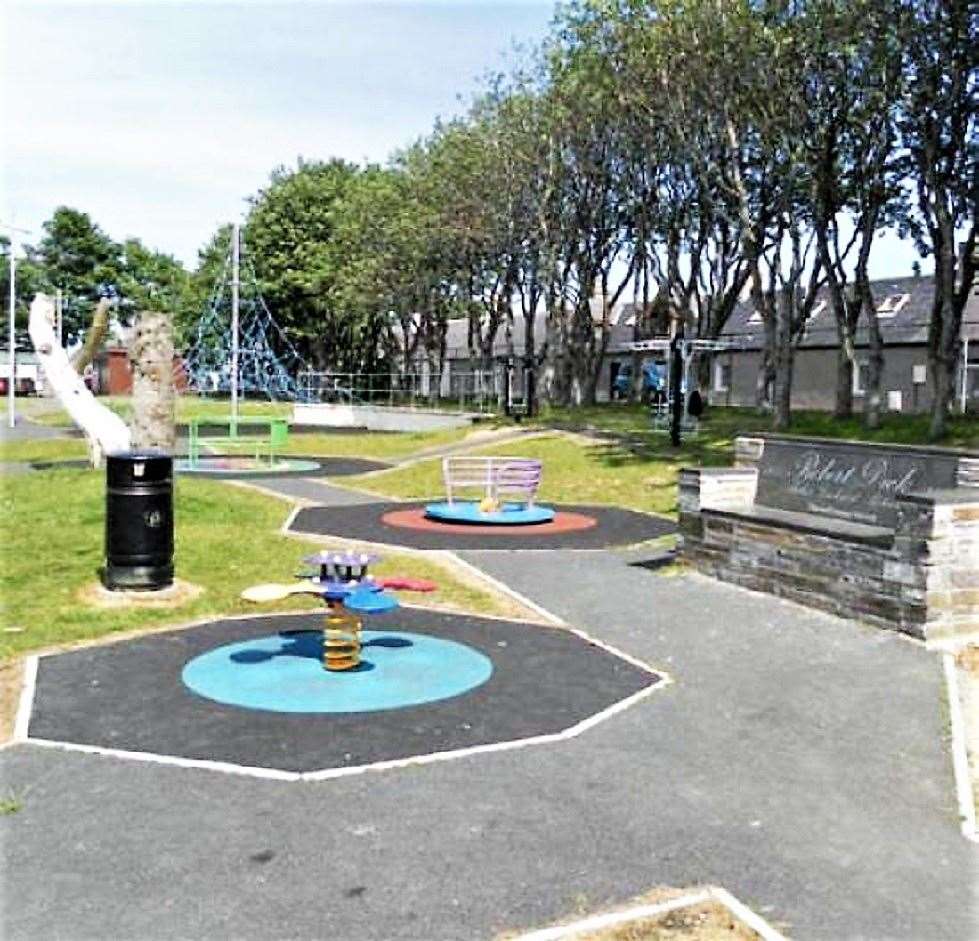 "Individual pieces of new play equipment are welcome but we should aspire to entirely new sites incorporating the latest developments in active play. We mustn't end up again with a Worzel Gummidge mismatch of differing styles and states of repair."
If you wish to help this community project the GoFundMe page can be found at www.gofundme.com/f/renew-playareas-in-thurso
Mr Glasgow can also be emailed at alexanderglasgow.foi@gmail.com and he has a Facebook group under his name where messages can be sent at www.facebook.com/caithness.manifesto
Related article:
Thurso fundraiser is all swings and roundabouts
---
Do you want to respond to this article? If so, click here to submit your thoughts and they may be published in print.
---
---
Keep up-to-date with important news from your community, and access exclusive, subscriber only content online. Read a copy of your favourite newspaper on any device via the brand new HNM App.
Learn more
---
---