Hand-made scrubs delivered to Wick care home after 244-mile journey from Argyll
---
Published: 09:10, 14 June 2020
| Updated: 07:44, 15 June 2020
---
Contribute to support quality local journalism
---
---

Staff at a local care home have been kitted out with lovingly hand-made scrubs after a special delivery from Argyll all the way to Caithness.
Eighty of the brightly coloured scrub sets, created by an Ardrishaig-based team of sewing enthusiasts, were handed over to Wick's Pulteney House at the end of an epic journey of more than 240 miles by road and rail.
Residents at the home are said to be delighted to see the staff in their cheery new attire.
The initiative was overseen by Nikki Thompson, who praised the "fantastic joint effort" by bus companies and the rail network in making the delivery possible.

Nikki is the founder and project manager of a community group of volunteer home sewers living in Ardrishaig and other villages in Mid Argyll and Kintyre called Let's Get Scrubbing for the NHS. They have been turning out hundreds of sets of scrubs and other protective gear for frontline health workers during the coronavirus outbreak.
"We have gifted around 700 protective scrub sets and various sundries to numerous hospitals and care homes throughout Argyll and Glasgow since we began in April," Nikki explained.
The Caithness connection came about through Susan Martens, who lives in Lybster. Her aunt Myra lives in Ardrishaig and has been helping the group by hand-sewing mask headbands.

The completed scrub sets for Pulteney House were transported to Caithness last week in a carefully planned operation involving coach businesses West Coast Motors (WCM) and Shiel Buses, along with ScotRail.
WCM conveyed the important cargo on the first leg of the journey to Oban on Monday morning. The following day WCM carried the three large boxes onwards to Fort William where they were handed over to Shiel Buses for the next leg of the trip to Inverness.

The final section was managed by ScotRail, which carried the scrubs from the Highland capital to Wick. The boxes were collected from the train by Susan and safely delivered to Pulteney House on behalf of Let's Get Scrubbing for the NHS.
"This was a fantastic joint effort for the NHS and reflects true community spirit," Nikki said.
"Every single stage has been voluntary – from the donated fabric used to make the scrubs, the team of around 50 home sewers who produced the designer scrubs, and the transport links, right down to Susan who collected and delivered the packages for us.

"Living in a rural area with limited transport links, we have faced some geographical challenges in delivering our scrubs since we began two months ago. Our local bus company West Coast Motors has been with us every step of the way, regularly uplifting and delivering our orders throughout Argyll and south to Glasgow.
"When I was asked to provide scrubs for Pulteney House I immediately turned to West Coast Motors' operations manager Robert Mackay, who set the wheels in motion and has been a blessing in organising the transport.
"Within a day he had co-ordinated a network of operators – West Coast Motors, Shiel Buses and ScotRail – willing to help with our delivery for the NHS. The journey took three days and covered around 244 miles.

"I really can't thank them enough. We would have been unable to gift the 80 sets of protective scrubs and accessories to Pulteney House without their generous assistance."
Pulteney House deputy manager Julie Lewis said: "The staff are over the moon with their new scrubs – they have brought a lot of smiles and humour to the team."
She said the residents are delighted to see the staff in their new outfits.

Julie added that Oor Wullie – in the form of a painted figure as part of Oor Wullie's Big Bucket Trail, a charity auction project – has been a visitor to Pulteney House over the past few months and the comic-book hero wanted his own set of "superhero scrubs". This particular version of Wullie, created by artist Douglas Roulston, is named Oor Nevis as the design incorporates a view of Scotland's highest peak.
The Ardrishaig group has gifted a mix of scrubs, personal laundry bags, mask bands and in some cases padded hearts to Mid Argyll Community Hospital (Lochgilphead), Campbeltown Hospital, the Royal Alexandra Hospital in Paisley and Glasgow's Gartnavel General Hospital, Queen Elizabeth University Hospital and Royal Hospital for Children, as well as to care homes, a medical centre and local authority home care workers.
Gallery1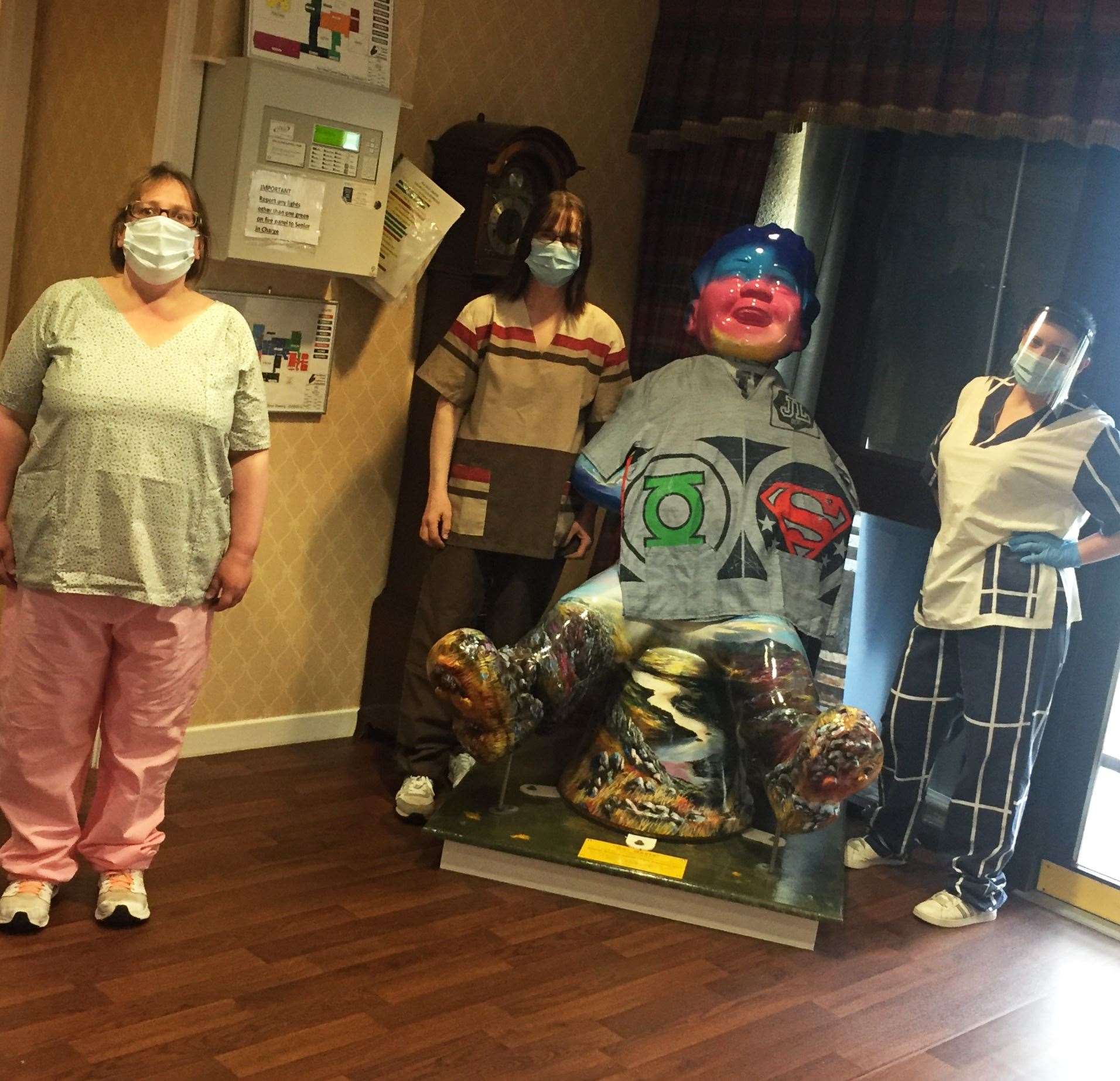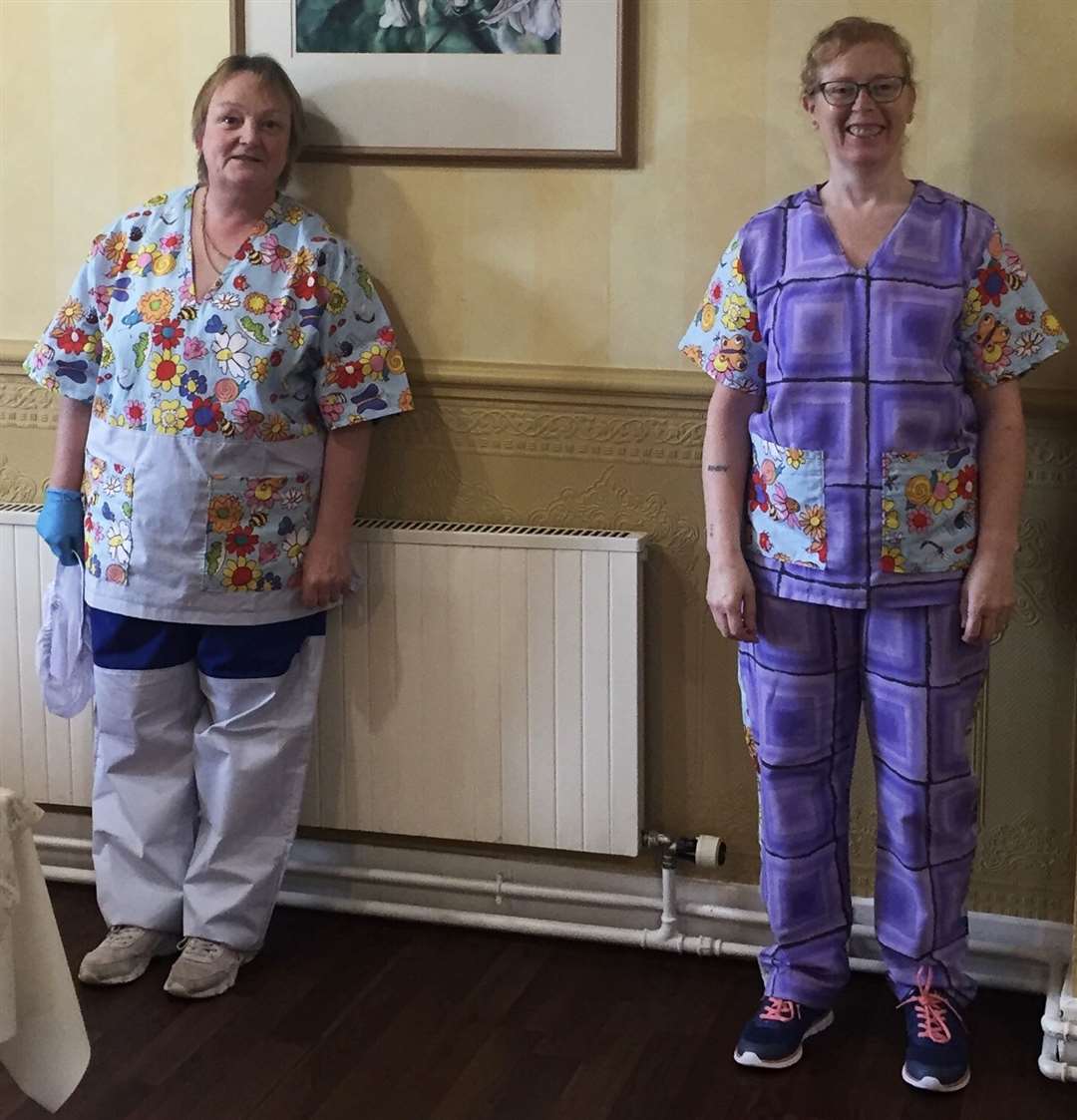 "When I began this project, I sent out feelers to see if anyone would be interested in helping me supply our local hospital, the Mid Argyll," Nikki said. "Very quickly, through social media, I had 90 volunteer home sewers willing to give freely of their time.
"These were divided into area teams stretching across Argyll. Donations of fabric and funds came pouring in and the rest is history.
"I think we have around 50 volunteers now, due to work and other commitments.
"I sometimes forget what we have achieved as it's easy to get caught up in the production and organising. But I guess we've done pretty well for a wee rural team of hobby sewers."
---
This website is powered by the generosity of readers like you.
Please donate what you can afford to help us keep our communities informed.
BECOME A SUPPORTER
In these testing times, your support is more important than ever. Thank you.
---
---