Flower power activist appeals for funds to make Thurso 'pulsate with colour'
---
Published: 18:53, 27 April 2021
| Updated: 19:13, 27 April 2021
---
Get the Courier and Groat sent to your inbox every week and swipe through an exact replica of the day's newspaper
---
---
Community activist Alexander Glasgow has launched a fundraiser appeal to bring "compassion and colour" to Thurso through a special flower planting programme.
Mr Glasgow has taken personal responsibility for tending the rose beds on Olrig Street and Riverside Road but now wants to go a stage further with his Thurso In Colour campaign.
"George Mackay Brown called Thurso a 'small grey town by the sea' but there always has been colour if you know where to look," he said.
"It has been a strange year. Many have rushed to help. Compassion and love of colour is hard-wired into society. Although we never will be able to rub out the memories of Corona, we can bring back colour and become happy again albeit in different ways."
Mr Glasgow believes in the power of the flower to help "gladden the hearts of all the citizenry" in the town as well as tourists who bring much-needed capital to the county.
"All across Caithness and the far north, visitors bring money into our communities. They stay in our hotels and B&Bs. They eat in our restaurants which serve wonderful food from both the salt and the glaur. They buy from our local shops. They take home wonderful memories. Much of our local economy is related directly to tourism, in one way or another."
He says that if visitors are greeted by visions of beautiful tubs and sumptuous beds along with verdant hanging baskets on buildings, car parks, and along pavements, then they will know they are somewhere "which is well cared for, where the citizenry are happy, and what matters really matters".
Mr Glasgow supplied a video by Kelvin Angus that he uploaded to his YouTube channel showing a variety of flower planters in the town created by a group called Thurso in Bloom in 2017. He now hopes to start a similar group to bring back this vision of the town – Thurso In Colour.
"Thurso always has had beautiful flowers provided by Highland Council, tended by dedicated gardeners and voluntary groups. We are blessed still to have the colourful Sir John's Square which welcomes all to Thurso as they arrive by the A9, but other 'petalwork' has dwindled over recent years partially because of lack of funding, partially because of lack of volunteers."
Gallery1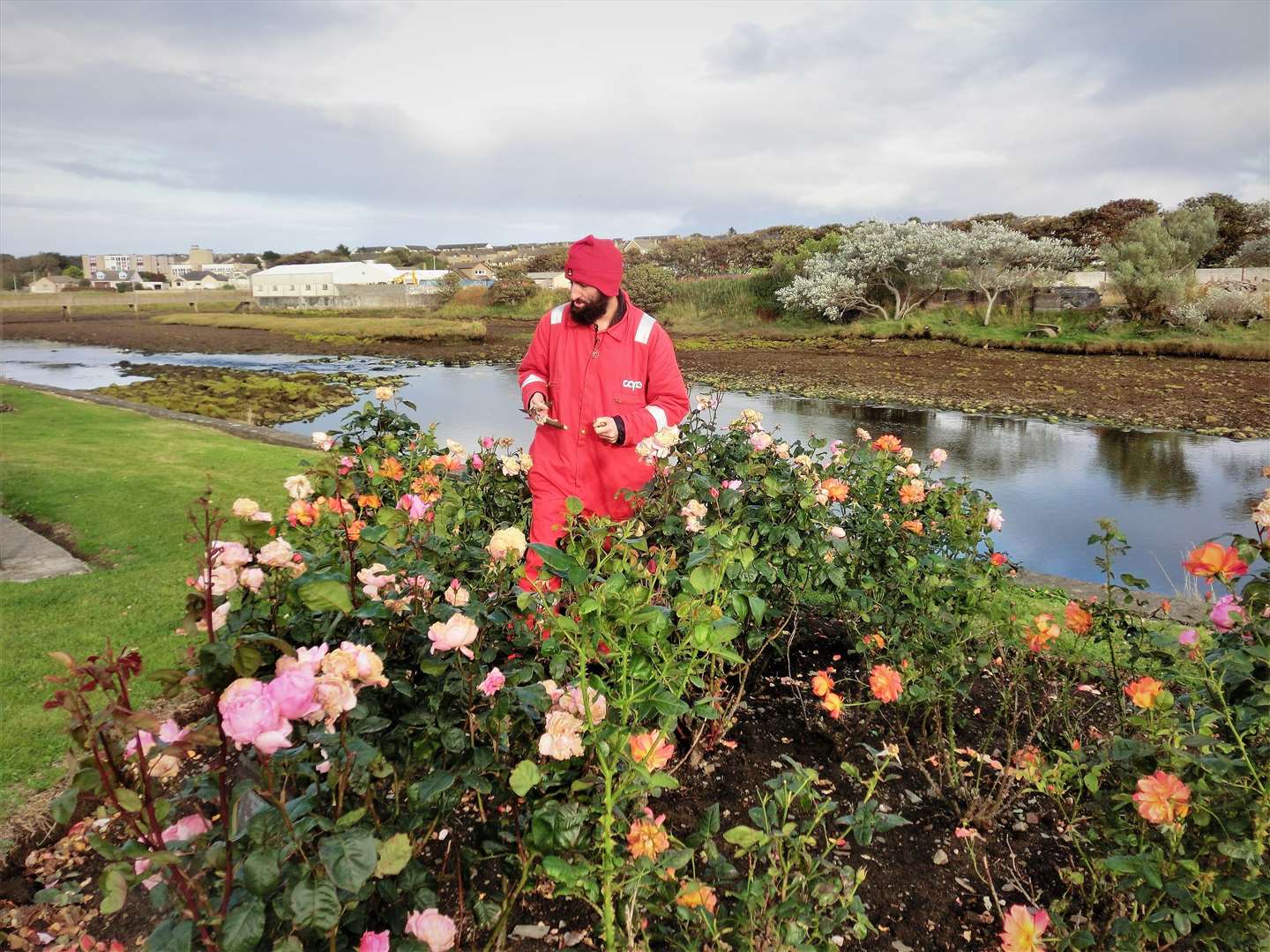 The self-styled community activist is a well-kent figure in the town centre with his bright red working clothes and faithful gnome friends by his side as he tends to the colourful rose beds. A previous funding initiative helped Mr Glasgow replenish these rose beds with 100 Margaret Merril, Peace, Queen Elizabeth, and Wendy Coussen roses.
Now he wishes to go a stage further with his new fundraiser and try to raise enough money to bring back some needed colour to the town with flowers and planters.
"All funds will be ringfenced, and remain local. Our first priority will be to source from local suppliers. We shall consult with the relevant agencies. Copies of receipts could be shown to relevant community groups, and photographs published on social media."
The fundraiser is intended to give a head-start to the Thurso in Colour group which aims to bring more greenspaces to the area. "Any amount or any size will help provide more plants. Please can you help us make our wonderful town and parish pulsate with colour and good cheer as we emerge from the pall of Corona?"
Mr Glasgow's fundraiser appeal can be found at www.crowdfunder.co.uk/thurso-in-colour
Gnome-loving Thurso activist says 'adopt a rose'
WATCH: Barley bales and dung heaps make Thurso a better place
---
Do you want to respond to this article? If so, click here to submit your thoughts and they may be published in print.
---
---
Get a digital copy of the Courier and Groat delivered straight to your inbox every week allowing you to swipe through an exact replica of the day's newspaper - it looks just like it does in print!
SUBSCRIBE NOW
---
---