Dumped caravan near Groats amongst county-wide fly-tipping
---
Published: 12:53, 13 January 2021
| Updated: 13:00, 13 January 2021
---
50% off a six-month digital e-edition subscription with promo code '50OFF'
---
---
Multiple reports showing a huge increase in fly-tipping across Caithness include one in which a caravan was dumped along the NC500 route to John O'Groats.
Highland Council said it has been made aware of the problem and "appropriate enforcement action will be taken" against offenders who have been identified.
Schoolteacher Chris Aitken was out for a leisurely stroll on Saturday when he came across the caravan on top of a hill overlooking the A99 close to John O'Groats.
"I was taking a walk up to the top of Warth Hill with my family when we saw the caravan on the edge of the quarry," said Mr Aitken.
He said he reported the matter to the council and could not "reason why someone would make the decision to fly-tip".
"It's disappointing when there are so many people doing their utmost to improve the county.
Gordon Bain found discarded bags of rubbish at the side of the A9 close to where he lives in Dunbeath.
"There are a few of us that volunteer to keep the village tidy throughout the year," he said. "Fly-tipping and littering is happening a lot this last while."
The bags mainly contained stripped wallpaper along with a few other items of household waste. Mr Bain said he found an address and when he contacted the woman she told him she had "paid her neighbour to take the rubbish to the recycling centre".
"It's all now rammed into my bin," added Mr Bain.
A scenic area that has frequently been plagued by fly-tippers is the coastal route near Wick that lies above the Trinkie outdoor swimming pool.
Last week, a local woman who wished to be unnamed said she discovered "what looked like a dressing table with drawers on the grass verge".
Gallery1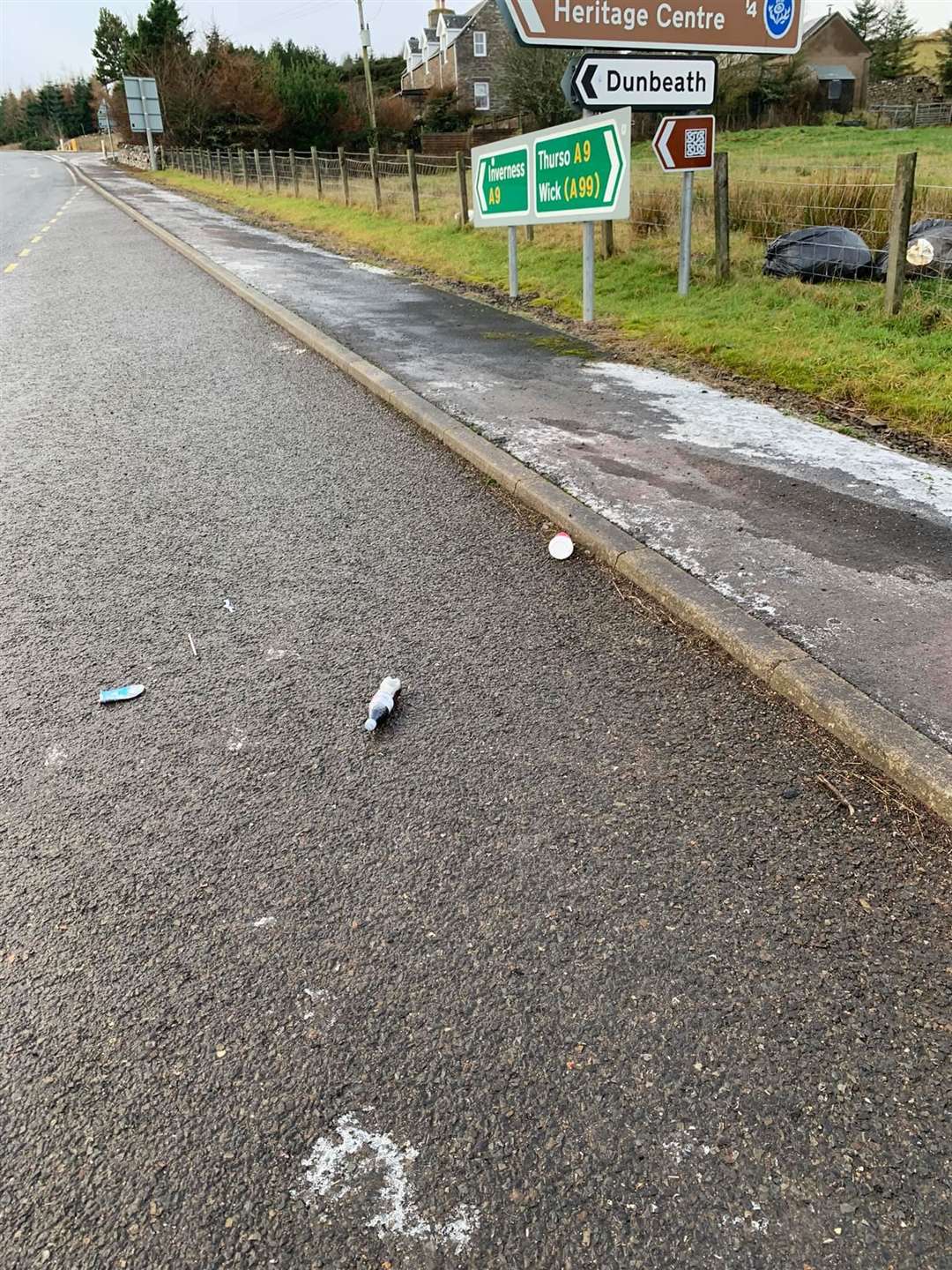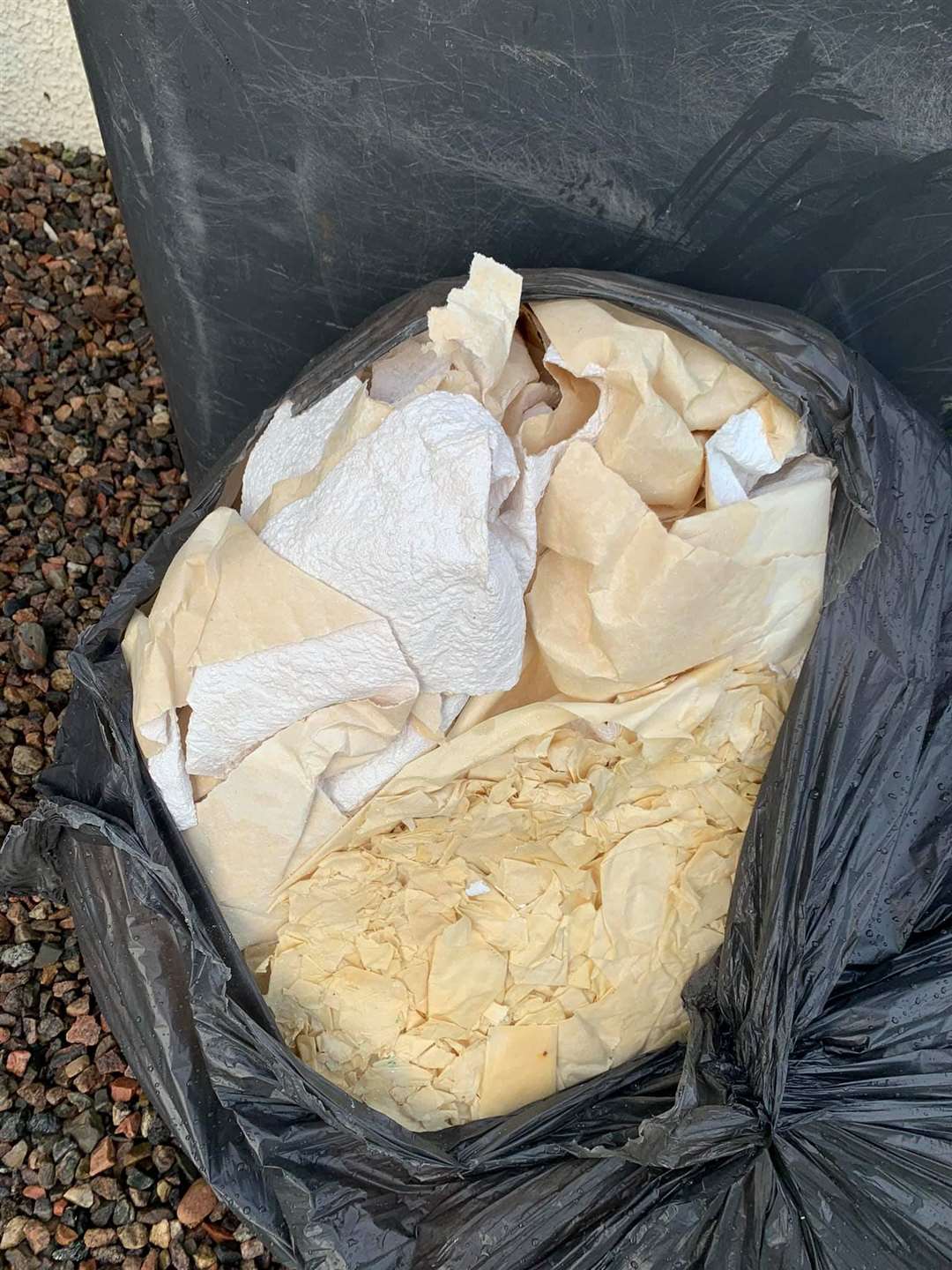 "Over the cliff edge were lots of containers and a few bags of rubbish [but] I did not feel safe going down to check as it was really frosty," she added.
Walking the route every day, she believes the mass of rubbish was dumped on Wednesday evening.
"The way the some people of this town are treating our beauty spots is just plain stupid. We have to take care of what we have and not be dumping our rubbish anywhere we like. It needs to go to the proper dumping or recycling centres."
A man who lives close to Wick was angered when he went for a walk in the peaceful surroundings of Blingery Forest and came across piles of rubbish including festive decorations.
The unnamed man wrote on social media: "The string of green and red balloons have Merry Christmas printed on them. There was stone effect wallpaper and a hoover and a couple of shelves."
He said he had gone up to clear the rubbish away himself and sent out an appeal to the local community for help in tracking the offender.
A Highland Council spokesperson said: "We have been made aware of these fly-tipping incidents near Wick and staff will be arranging for the items to be removed.
"Reports of fly-tipping are investigated by officers from the council's Environmental Health service, in conjunction with the Scottish Environmental Protection Agency (SEPA) and Police Scotland.
"Where the responsible parties are identified, appropriate enforcement action will be taken. This could involve a fixed monetary penalty of £200 or, in more serious cases, a fine of up to £40,000. Anyone coming across incidents of fly-tipping can report it at www.highland.gov.uk/report"
Chair of the council's communities and place committee, Allan Henderson, said: "Dealing with litter and fly-tipping costs an eye-watering £53 million of public money in Scotland every year, and that's only in relation to public land.
"This money could be better spent elsewhere, particularly at this time. Dealing with fly-tipping also diverts our staff from carrying out work in local communities. All our recycling centres are open so there is no excuse."
He added: "We ask everyone to enjoy the public spaces and the outdoors responsibly, please do not leave litter behind, use litter bins where provided or take your litter home."
Fly-tipping 'epidemic' blamed on rogue traders and council restrictions
---
---
Get a digital copy of the Courier and Groat delivered straight to your inbox every week allowing you to swipe through an exact replica of the day's newspaper - it looks just like it does in print!

Sign up today and get 50% off a six-month subscription with promo code '50OFF'.
SUBSCRIBE NOW
---
---