Caithness potholes are so big you can lie down and read the Groat in them
---
Published: 13:03, 03 May 2021
| Updated: 13:04, 03 May 2021
---
Get the Courier and Groat sent to your inbox every week and swipe through an exact replica of the day's newspaper
---
---
Some of the potholes in Caithness are so big that you can lie down in them and read the Groat.
The point was proved at the weekend by Enya Evans, who works for local Liberal Democrat MP Jamie Stone.
She was on a pre-election visit to Lybster with Mr Stone and the party's Caithness, Sutherland and Ross candidate, Molly Nolan, when they encountered a huge gap in the carriageway in the village's Main Street.
To illustrate the scale of the pothole, Ms Evans bravely offered to be photographed reclining in it – while holding a copy of the latest John O'Groat Journal.
While the pictures have raised a laugh on social media, she said they also highlighted the serious point that many motorists in the north are having to dodge "craters" on a daily basis.
Gallery1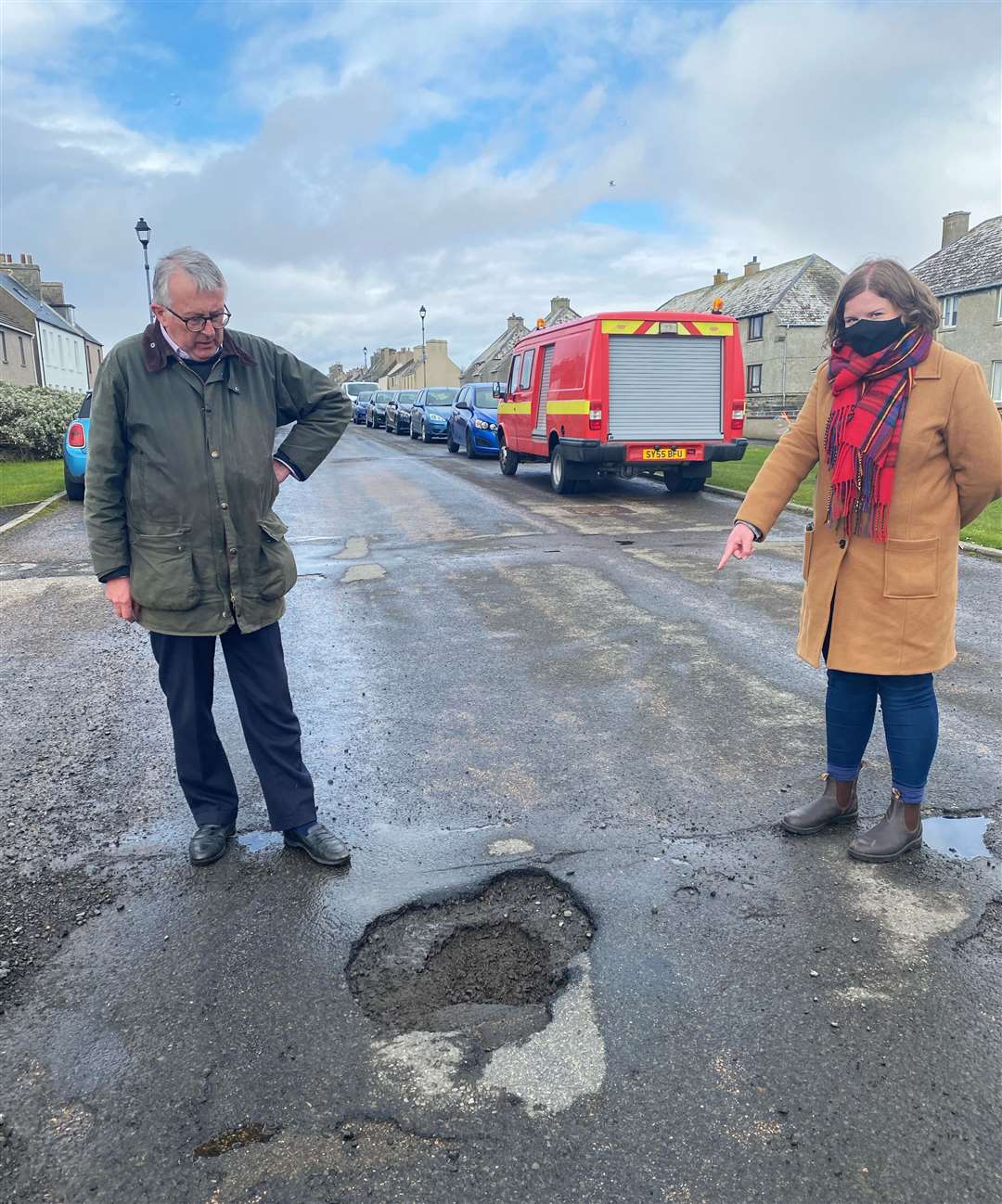 Local campaign group Caithness Roads Recovery is demanding investment to upgrade the county's crumbling road network. Ms Nolan has pledged that, if elected at Holyrood, one of her top priorities will be to raise the issue of potholes and road safety with the Scottish Government.
Ms Evans, who was staying in Tain to assist Mr Stone with constituency casework, said: "If Jamie has taught me anything, it's how a sense of humour can cut through and bring attention to serious stuff.
"What could be more serious than road safety? I may have got the backside of my jeans soaked in a soggy pothole for a laugh, but I was proving a point – Caithness roads are abysmal.
"As a Londoner, I'm a spoilt outsider who has never flattened a tyre on a cracked-up single-track road. It genuinely infuriates me – as it does Jamie and Molly – that dodging craters on the roads is a daily occurrence for Highlanders.
"Road safety shouldn't be a postcode lottery. So if these deeply embarrassing photos of me in a pothole go some way to prove a point that governments need to knock heads together, the uncomfortably damp journey back from Lybster to Tain will have been worth it!"
Related story:
---
Do you want to respond to this article? If so, click here to submit your thoughts and they may be published in print.
---
---
Get a digital copy of the Courier and Groat delivered straight to your inbox every week allowing you to swipe through an exact replica of the day's newspaper - it looks just like it does in print!
SUBSCRIBE NOW
---
---